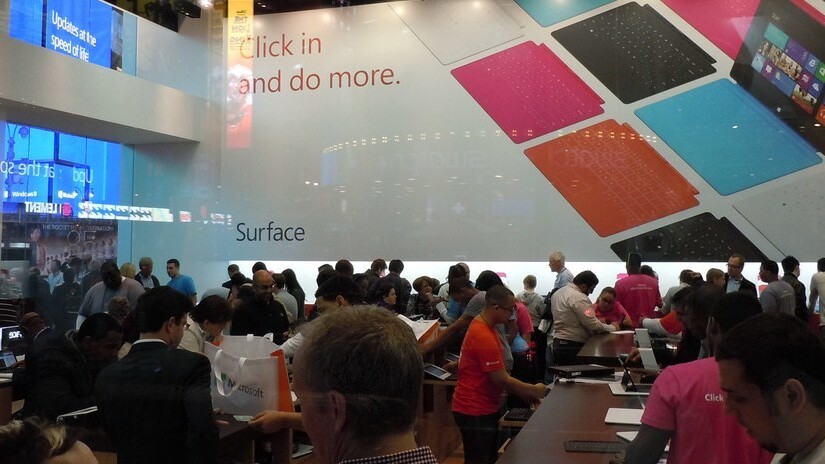 Story by
Alex Wilhelm is a San Francisco-based writer. You can find Alex on Twitter, and on Facebook. You can reach Alex via email at [email protected] Alex Wilhelm is a San Francisco-based writer. You can find Alex on Twitter, and on Facebook. You can reach Alex via email at [email protected]
Today in a piece of dry PR, Microsoft let slip an interesting fact: Some 15 million customers have passed through the doors of its 30 stores. The direct quote: "We've welcomed more than 15 million customers and counting so far."
We could begin to fret over if these customers are those who made a purchase, simply visited once, were counted twice for two trips and the like, but that would miss the point: Microsoft's stores appear to be attracting enough consumers to make the project more than worth its while.
And as Microsoft's consumer sentiment ticks higher – as the company opens new stores and launches a holiday store barrage – it's hard to dismiss them as was once in vogue when they were initially announced. Certainly, following in Apple's footsteps meant that Microsoft had its work cut out, but its stores have been well designed, welcoming and, apparently, well trod.
15 million is a number that we can't well parse, or put into context, as Apple's store figures aren't directly comparable – there is no industry accepted standard for what 'one unit of visit is,' unlike with digital media. Still, 15 million is a large number, meaning that Microsoft has driven a large number of folks through its doors into a branded wonder land.
A final note on all of this: As TNW has banged on about for months, the key stumbling block for Windows 8 is its steep learning curve. To that end, Microsoft's stores are key locations of education. If the company can break 20 million visits by the end of 2012, it could fantastically lower initial consumer headache with its new code.
Oh, and they sell the Surface there.
Top Image Credit: Jeffrey Riehle
Get the TNW newsletter
Get the most important tech news in your inbox each week.
Also tagged with