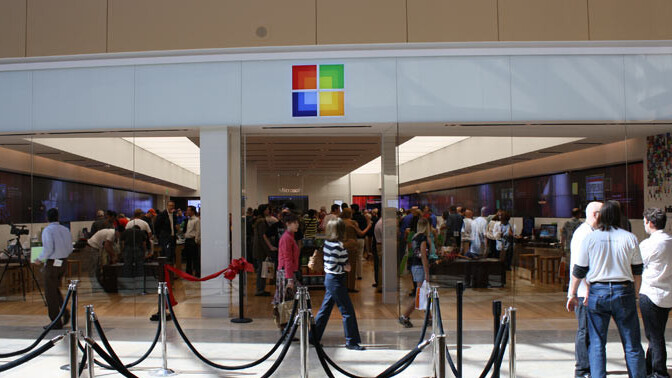 Story by
Alex Wilhelm is a San Francisco-based writer. You can find Alex on Twitter, and on Facebook. You can reach Alex via email at [email protected] Alex Wilhelm is a San Francisco-based writer. You can find Alex on Twitter, and on Facebook. You can reach Alex via email at [email protected]
Today at its Worldwide Partner Conference, Microsoft unveiled a plan to open a large number of new stores in the coming years.
The company said: "We're going to open up to 75 more stores over the next 2 to 3 years, and continue to bring our stores outside the U.S. as well, so we've got a huge opportunity to get the Microsoft story out there, and we're going to keep driving that."
This announcement follows a rather cautious roll out of the firm's first eleven stores. TNWmicrosoft has long maintained that Microsoft has been slow to build new stores as the company was still learning how to do so in a manner that was both useful to the consumer, and edifying to its brand.
This announcement appears to state, under our previous assumption, that Microsoft is content in its current store methodology, and is ready to go big on the concept. Microsoft stores are, in our experience, well thought-out affairs, with enough interactive technology-candy to keep everyone from kids to adults entertained, though they do lack the 'cool' feel of Apple's stores.
Microsoft currently has stores, according to MicrosoftAddict, in "Bellevue, Los Angeles, Costa Mesa, Mission Viejo, San Diego, Scottsdale, Houston, Lone Tree, Bloomington, Oak Brook, and Atlanta." The following map is where Microsoft intends to open the coming stores:
What is most interesting, and important, in the above map is that Microsoft stores will finally reach the East Coast, and seem set to do so en masse. The store locations with a red dot are the stores that are currently in existence, the white dotted stores are those that are yet to come.
Sound off in the comments: Is Microsoft making the right move with its store strategy?