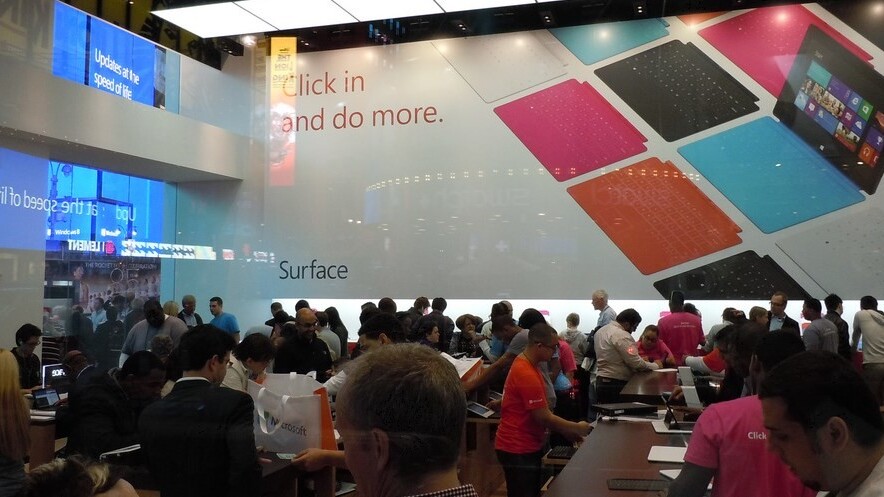 Story by
Alex Wilhelm is a San Francisco-based writer. You can find Alex on Twitter, and on Facebook. You can reach Alex via email at [email protected] Alex Wilhelm is a San Francisco-based writer. You can find Alex on Twitter, and on Facebook. You can reach Alex via email at [email protected]
Microsoft is expanding its line of 'specialty' stores in the United States, opening two locations in Florida and New York today. The company also made plans public to three more in Pennsylvania, Utah, and Rhode Island.
'Specialty' stores are smaller Microsoft Store installations, more 'out in the open.' They still sell a wide array of Microsoft products – think Windows Phones, Surfaces, and Xbox consoles – but without all the fanfare of a larger installation.
Microsoft claims that "Specialty Stores have proven so popular since we opened the first ones last fall" that it wants to expand the program. The company's broader store plan appears to be progressing decently, with a continued rollout of new locations.
The company has had a number of specialty stores open since the runup to the general availability of Windows 8 and the Surface tablet hybrid. They were then often known as 'pop-up' stores. TNW has requested formal confirmation that pop-up and specialty stores are one in the same. However, the following bit of Microsoft officialspeak from late January appears to confirm their sameness:
Through the Microsoft Times Square holiday store, we had the pleasure to bring customers the unique Microsoft Store experience and the opportunity to engage with technology that impacts the way they live, work and play. The location was intended to support holiday sales of Microsoft Surface and Windows 8, and continues to be an important market for us moving forward. Customers in the New York area can continue to experience the best of Microsoft products and the same excellent choice, value and service at our specialty store located in the Shops at Columbus Circle or any of our nine full line and specialty locations in the tri-state area."
Mary Jo Foley of ZDNet, who is rarely wrong, went on to call them pop-up stores.
In short, Microsoft is expanding its retail strategy using two tactics: big, expensive stores that immerse consumers in technology, and simpler, more sales-minded installations that are relaxed, and easy to access.
Top Image Credit: squirrel83
Get the TNW newsletter
Get the most important tech news in your inbox each week.
Also tagged with