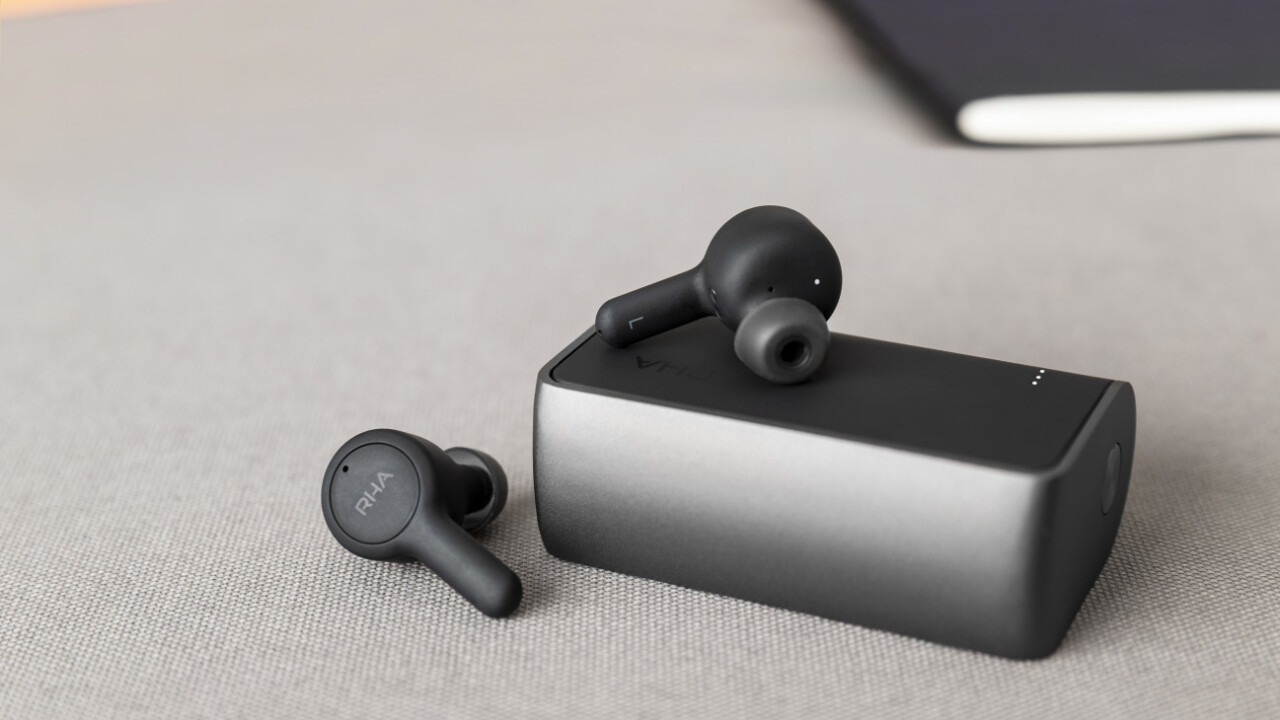 Story by
Former TNW Reporter
Matthew Hughes is a journalist from Liverpool, England. His interests include security, startups, food, and storytelling. Follow him on Twi Matthew Hughes is a journalist from Liverpool, England. His interests include security, startups, food, and storytelling. Follow him on Twitter.
March 8 is International Women's Day. To celebrate, TNW is sharing series of profiles highlighting women leaders in the tech industry.
Tech has a (completely deserved) reputation for being lopsidedly male-dominated. This is true of all tiers of the industry — from the C-suites calling the shots, to the foot-soldiers who design and build the tools we use. This International Women's Day, we want to shine a light on these hard-working, code-slinging, CAD-wielding grunts. With that in mind, meet Heather Guyan, a 25-year-old product designer working for Glaswegian audio firm, RHA Technologies.
RHA is the crown jewel in the Scottish tech ecosystem (our apologies to Skyscanner, but you've been dethroned). We're a big fan of their earphones at TNW Towers and were thrilled when we got a chance to chew the fat with someone instrumental in designing the products we've tested over the years, including the MA390 Wireless and the CL2 Planar.
Guyan shared her story in how she came to enter the industry. It all started with having parents who were all too happy to nurture her passion for the creative arts.
"I never knew what I wanted to be when I was little – it would change every day. One day I wanted to be a singer, the next a fire engine driver. Luckily, I grew up with very supportive parents. I knew whatever I decided to do with my life they would support me as best they could. This gave me the freedom to look at my passions as potential careers and encouraged me to pursue a creative profession," she said.
"I took a conventional route to becoming a designer – if there is such a thing," Guyan told me. In high school, she studied a mix of art and technical classes.
"The art classes were more female-dominated, as were the Graphic Communication classes. In contrast, my Product Design class had a higher number of male students as did the Workshop class. Despite this, along with the all-male teaching staff, I never doubted I should be there. It was what I enjoyed and what I was good at. I am extremely lucky to have had the teachers and role models I did. They went above and beyond to ensure I was supported and encouraged."
She later studied Product Design and Innovation at Glasgow's celebrated University of Strathclyde. Although her lectures and seminars had an equal gender spit, many of her lecturers were accomplished women.
"For the first time, I had female professors. This was the first time I had the chance to hear from women in the field and ask them about their experience and, much to my relief, the gender disparity never came up," she said.
This sadly, didn't carry on into the workplace. RHA is Guyan's third job in the industry, and although it enjoys a 50/50 gender split, that wasn't true of her previous jobs. That said, she stresses she's lucky enough to have never been treated unfairly because of her gender.
"Although I was the only female I never felt as though I was viewed differently to my male colleagues. I undertook all the same tasks my colleagues did and was expected to deliver my work to the same high standard. I thrived in this environment and, whilst the gender diversity may not have been apparent, the attitude was. I always felt valued and appreciated for my work and the contributions I made to projects," she said.
So, what's it like designing headphones for a living? I wanted to know. Well, it's perhaps not what you think. For starters, the design team is fairly small, with just five designers working on RHA's hardware efforts. Just like many startups, the day starts with an informal stand-up, and a great deal of time is spent on serious contemplation.
"I generally focus on the initial stages of design. When it comes to headphones, this means looking at research and ensuring the products we produce are competitive and exceed our customers' expectations. I get the pleasure of looking into new technologies and feature-sets that I believe we should be integrating into our roadmap. I will also suggest new products I think we should start designing," Guyan said.
Collaboration is at the heart of how RHA works. Each designer has their own responsibilities and works with their colleagues to ensure they stay on track and meet deadlines. All design decisions are made as a team. This, she said, involves a lot of presentations.
"I am continually presenting to my colleagues for feedback and their perspective on my ideas and I provide similar to theirs. I am a big believer in the more input of perspectives you can gain during the design process, the more innovative the output," she explained.
After the meetings are concluded, they head back to their own respective projects. "This can mean looking into new research, coming up with concepts, developing CAD (Computer Aided Design) models, design exploration, prototyping, refining, testing or problem solving," said Guyan.
"This varied workload helps prevent fatigue and definitely adds variety to my day. If there is something that [I'm struggling with], I'll leave it for a few hours, working on a different aspect of the current or another project and when I revisit it, I usually have a new method I can try or a solution I may not have discovered before."
Going back to the "foot soldier" analogy I used before – designers are a cross between the commandos and non-commissioned officers. They make crucial day-to-day decisions, but they're also constantly tackling new and different problems. This is the thing that Guyan loves most about her job. "I think that has to be my favourite thing about working as a designer, every day is different," she said.
Get the TNW newsletter
Get the most important tech news in your inbox each week.
Also tagged with