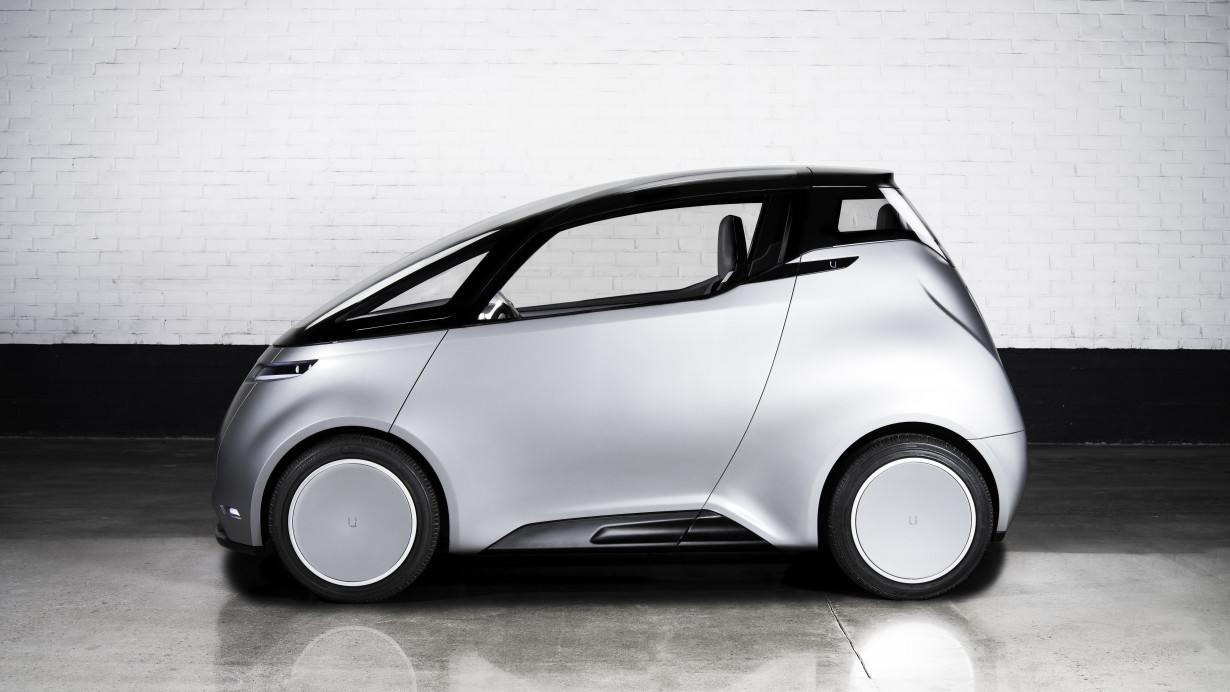 Story by
Former TNW Reporter
Matthew Hughes is a journalist from Liverpool, England. His interests include security, startups, food, and storytelling. Follow him on Twi Matthew Hughes is a journalist from Liverpool, England. His interests include security, startups, food, and storytelling. Follow him on Twitter.
Yesterday, at an event at Loughborough University's London campus, Swedish startup Uniti showcased its latest all-electric two-seater concept car: the Uniti One.
I'm by no means a car person, but a bit of drool did moisten my chin when I saw the Uniti One. It's gorgeous. It's shaped a bit like a Smart car, but without the inherent naffness. The whole thing looks super futuristic.
According to the company's marketing strategist, Isak Monrad-Aas, the Uniti One is built with commuters in mind. With a standard charge, the vehicle can travel 240km, or 300km in ideal conditions. The battery can be charged from any 220 volt outlet, and an optional quick charge mode can see it reach 80 percent capacity in 20 minutes.
Uniti is also experimenting with new ways to drive. The model displayed in London used a twin-joystick setup, with a large touchscreen display in the middle.
As explained to TNW by the company's Vehicle Development Director, Sally Povolotsky, this cockpit setup exists to demonstrate what's technically possible. However, it's unlikely to make its way to consumers anytime soon, and production units will look more traditional. Joysticks, for example, are not considered an acceptable form of steering mechanism in the UK.
Vehicles in general are covered by a morass of legislation that dictate what can (and cannot) be done by vehicle manufacturers. Uniti, like any company in this space, has to abide by the existing legal standards.
Arguably the most interesting facet of Uniti's story is that the company intends to start manufacturing in the UK immediately after the country departs the EU.
For context, Brexit is expected to have a disastrous effect on the UK's car manufacturing industry (and indeed, any manufacturing activity that depends on just-in-time supply chains).
Honda, for example, would have to build a 300,000 square foot warehouse in the case of a hard Brexit, which is equivalent of 42 soccer pitches in area, and if constructed, would be one of the largest buildings on the planet. Tariffs and customs checks will be dramatically disruptive to Honda, and it'd need to stockpile massive amounts of parts in order to keep production flowing.
So, what makes Uniti an outlier? TNW spoke to company chairman, Michael Molitor, who explained that that UK remains attractive from the perspective of a transportation startup, thanks to the easy access to top-level engineering talent and capital. With this in mind, the company has chosen to locate its manufacturing facilities at Silverstone Park, which is home to several automotive firms, including Porsche and Ducati.
Uniti's CEO, Lewis Horne, added that British corporate culture lends itself favorably to what it's trying to accomplish. Brits, he said, will get the job done, staying late if need be.
Molitor also pointed out that the UK's annual car market is roughly 3.5 million units. This is big enough for a small manufacturer, hoping to scale at a reasonable pace.
It also helps that Uniti's manufacturing model is inherently resilient against any potential Brexit disruption. For starters, it doesn't regard itself as a vehicle company, but rather a technology company. Its value isn't in its infrastructure, but rather its digital intellectual property (IP), which it can transfer across borders instantaneously.
This is something that the company could conceivably do. As Povolotsky explained to TNW, the company is open to the idea of having manufacturing facilities in each of the markets it enters, which is a stark difference from the current trend of massive car factories that export globally.
"If you're selling cars in France, you should build them in France. If you're selling cars in Australia, you should build them in Australia," Povolotsky said.
Uniti plans to beta test the first batch of 10 Uniti One cars in the UK later this year, before eventually releasing them to the public. When they eventually go on sale, they'll have an estimated retail price of £20,000 (roughly $26,000)
Get the TNW newsletter
Get the most important tech news in your inbox each week.
Follow @thenextweb