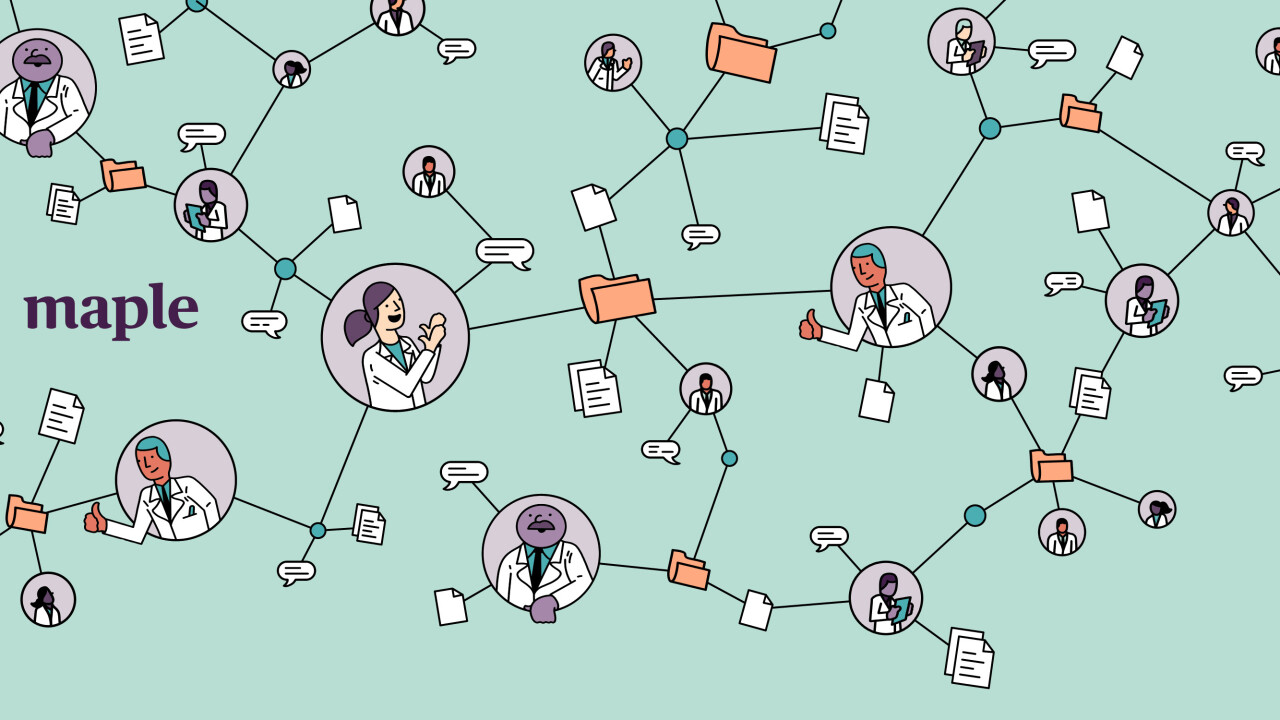 Story by
Former TNW Reporter
Matthew Hughes is a journalist from Liverpool, England. His interests include security, startups, food, and storytelling. Follow him on Twi Matthew Hughes is a journalist from Liverpool, England. His interests include security, startups, food, and storytelling. Follow him on Twitter.
March 8 is International Women's Day. To celebrate, TNW ran a series of profiles highlighting innovative companies led or founded by inspirational women.
The story of Maple, a Canadian telemedicine startup, began with a journey. At the age of eleven, Roxana Zaman, the company's COO and co-founder, fled Nicolae Ceausescu's collapsing regime in communist Romania for a better life in the Great White North.
Grateful for the opportunities in her new home, Zaman felt obligated to work harder than everyone else. "Living in Canada as an immigrant I always felt a duty to get a good education and land a stable job – so I did," she told me.
After graduating from university in Vancouver, she began working for TD Bank, where she quickly ascended the corporate ladder, and became part of a team responsible for a real-estate portfolio worth more than $250 billion.
"I quickly became the Jacqueline of all trades in the business," she said. "Becoming an executive at the bank turned into a realistic and tangible goal, so long as I'd stick to the career path outlined to me by TD."
But something better came along. Five years later, she sat down for a meeting that ultimately led to the creation of Maple. The goal? To see how technology can improve one of the the most envied healthcare systems in the world.
"While Canada has one of the best healthcare systems in the world, we rank very poorly compared to other developed countries when it comes to timely access to care. A significant amount of our population waits days to see a primary care doctor, and months to see a specialist," she said.
"I started imagining how much time we could save people, and how much capacity we could free up in our healthcare system by introducing a more efficient and comfortable way to see the doctor."
The answer to this is Maple. This service is Canada's only on-demand telemedicine company, and follows similar efforts in the UK. Patients can see a doctor from the comfort of their own home. "From a medical perspective, it's incredible how many diagnoses – over half – do not require a hands-on in-person consultation," Zaman said.
It works a bit like Uber. Medical attention can be requested at the tap of a button, and customers pay either a per-consultation fee, or a flat fee for a subscription. Physicians on the Maple platform can issue prescriptions and sick notes. They can treat a swathe of conditions, including mental health concerns, certain infections, allergic reactions, and sexual health issues.
Essentially, they can perform most of the tasks of an ordinary family doctor. Although full medical care (which Zaman describes as prescriptions, diagnosis, and a doctor-patient relationship) is only available in Canada, anyone worldwide can use the app for medical advice and second opinions.
Crucially, Maple isn't a replacement for the current healthcare system in Canada (which Zaman seems immensely proud of, referring to the "top notch" care and "best doctors in the world"). It's a supplement.
If you need immediate care, or suffer from a mental health condition that might make it harder to leave the home, or perhaps you just can't get the time off work, you can use this app instead. That's what Zaman describes as Maple's core value proposition: the frictionless access to quality Canadian doctors.
As a first-mover in the Canadian market, Maple's in a position to grow very rapidly. Despite that, Zaman says the company isn't averse to an international expansion. "The plan is to expand globally with full medical care (not just second opinions) as we build a highly regarded network of doctors around the world," she said.
The next generation of women tech engineers will start off as engineers, coders, and designers. To help bring more women into the tech world, consider making a donation to Girls Who Code, which funds summer programs and after-school clubs for teen girls.
Get the TNW newsletter
Get the most important tech news in your inbox each week.