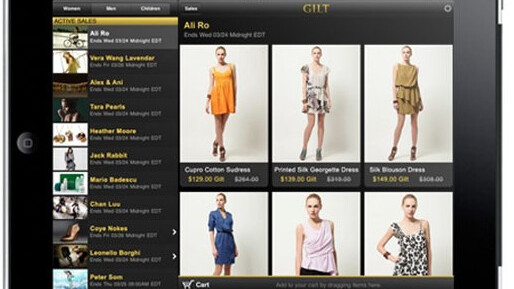 Story by
Amalia Agathou is the Community Director for The Next Web. She's studied Information and Communication Systems Engineering and has shared he Amalia Agathou is the Community Director for The Next Web. She's studied Information and Communication Systems Engineering and has shared her time between the startup and fashion scene. She has worked as an editor for The Next Web, House& Garden and Glamour magazine. Follow her on Twitter
In May I had the pleasure of attending the Luxury Interactive conference by WBR in London. As I've always balanced my life in between the tech and the luxury world I was eager to attend a conference about tech but with a brand new angle, putting away my geeky glasses.
The differences between a tech conference and a luxury conference, not that many:
1. Instead of beer you get to drink champagne
2. First conference in a while that I saw more blackberries than iPhones
3. People communicate with emails and SMS, not with DMs and tweets
4. You need business cards and not just a twitter handle to get in touch with someone
5. You can't unlock the super swarm badge at a luxury conference, not that many luxury Foursquare users yet.
6. Instead of free stickers you get mini luxury items, like chocolate boxes.
Apart from that, the eagerness to test new technologies, to innovate, to create bonds online and get to the future… one day sooner, are the same. Luxury has the know-how of the looks, tech the know-how of engineering and as they are both extremely fast paced industries,one can only imagine what can be achieved if they blend their visions.
What's hot in luxury online?
Transmedia. Shenan Reed from Morpheus Media, the agency responsible for the Marc Jacobs/Foursquare partnership, talked to us about it, highligthing the example of LOST, like Dave Watson at TNW conference. TV, PC, mobile campaigns are nothing but different chapters in the same book.
The power balance between bloggers/users and brands. There was a lot of discussion about control over a brand's image and to what degree such a thing is efficient or even feasible in a 2.0 world. As Ronit Weinberg, Vice President of Ecommerce and Online advertising at Diane von Furstenberg, pointed out many brands work closely nowadays with bloggers, and referred to the DVF experiment and the Tavi phenomenon. Ian Jindal, Editor in Chief at Internet Retailing, said: " bloggers, fashionistas suck on brands because brands have the money and they don't, but as soon as they have the customers who will grovel?". The faster brands realize they don't own their brand anymore and find out the best ways to select and nurture their ambassadors among their fans, to make the most out of their love and criticism and last but not least focus on their products not just their "name", the broader impact they'll have.
iPad shopping apps. I've always believed that the big thing on the iPad won't be apps that are supposed to "save print", but apps that will take advantage of the new crowd that will join the online community. iPad is not only intuitive to use but also creates a sense of security, just like a playground for a kid. My mom wouldn't fill in her credit card info to buy airplane tickets online for instance, but if she had an iPad and just clicked on the icon of her trusted airline company, in her mind she doesn't give her info to the vast internet, she gives it to the company she trusts. Plus, iPad loves images, making it ideal for the world of fashion. So get ready to welcome your new clients brands, the iPadorians!
Custom made. Many brands choose to go with custom made solutions to maintain the control over the customer experience, like Patrón tequila that has build its own social network to enhance the sense of exclusivity and Fabergé that has build a fancy site with IBM that simulates a  real world guided shopping experience. When it comes to the dilemma of custom made vs existing platforms what do brands choose? First of all brands have to balance exclusivity and accessibility, luxury brands fear that being too easily approachable will cheapen the brand. Secondly comes the issue of  who to trust in the tech world. Big brands trust big brands, cause that's what they know. But just think if they met their creative vision (and money) with a flexible and innovative start up how much they could accomplish. Maybe a matchmaking conference is in order next.
Social CRM. Zappos has set the bar very high in terms of CRM, even the luxuriest of brands seem to have a picture of Tony Hsieh hanged in their office for inspiration. Brands are looking ways to create a cohesive shopping experience, mixing the real with the mobile world, letting their on and off line world play off each others strength. Apart from brand values, service values are needed too!
Asia and mobile. Looks like all industries have their eyes set on Asia both as powerful market and leading example in the use of mobile. With Chinese and Japanese as top customers and the economies of Europe and America still shaky, brands set their eyes (and investments) on the East. Steven Davis by GSI Commerce mentioned that for a leading Japanese fashion site, 35% of sales are via mobile phone. Asia is a powerful complex market that challenges brands to understand it.
Crowdsourcing. Collaboration, not only solidifies the bond a brand has with its customers but also provides valuable insight on what matters to them. The NikeiD app where you can create your own shoe, not only provides through customization a unique shopping experience with the feel of VIP treatment, but also provides the company valuable info about the colors and designs that come first in preference among their customers.
GenY As Milton Pedraza, CEO of Luxury Institute, wisely observed "if you don't cultivate younger generation, you will turn your brand into a museum".
Top quotes
Know your digital assets, know your lawyer! – Shenan Reed highliting the importance for brands to know if they have the digital rights for whatever they set out to do.
Online shopping is often more exciting than most experiences at a store, unless you are a celebrity. – Milton Pedraza, CEO Luxury Institute.
Many brands use Facebook as a band-aid and not as CRM strategy. -"Monsieur Internet" at Hermès, Lancôme and Dior Couture.
Having a blog is a waste of time for a brand. Instead they should focus on their Facebook page and work with bloggers. – Michel Campan
Narrative is no longer owned by the brands, for every pompous video you upload on YouTube, 10 parodies will be up in 2-3 days. –Ian Jindal
The networks now know more about a brand's product than the brand itself. –Ian Jindal
A store is a place you train people to love your brand, look at Apple stores. – Ian Jindal
Think relational not transactional! The transaction is the result of everything else not the aim. Fabrice Paget, Chief Marketing Officer, Fabergé, on online shopping
A friend of a friend matters. Ronit Weinberg on the influence of social media, reviews and blogs on shopping
In great companies the system is the star not the individual. Milton Pedraza, on the art and science of Luxury CRM
Failure and success for an investor is the same. Failure will give you lessons for your next success nd success will give you arrogance and lead you to your next failure. Carmen Busquets, founder Couture Labs, founding investor of Net-A-Porter
Future economy is about how you can use your mind and your hand to produce. Colum Joyce talking to us about the EU and the future of economy. Here's a tip start ups: the focus of the next years will be transportation and environment. Keep the green apps coming developers!
If you liked what you read there is a Luxury Interactive conference in New York, June 28-29 and you can always follow Luxury Interactive on Twitter.
image: Gilt Groupe's iPad app
Get the TNW newsletter
Get the most important tech news in your inbox each week.