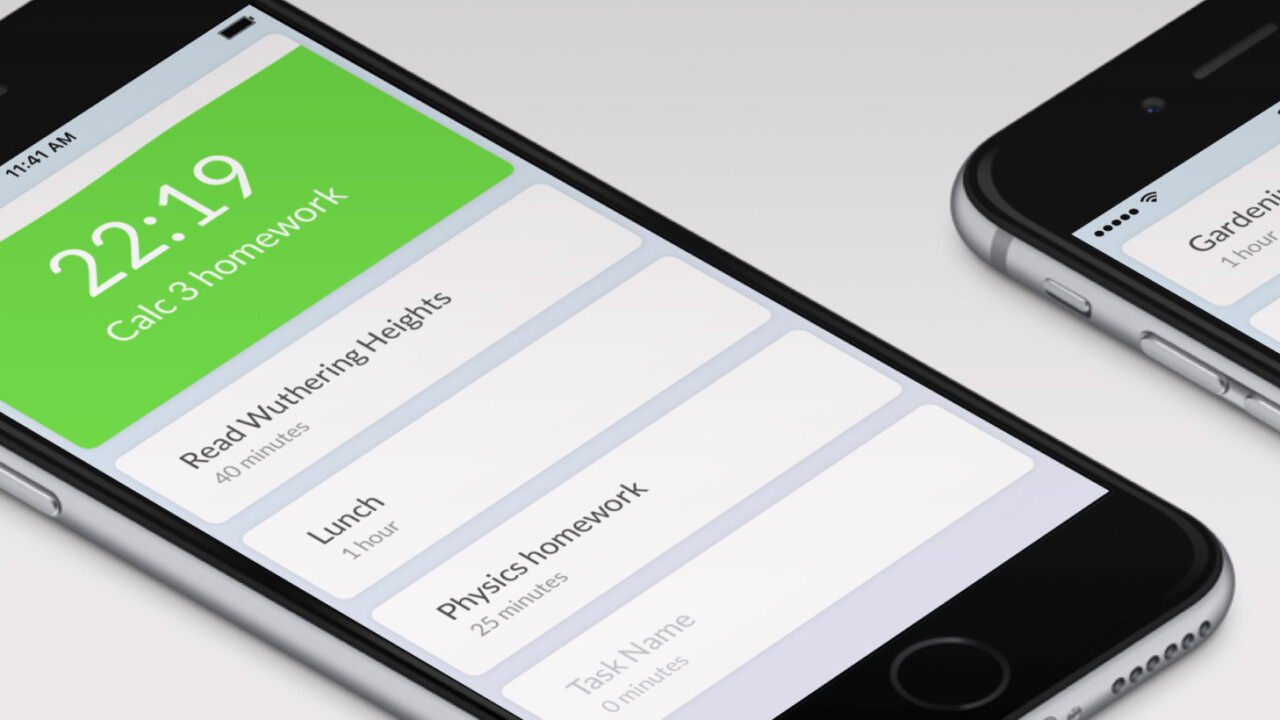 Story by
Managing Editor
Abhimanyu is TNW's Managing Editor, and is all about personal devices, Asia's tech ecosystem, as well as the intersection of technology and Abhimanyu is TNW's Managing Editor, and is all about personal devices, Asia's tech ecosystem, as well as the intersection of technology and culture. Hit him up on Twitter, or write in: [email protected].
If you constantly find yourself overwhelmed by your daily schedule, maybe it's time to seek help. Who ya gonna call? Try teenagers Shaan Singh, 17 and Erik Vanderplas, 15, whose cleverly designed productivity app, Time, is ready to assist you in crushing your tasks.
Available for iPhone, the app urges you to set a timer for each task that you add to your to-do list. Tap an item to start the clock and it'll begin counting down the minutes, along with a colored liquid background that lets you know at a glance how much of your slot remains to complete your task.
It's a simple but effective idea that helps you focus on one thing at a time, while also tracking how long it takes you. Over time, you'll find yourself getting used to reading the color-coded interface to understand when you need to hurry up – particularly handy for when you're reading or doing chores.
You can also pull down the liquid level on each task if you finish up early, or pull up if you need more time. And as with other to-do list managers, you can re-order items and swipe left to delete them.
Time also uses AI to make suggestions to boost your productivity, such as recommending that you extend the slot for a task that you often overshoot your deadline. This feature occasionally works really well, but occasionally acts up and makes odd suggestions ('extend your task to 1,000 hours and 28 minutes?'); hopefully the developers will be able to sort that out with future updates.
Overall, Time is a neat little app for people who frequently procrastinate and have trouble managing their time – but it's not for calendar junkies who prefer scheduling tasks alongside appointments. It's certainly worth trying out for the $1 asking price.
Singh told TNW that he first met Vanderplas at Apple's Worldwide Developer Conference in 2014, and began working together on Time the following year. Their goal was to not only build a handy productivity tool, but to also harness the power of artificial intelligence to enable the app to interact responsively with users.
Singh is currently working at the University of Maryland and Johns Hopkins Medical Institute to diagnose autism using machine learning. "I've been working on this project for almost a year, and it's been extremely fulfilling to see something I'm creating grow into a tool that could impact millions," he said.
While Time already works fairly well, Singh believes there's plenty of room for it to grow into a major productivity platform. He's presently working to add Apple Watch compatibility, so you'll soon be able to adjust task time right from your wrist.
Get the TNW newsletter
Get the most important tech news in your inbox each week.
Also tagged with