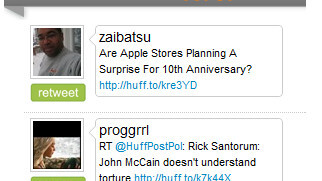 Story by
Frank has co-founded several companies in the location-based services area: IRL Connect, Verbeterdebuurt and indoor positioning company Qubu Frank has co-founded several companies in the location-based services area: IRL Connect, Verbeterdebuurt and indoor positioning company Qubulus. He is focused on the practical use cases for new technology and the long term implications for consumers. Twitter: @FrankSchuil
Recently EveryTrail announced a partnership with Fodor's and a significantly update iPhone app. TNW Location went to visit Joost Schreve, founder and CEO of Global Motion, the company behind EveryTrail, at their office in downtown Palo Alto, CA to find out how they are disrupting the travel guide market.
TNW Location: Can you describe what your product does?
Schreve: "Our product is a mobile and online location-based travel application that helps travelers share their experiences, connect with other travelers and find great new things to do. I founded the company in 2006, when location-aware phones were not yet widely used and the iPhone was not even announced yet.
Initially we focused mainly on Garmin handheld GPS owners. Our initial users uploaded GPS files from their devices, and separately uploaded photos to create interactive maps of their trips. We've continuously fine-tuned the user experience to make that complex process as easy as possible, and our user base grew to tens of thousands of users.
When the iPhone was finally launched and let third party developers create apps in 2008, our product became much easier to use and more mainstream, helping us grow to hundreds of thousands of users. Right now, people are uploading around 1,500 trips per day."
TNW Location: What's new in the the updated version of your app?
Schreve: "In order to make the vast amount of content more useful for trip planning, we've created the concept of EveryTrail Guides. They are based on the same principle, including a map, media including photos and videos, and a description, but they contain more detail and are meant to provide all the information that someone needs to do a trip. Our goal is to offer guides for every thinkable trip in every corner of the world, so that people can rely completely on our guides when planning and doing their trips."
TNW Location: Today your product provides both user generated trips and premium guides from content partners whereas other companies solely focus on user generated content. Do you think that the user generated guides can displace premium content? Would it be a threat to your business model?
Schreve: "I believe that user generated content and premium content supplement each other. It really depends on the situation and your preferences. In general, premium content from trusted brands such as Fodor's is of high, consistent quality, but it may not describe every single trip that's possible on any given location.
A good example is how online retailers like eBay and Amazon combine products from well-known brands as well as from individual sellers. They both moved into their current positions from opposite directions (eBay was initially only focusing on individual sellers, while Amazon started as a traditional etailer), and now they mix both approaches, because that is what people want."
TNW Location: Guide prices currently range from $1.99 – $9.99. Are people willing to pay $9.99 for a guide?
Schreve: "Individual guides are priced at $1.99 and we offer bundles that are priced up to $9.99. We are finding that the $9.99 guide bundles are selling quite well actually. We're considering now creating even larger bundles of up to $29.99 for, say, the top 50 guides in California."
TNW Location: If users upload a trail do they get part of the revenue?
Schreve: "Yes, a key element of our strategy is that we offer an open market place for mobile travel guides, so everyone can submit a guide. We do have an approval process to maintain a consistent level of quality. Guide partners receive 50% of download revenues generated with their guides."
TNW Location: What are the most popular types of guides and what's the silliest trips someone created so far?
Schreve: "Most popular are city walks, such as La Rambla in Barcelona and hiking trails such as the Half Dome trail in Yosemite National Park. Users are also creating crazy fun trips and "GPS drawings" like a SPC INVDR in San Francisco and dog silhouette in New York."
TNW Location: Where do you see the mobile travel market heading over the next few years?
Schreve: "More and more printed travel books will be replaced by digital and mobile products. This transition will take several years, but it is clearly already happening. I am expecting a lot of competition from startups as well as large existing players. Over time a handful of winners will emerge, because consumers appetite for using many different apps is limited. My goal is to be among the winners and I believe we are very well positioned to achieve that goal."
Founder and CEO Joost Schreve
With other startups like NileGuide and Tripwolf entering the market and offline brands that are exploring the online possibilities to secure their future, the travel guide market will be an interesting one to follow.
Get the TNW newsletter
Get the most important tech news in your inbox each week.