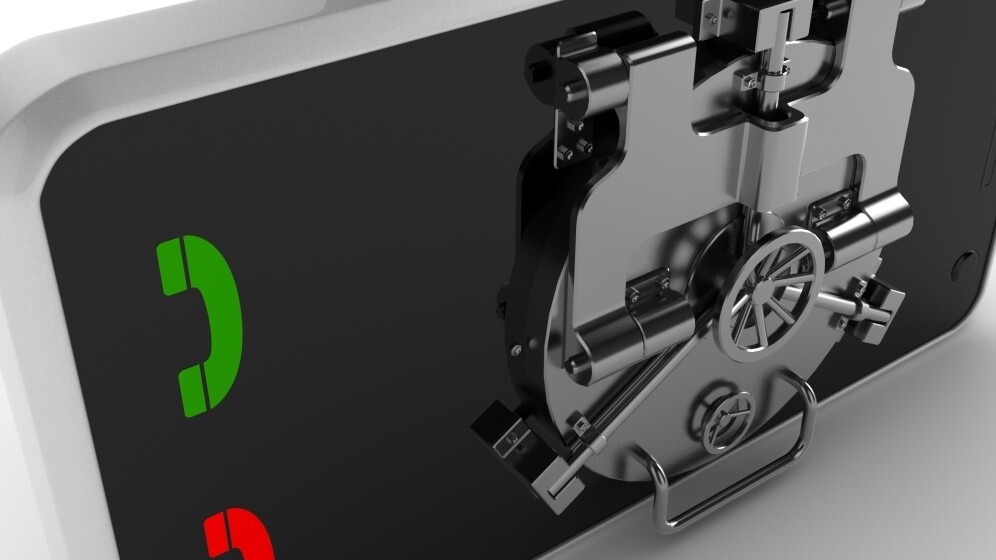 Story by
Europe Editor
Ben is a technology journalist with a specialism in mobile devices and a geeky love of mobile spectrum issues. Ben used to be a professional Ben is a technology journalist with a specialism in mobile devices and a geeky love of mobile spectrum issues. Ben used to be a professional online poker player. You can contact him via Twitter or on Google+.
With revelations about mass spying and a crippling widespread security flaw affecting two-thirds of the Web, it's little surprise services and devices that put security and privacy before all else are seeing a groundswell of support.
However, despite there being a number of smaller name mobile makers nibbling away at the corners of the market, many of them – even the open source efforts like Firefox OS and security-focused Blackphone – aren't designed in a way to fix the essential problem: the user never really owns or has control of their data.
Aral Balkan, founder of Indie Phone and upcoming speaker at TNW Conference 2014, plans to change just that. We caught up with him ahead of the event to see what his new project is all about.
Basically, it's a phone where people can actually own the tool and the data. We're going to be building the hardware, the operating system and the personal cloud around it with the goal of having these work seamlessly together, so that it's a great, beautiful experience. That's what separates Indie technology from the free software movement or open source. It is, in effect, the next evolution of open source, where we bring design thinking to this area with the goal of creating consumer products that can compete with the likes of Apple and Google.
But why is it necessary at all, and what's so bad about the current system as Balkan sees it; couldn't the current crop of handset makers just put more emphasis on data privacy?
"We need to get across to people that this is important, there still isn't enough awareness, and we're not going to create awareness by talking about data – that's boring. We need to show people how it impacts their lives, and what the worst case scenarios are if we keep going along this path of having a monopoly of this one business model of corporate surveillance.

That's an end result that I call digital feudalism, where we don't have the right to even own our tools and our data and our services; we have to rent them and our only options are which corporation do we rent them from. That's quite a bleak future because these consumer devices, and whether we have the alternative of owning them or not will determine the character of the society we live in, in terms of our civil liberties and human rights. Whether or not everything we do is shared with a corporation or not will have a fundamental impact on our freedoms."
Breaking down barriers
Jolla, Blackphone, Firefox OS, Ubuntu, Fairphone; there are no shortage of new brands trying to secure a footing in the market. Indeed, with lower barriers to entry, ideas that wouldn't have been possible in the past are now far more viable.
"Forget 10 years ago, or even five years ago, to even suggest doing something like this would not have been feasible. Today it is," Balkan told TNW.
So with plenty of open source initiatives already up and running, why not just support one of those efforts rather than start from scratch?
Open source is not structured to be competitive in the consumer world. We're talking about meritocratic institutions that are mostly staffed by middle-aged white men, and focused on features, not user experience or design – in the holistic sense, I don't mean aesthetics when I say design.

Indie technology, as I call it, targets the consumer market and understands that features are a commodity in the consumer market, that we can't compete on features, that we have to compete on user experience. In order to do that, we need to build organizations that can compete on user experience, that are design-led, where design comes from the top down. That's the only way we can have the development process, the iterative processes, the design-led processes, needed to create these products. The phone  is just the first example of this whole category of technology that has basically been missing called Indie technology.
Apps, but not as you know them
With a laser focus on ensuring users are in control of their data at all times, the device(s) won't even use applications as you know them today. Today's apps are a combination of functionality and data, but Indie Phone's software will be arranged a little differently.
"On the system that we're going to ship, all of your data will be on your own timeline, in a single place that you own. The canonical location of the data will be a place that you own; your personal cloud," Balkan says.
So, rather than having apps as silos of information, the Indie Phone will have one central repository for all your data, and then the services essentially just plug into that. App developers will be able to extend your own personal cloud, but the company won't be encouraging app developers to set-up their own back-end, as this would "open up this platform again to the kind of corporate surveillance that we see from the likes of Google and Facebook, and that business model", Balkan said.
A long road ahead
As mentioned before, it's now easier than ever to bring a mobile product to market, but that doesn't mean that Balkan is in it for the short-term and will be looking to sell out if he the idea gains traction. Quite the opposite actually.
 This is a long term vision and a long term effort. Our first phone, we're going to produce and ship in two years time, but we're going to iterate from there as well. So, if I'm working on this in 10 or 20 years time, that's great; that's great validation. I don't have an exit strategy for this. We need long term thinking to tackle this problem. We need people who are willing to commit to longer-term solutions, rather than subscribing to the venture capital backed cycle of creating free services then having a multi-billion dollar exit in a couple of years time by screwing the users. That's the problem. Venture capital is part of the problem. That whole Silicon Valley dream is part of the problem. It's very short term thinking.
There's a key problem here though. Not that Balkan would likely see it that way. Making a smartphone takes a lot of money. Making one from the ground up, building your own OS, building your own cloud services and making sure it's as sleek and appealing as a big brand manufacturer is an expensive business.  
With traditional routes of VC funding seemingly a no-no, Balkan says he plans to crowdfund the first part of the project on a platform like Kickstarter or Indiegogo, though he isn't decided exactly where or how much money the project will be looking to raise right now. Or when.
With production optimistically expected to be ready by 2016, Indie Phone is obviously still near the start of its journey, but it knows exactly how it will be monetized if the crowdfunding project is successful.
"The business model on this platform is very simple. For us, we sell the phone, and if you want us to set up your personal cloud seamlessly as part of the process then we can do that," Balkan said.
He added that the personal cloud will be free for the first as-yet unspecified period of time, perhaps a year, after which you'll have to start paying a monthly fee for taking care of your server, but that users will be able to move their personal data out of the service whenever they like and that the server is theirs.
And if crowdfunding doesn't work?
If by chance it's not [successful], we'll look for alternative investment; we're definitely going to go ahead with this one way or another, I think crowdfunding will be the easiest way, but if not it will at least get another boost in terms of our exposure and we'll take it from there; and see who else is interested, who else has the same social mission and believes in what we're trying to do.
Balkan says he's already applied for funding as part of the Knight News Challenge, and that the recent sale of a family flat should provide around £80,000 to complete the initial designs and get it to the crowdfunding stage. Clearly, with the sale of a flat just to get this off the ground at the initial stage, Balkan is deadly serious about seeing it through.
With so many of the details yet to be finalized, even when it comes to the crowdfunding campaign itself, there's clearly a lot of work to be done before the company will be able to deliver any actual devices or services. But with a sensible time scale presented to backers up-front, it may at least have less of a problem with disillusionment some months down the line. The Indie Phone just needs to get there first.
Aral Balkan, along with many other speakers, will be taking to the stage at TNW Conference 2014 taking place April 24-25. Grab your ticket now before it's too late! 
Featured Image Credit – Shutterstock