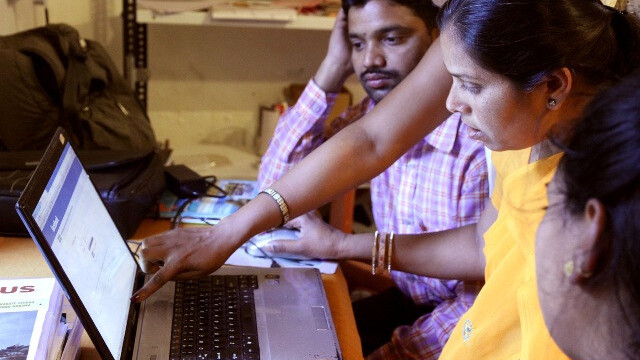 Story by
Jon Russell was Asia Editor for The Next Web from 2011 to 2014. Originally from the UK, he lives in Bangkok, Thailand. You can find him on T Jon Russell was Asia Editor for The Next Web from 2011 to 2014. Originally from the UK, he lives in Bangkok, Thailand. You can find him on Twitter, Angel List, LinkedIn.
It has just seen Brazil overtake it to become Facebook's largest overseas market, but India is being tipped to overtake the US and the Latin American country to become the planet's largest collection of Facebook users by 2015.
India currently has 57 million registered Facebook members, putting it some distance behind the US (157 million) and narrowly below Brazil (59 million) — according to Socialbakers — but India has barely scratched the service of its online potential, and could bring hundreds of millions of its population online in the coming years.
Speaking to CNBC, Gartner analyst Shalini Verma predicted that a change of order will take place before the end of 2015, driven by a continued growth in mobile-based Web access:
India could overtake the United States in the next three years. Last year, Facebook users in India doubled. Growth will be driven by mobile Internet users in second- and third-tier cities.
Mobile is the key factor for the development of Internet access in India, which, in turn, would power Facebook and other services' growth. Currently, fixed-line penetration is below 10 percent — the country passed 100 million users in November — with mobile already accounting for half of all Internet use, according to Statcounter data, and phone-based access is set to only increase.
Smartphones and Web-enabled feature phones are the driving force behind India's online revolution. Smartphone shipments to the country passed 10 million for the first time last year, taking just ten months to set the new record, according to CyberMedia Research, but there is still much more to come.
Smartphones accounted for just 6 percent of the 160 million plus mobile devices that shipped to India in 2011. Shipments are very much in response and anticipation to sales and, with country-wide monthly smartphones purchases topping one million for the first time in November, retailers are set to order and sell devices in greater quantities than ever before this year.
The increasing affordability of low-end smartphones and Web-enabled feature phones is a key factor seen as having the potential to bring lower-income India's online with a more app centric mobile experience.
Nokia is making a particular push for the first time Internet phone buyer market with a series of affordable feature phones, including its Asha series — which begins at $60 — while two sub-$50 phones were announced last week.
Facebook itself is also pushing its low end offering, having added seven new Indian languages to its 'Facebook For Every Phone' app, which caters for feature phones in the country.
There are also encouraging signs on the infrastructure side of things. India was a relative late adopter of 3G networks but it already has its first commercial 4G deployment, after AirTel launched its LTE service last month.
Initially available in just two cities and via dongles only, the service will expand to cover more parts of the country in time and, once LTE-compatible device ownership swells, smartphones and tablets will be included too.
Airtel CEO Sanjay Kapoor heralded the significance of the 4G service as "driving fundamental changes in society at large" and wider adoption of mobile Web and Internet-enabled devices is likely to see Facebook, Twitter and other online services seriously grow their presence among India's 1.2 billion population.
Facebook itself has previously admitted that India will become its biggest market at some point, but it remains to be seen if Facebook user numbers there can accelerate at such a rate that it overtakes the US by 2015.
Based on recent growth (1.96 percent in the last three months) — which doesn't account for saturation — the US will pass 200 million members by the end of 2015. That would require Facebook to grow by more than three and half times its current user base in India – a big ask.
Currently, half of India's Internet users are registered members of Facebook, which suggests that the demand to support such growth is there. Assuming that the site held its popularity among Indians, it could break 200 million users if the country is able to bring a further 300 million new Internet users online by 2015.
However way you look at it, the requirement is challenging but Facebook will be concerned with growing its user base (and revenues) in India, and that is certain to happen regardless of whether India tops the US market, or not.
Note: For anyone sceptical that India's impoverished hold any interest in owning a smartphone, it's worth remembering that there are more mobile phones in the country than toilets, as CNN reported. Equally, the Internet (and Facebook) can provide genuine benefits for everyday life – as these Indian farmers can testify.