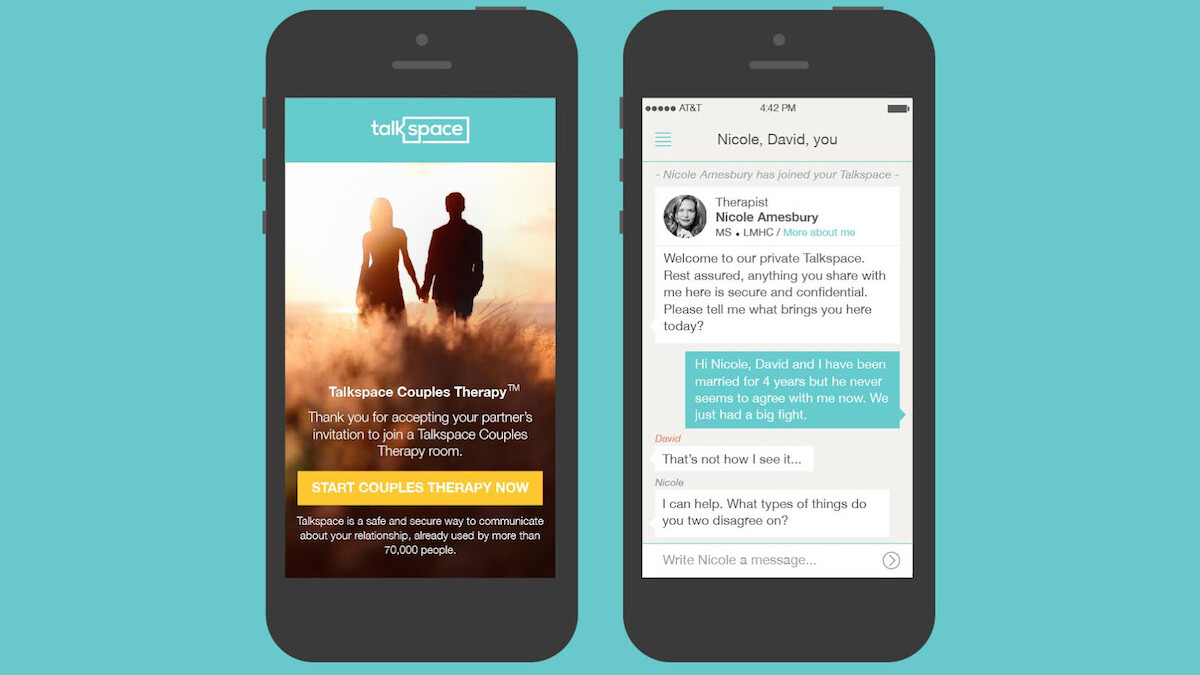 Story by
US Editor
Natt Garun is the former US Editor at The Next Web, managing the North American team on content, events, features and reviews coverage. She Natt Garun is the former US Editor at The Next Web, managing the North American team on content, events, features and reviews coverage. She previously wrote for Digital Trends, Business Insider, and Gizmodo. Facebook | Twitter | Google+
To help save your Valentine's Day from becoming a total disaster, Talkspace, a service that lets you chat with a licensed therapist via text and instant message, launched a new Couples Therapy feature so both you and your partner can resolve your issues remotely.
With Couples Therapy, two participants can join a chatroom with a therapist without having to physically show up at a clinic together or even be in the same room.
You've probably just balked at the idea like I did. I'd initially thought of Talkspace as an interesting way to get affordable and convenient mental healthcare, but I've always envisioned couples therapy as something a third person should witness in real life. What's the tone of voice in which partners are speaking to each other? Are they looking at each other when they talk? Is anyone crying, stuttering or rolling their eyes?
With this skepticism and curiosity in tow, I asked my boyfriend of five years to test the app with me.
"What should we fight about?"
"Best pizza?" (Preface: I am a New Yorker and he's Chicagoan, so this might actually break us up).
We went into the chatroom pretending to combat an issue we addressed on our own months ago.
Let the awkward begin
Talkspace begins with a consultation so you can provide info on your relationship and why you're seeking counseling. After the assessment, you are connected to a therapist whose expertise best matches your situation and transferred to a group chatroom where you and your partner can join remotely.
Talkspace says the wait time between consultation and counseling session can be between 30 minutes and two hours, so it is not suitable for couples who are about to tear out each other's throats.
A few hours after consultation, we hear from Rachel*, a licensed professional counselor. She asked a few background questions, and had us explain to each other what we found bothersome in the relationship. Obviously, this felt awkward as we were forcing ourselves to relive a fight that ended months ago.
It got uncomfortable fast. Soon, it felt like the boyfriend and I were creating conflict in our perfectly happy relationship just so I could write an article. As I typed to Rachel on my bus home, I imagined a separate text coming from the boy, dumping my ass for this sick social experiment.
The response time from Rachel was around three minutes. This might not seem like a while in theory, but in an instant messaging era, the wait felt like forever. It's akin to getting tech support over live chat; it's much faster to do over the phone but our society resort to typing because we're lazy and want to avoid talking to strangers.
What I did find helpful about the chat was Rachel's insistence on having us reflect on what we meant when we described our 'problems.' During heated arguments, humans tend to put themselves at the center instead of considering others' perspectives. This tactic is helpful with couples who were truly hurt by each other, and genuinely want to overcome any resentment.
I also thought it was interesting that Rachel pinged me in a separate chatroom and said I could tell her whatever I was not ready to say in front of my boyfriend. Two sessions for the price of one! In the individual chat, I felt Rachel sounded more friendly and less robotic since she didn't have to mediate between two people.
One lengthy process
The boyfriend and I spent a little over one hour messaging Rachel back and forth continuously. If this had been done in person, the entire conversation would probably take less than five minutes.
There are certainly flaws about online couples therapy aside from the lack of visual cues. My boyfriend noted that, in comparison to speech, he was able to look over what he was typing and tweak his wording – thus making the conversation less natural. I also felt that chatroom therapy allows for two people to angrily type over each other without much the counselor could do to control the pace.
In the end, Talkspace made us realize that communicating with each other in person is more valuable…
… and that I'm a monster for putting him through fake therapy. One wise Taylor Swift once said that fakers are gonna fake (x5), so feel free to just shake this experience off, boyfriend (BOOM, I WIN THERAPY).
In all seriousness, Talkspace definitely has a place for couples who are willing to slowly work through their (actual) problem. Therapy is a process; although texting is one way of communicating with a counselor, it will still take as much time and effort as in-person sessions would to overcome your issues.
Priced at $149 a month for unlimited chatting, Talkspace's Couples Therapy is an affordable alternative to most therapists' hourly rates. Just be sure you're patient enough to commit for the long haul and, well, arrive with real conflicts.
*Name has been changed to provide anonymity.
Get the TNW newsletter
Get the most important tech news in your inbox each week.