Story by
Co-Founder and Director Marketing Group PLC, Partner at Unity-Group (Private Equity). Author of 'Progressive Partnerships - The future of bu Co-Founder and Director Marketing Group PLC, Partner at Unity-Group (Private Equity). Author of 'Progressive Partnerships - The future of business'
Earlier this year, I released the book Progressive Partnerships – The Future of Business. The central tenant of the book was that we are moving away from competition and into a period of collaboration.
In it, I show how, whatever stage your business is at – even if it's nothing more than a vague idea – you can use partnerships to achieve pretty much anything. I gave specific, step-by-step guides to how early stage businesses can easily generate several thousand dollars a month in extra profit purely through partnerships within their sector.
I also talked about how the same concepts could be applied at a much bigger level to create a 'collaborative IPO'.
Unfortunately, the book had to go to print before I got the chance to ring the bell on our own IPO, so the below is a quick recap for how you use partnerships to go from idea to IPO in 12 months.
The journey to our IPO
On June 8, our small band of entrepreneurs rang the bell at NASDAQ OMX in Europe so hard that the rope fell off. Nearly a year's worth of anticipation, frustration and excitement was extracted on a hundred year old brass bell in Stockholm.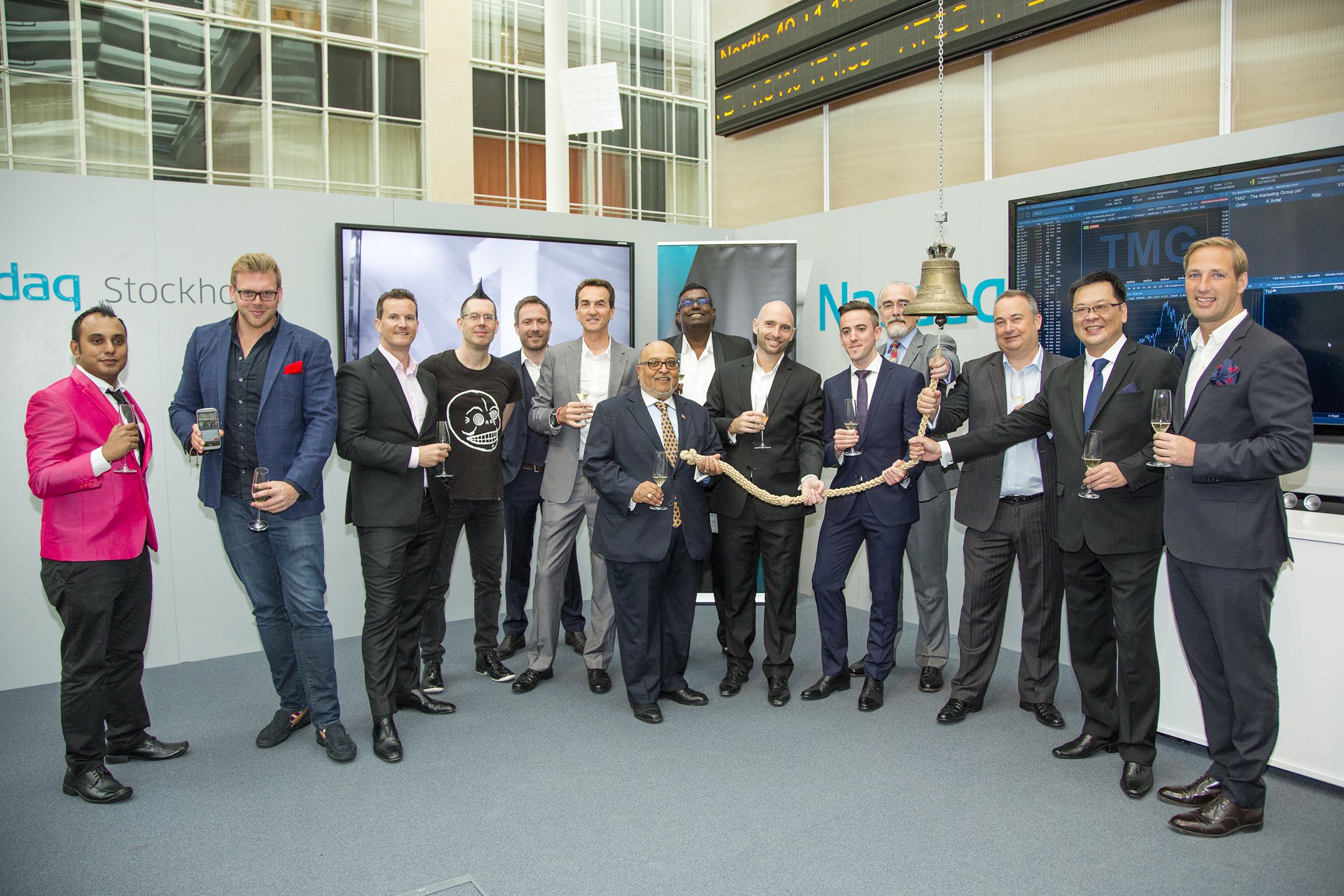 Eleven months earlier, in July of 2015, my business partner Jeremy Harbour and I sat around a table drinking tea in the lobby of The Fullerton Bay hotel, Singapore. Opposite us was a small business owner and his advisor. In front of them was a two page document that laid out, in the simplest possible terms, that they were willing to swap 100 percent of the shares in their company for several million euros worth of public stock in a company that didn't yet exist.
The idea
On paper, Jeremy's idea, which we would later name 'Agglomeration', made so much sense. Most small businesses are too small to benefit from all the advantages you get from being on the public market, so let's create a collaborative IPO where 20+ small businesses come together to create one big company that lists.
By being part of that group, those companies would instantly double, or more, their valuation. They would be able to bid for much bigger projects by pointing to a $100m balance sheet instead of a $5m balance sheet. And they would have the freedom to sell little bits of stock on the exchange whenever they wanted.
Unlike a traditional roll up or M&A strategy, we would leave the founders in place and with full control of their business. Their brands, their budgets, their hiring/ firing decisions. We were building a platform to allow them to scale, but we were giving control to them not taking it.
We only needed four companies in the group to get listed, everyone else could join after that. But those first four had to take a complete punt on Jeremy and I being able to do what we said we were going to do. And even we didn't know we could do that for sure.
The first deal
Opposite us, his pen hovered near the agreement, but he still had more questions. We answered with as much confidence and nonchalance as we could muster, but the reality was that if we couldn't get this first agreement signed, we were back to square one. In any partnership, your first deal is critical, it doesn't need to be the best deal, but it is the one that starts your momentum and gives you the credibility you need for the next deal.
After what seemed like an eternity, he finally put his pen to paper and signed over 100 percent of his shares to be a part of the soon to be formed Marketing Group PLC.
Gaining momentum
With the first deal done, the next three deals all followed within a month, and we naively believed we might even get listed by Christmas.
I will spare you the details, but if getting one company ready for listing is a challenge, it does not get easier when you add 3 more to the equation. However, month by month, we worked with the investment bank and with Nasdaq to ensure that we were market ready, audits were done, due diligence completed and reams and reams of paper work were signed and counter signed by various lawyers. At multiple stages throughout those long hard and expensive months, it is fair to say that every founder that joined had some serious doubts as to whether we could really make this work.  In any partnership, things will go through hard times. Being willing to hang in there is crucial for success.
However, with four companies committed, investors lining up and the IPO date looming, the momentum started to swing. From pitching the seemingly impossible nearly a year ago, we were now having companies and investors lining up to pitch us as to why they should be allowed to join.
IPO
But before anyone else could join, we had a very important next step. Any entrepreneur with ambition will secretly harbour the desire to ring a market bell on their own IPO. Largely symbolic, it is the moment when your business, your baby, gets to walk on its own two feet in front of the whole world. It is a tacit endorsement that you have evolved your business to a point where complete strangers will choose to own a stake in your future success.
After countless delays, false starts and even the occasional blood, we flew all four founders and the full board of directors to NASDAQ in Stockholm to ring the bell and announce our listing to the world.
Bell ringing done (and apologies made to Nasdaq for breaking the bell), the champagne was popped and a day of celebrations and constantly hitting refresh on Yahoo Finance began.
We knew our concept was great, and we knew that as we continued to add strong businesses to the group, the share price would naturally climb. But would investors understand that on day one? Had the roadshows, the conference calls the endless pitching been enough to shift the share price in the right direction?
Glued to our phones and the big screens in the room, we waited until the first price was flashed up. Boom! We are up 16 percent and trading was strong. More champagne! Over the course of the day, half hearted attempts were made at a Board Meeting and exploring collaborative opportunities amongst the group but between watching the stock price, sharing the excitement on social media and continuing to quaff Bollinger like it was going out of fashion, this day was one to enjoy the fruits of our labour.
When the bell was finally rung for the end of trading, more than a third of a million shares of The Marketing Group PLC (TMG.ST) had been traded and the price had been forced up 23 percent higher than it was that morning, giving us a market cap of €17.7m. The four founders were multi-millionnaires, and their faith in us had been rewarded.
Idea to IPO in 12 months, but the IPO was just the beginning.