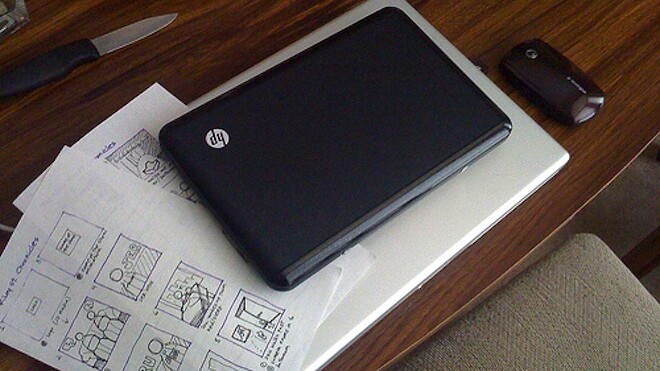 Story by
A music and tech junkie who calls Nashville home, Brad is the Director TNW Academy. You can follow him on Twitter @BradMcCarty. A music and tech junkie who calls Nashville home, Brad is the Director TNW Academy. You can follow him on Twitter @BradMcCarty.
There's a lot of talk lately about how the tablet form factor is killing the netbook market. While the sales numbers do certainly tend to reinforce this talk, there are still those of us who love to have a netbook for many different reasons. Generally speaking, netbooks suck. Flimsy construction, mushy keyboards and generally crappy specifications put them right there into the category of "if I have to".
HP's newly-revamped 210 is a lovely exception to an ugly rule. WIth a truly great feeling keyboard, a trackpad that is second to none and a battery that simply refuses to die, it's one of the best values that you'll find, especially considering that an iPad is going to cost you considerably more money.
The Gear
I took the 210 for a trial run for the past couple of weeks. Admirably, HP didn't send me the most loaded out version that you can get. In fact, it was bottom of the barrel. While that helps with naming impressive price points, manufacturers tend to send massively geared systems to reviewers in order to wow us with performance while price remains in second place. That said, here's how our review unit was specced:
Intel Atom N455 (1.66GHz)
1GB DDR3 System Memory
320GB 7200RPM Hard Drive
Windows 7 Starter Edition
Webcam w/Integrated Microphone
10.1-inch Display
VGA Port
4-in-1 Media Reader
3x USB 2.0 Ports
93-percent Keyboard
3.08 lbs.
While we'd love to have seen the Home Premium version of Windows 7, again it seems like HP was showing us a system that you would be likely to buy because of price, and hope that the performance would come up to par. List price for our Mini 210, as tested? $349.
In Use
Firing up the 210, the first thing that you'll notice is that you're taken to a (nearly) instant-on start screen called QuickWeb. You can do some basic tasks from here, but we found it to be more of an annoyance than a help. If you're going to be working for any length of time, it's worth your while to let the 210 boot fully into Windows.
Fortunately, if you don't touch the cursor, you're booted into Windows after 30 seconds. You can also choose to leave the screen and get straight to Windows if you'd like.
Once the 210 is loaded up, there is some pre-installed crapware. You'll find some HP cloud storage, some Norton security software and the usual shortcut icons to online services. Most of these are minor, though, and you can remove them without trouble. Crapware aside, Windows 7 Starter should be sufficient for most tasks that you'll need to do through the day.
HP touts that you'll be able to enjoy full 720 or 1080 video on the 210. While that might very well be the case with the higher end display, it's certainly not the case with the lower end display and 1 GB of system RAM. Playing Netflix, we found the playback to be sub-par when HD was enabled, but it fared sufficiently with SD programming or HD programming played without the HD option selected.
The speakers on the 210 are admirable, especially for a netbook. They're loud enough, clear enough and even handle a wide range of frequencies. You won't be rocking the office with them, but you can at least charm your cubicle.
The keyboard for the 210 is probably the single most impressive part behind the battery. Though it's only a 93-percent keyboard, it's extremely comfortable with a very snappy response to the keys. We happily did more than a few blog posts from the 210 and the keyboard was never a concern. Even with a combined F-row/Function row, it was never a hassle to use the keyboard.
Now, let's talk battery life. According to BatteryBar, a full charge on the 210 would give me around 7 hours of working time with the display on the highest settings. Watch video at that setting and you'll be cutting down to around 5 hours. Drop the display down a couple of notches and you'll be able to work a full 8 hour day from a single charge. Charge time on the 210 is also admirably quick. From dead empty to full, it only took around 2 hours.
Buy or Pass?
This is a question that is actually a lot more difficult to answer than it should be. You really have to take some things into account about how you'll be using your most mobile of devices as well as what sort of money you want to lay out.
If you're just browsing the Internet, there's probably not a better device out there for doing so than the iPad. If you're wanting to type, though, the iPad's on-screen keyboard can only take you so far before it becomes annoying. This is where a netbook still rules the roost, for me. I could walk out of the door with a full charge, work all day and never have to worry about whether or not I'd be able to type things as quickly as I needed to.
There's also the matter of price. While some will argue that the iPad can have a Bluetooth keyboard with it, that adds to the already-pricier option of carrying the tablet. Sure, your 210 might not be as sexy as flipping out an iPad and busting out some emails, but it's infinitely more functional and almost half the price.
For us, the Mini 210 is one of the best in class for a netbook. Right now, it's still a buy unless you just happen to have a bit more money than you know what to do with. But even then, there are still limitations on an iPad (we can't do blog posts on TNW, for instance, because of the necessity to insert images) that make a full computer a better option.
Long story short, for less than $400, it's almost impossible to go wrong with HP's Mini 210.
Get the TNW newsletter
Get the most important tech news in your inbox each week.