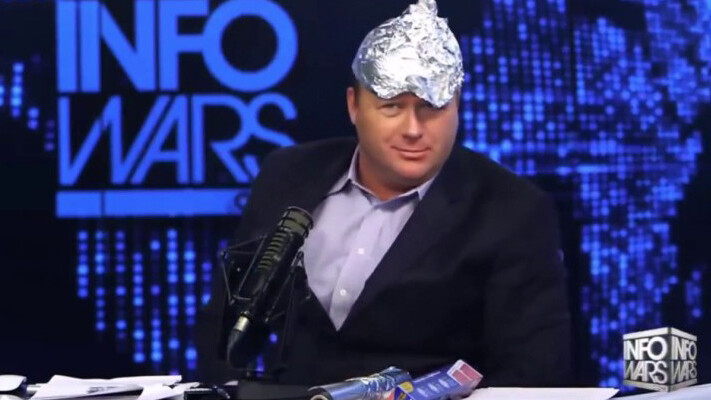 Story by
Internet Culture Writer
Rachel is a writer and former game critic from Central Texas. She enjoys gaming, writing mystery stories, streaming on Twitch, and horseback Rachel is a writer and former game critic from Central Texas. She enjoys gaming, writing mystery stories, streaming on Twitch, and horseback riding. Check her Twitter for curmudgeonly criticisms.
Despite being banned by four massive tech companies — Apple, Spotify, Facebook, and YouTube — Alex Jones' Infowars app has shot to the top of the News lists on both major app storefronts with the speed of a champagne cork in the last day.
The fact the app itself exists is likely thanks to some vague guidelines from Apple and Google regarding what kinds of apps it will allow — guidelines that appear to be separate from those that got Jones' show banned from the companies' platforms in the first place.
The bans, which came to light yesterday, almost all came about because Jones' show violated the platforms' policies against hate speech. While the dominoes fell in quick succession, the first company to to have pulled the figurative trigger appears to have been Apple. The company's reason for removing Jones' podcast, cited in a statement to Buzzfeed News, was, "Apple does not tolerate hate speech, and we have clear guidelines that creators and developers must follow to ensure we provide a safe environment for all of our users."
However, it appears these rules don't necessarily apply to both podcasts and apps.
The Infowars app, which is not banned by Apple despite ostensibly being from the same person who violated its hate speech guidelines, has rocketed up the charts overnight. Here's where it sits currently:
As you can see, the app has shot into the top 5 of Apple's list of free news apps. It's also currently in slot 11 on the Top News and Magazines Apps list on the Google Play Store. So clearly it didn't take Jones' followers long to find an alternate outlet.
It's odd to think Google and Apple have both taken such a hard stance against Jones — he had over 2 million subscribers on his YouTube channel, so banning it was not a small move for Google — and yet not extending the ban to an app from his company. A Google spokesperson told CNBC, while not referring to that app in particular, that the site only removes apps when they violate policy.
Apple's guidelines for the kinds of apps it will reject or remove are actually frustratingly vague. According to the App Store Review Guidelines:
We will reject apps for any content or behavior that we believe is over the line. What line, you ask? Well, as a Supreme Court Justice once said, "I'll know it when I see it". And we think that you will also know it when you cross it.
Will we? Will we really, Apple?
For the record, the Supreme Court Justice in question is Potter Stewart, in a case in which the Court had to decide whether to uphold a ban of a supposedly obscene French film. The Court came back with a very fragmented view on the question of whether the film actually was obscene, with the most famous opinion being Justice Stewart's. He said the court was tasked with "trying to define what may be indefinable" and said:
I shall not today attempt further to define the kinds of material I understand to be embraced within that shorthand description, and perhaps I could never succeed in intelligibly doing so. But I know it when I see it…
It's worth noting the Supreme Court has since come up with the Miller Test for assessing obscene materials. So the Court, unlike Apple, has since dispensed with the "I know it when I see it" form of judgement.
Of course, the app users apparently believe it won't be long before that little discrepancy is corrected as well. The app's reviews on both stores are littered with remarks like "get this before they ban it here too."
The Austin, Texas-based Jones (it's really weird to think he and I are basically ears from the same cornfield) is currently not banned on Twitter either, as he apparently hasn't broken any of that site's rules.
Get the TNW newsletter
Get the most important tech news in your inbox each week.
Also tagged with