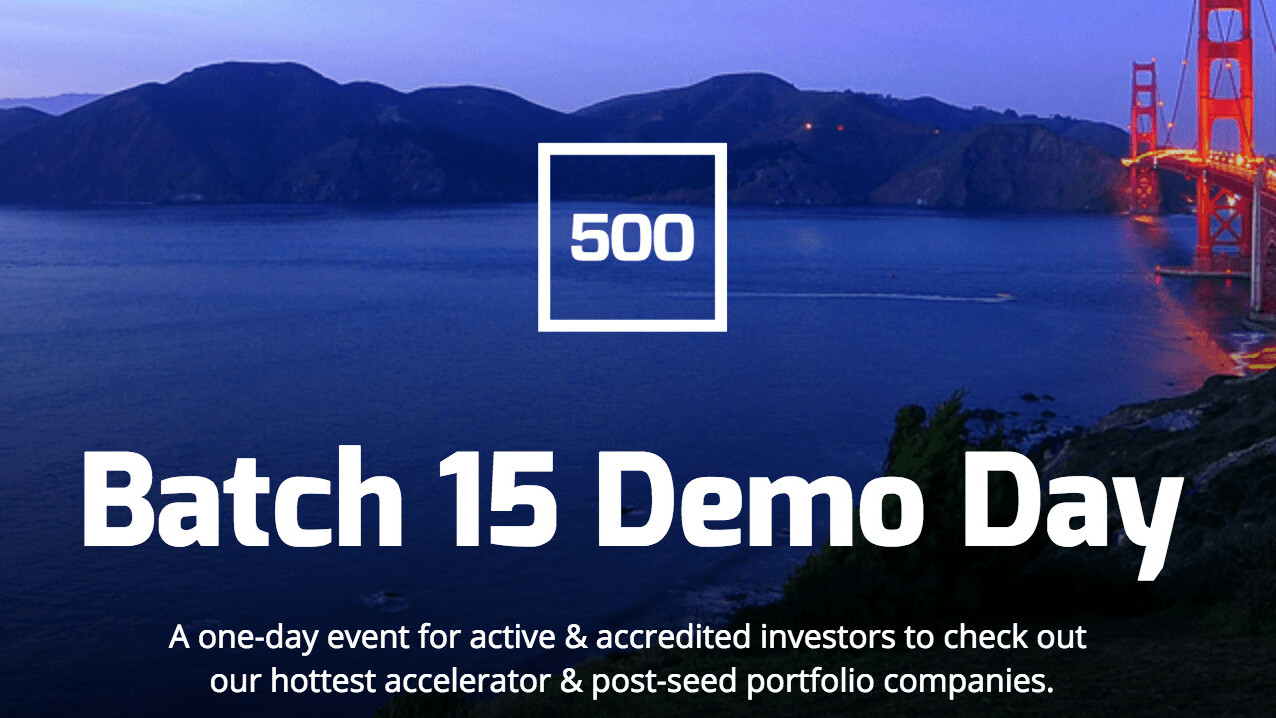 Story by
Reporter
Lauren is a reporter for The Next Web, based in San Francisco. She covers the key players that make the tech ecosystem what it is right now. Lauren is a reporter for The Next Web, based in San Francisco. She covers the key players that make the tech ecosystem what it is right now. She also has a folder full of dog GIFs and uses them liberally on Twitter at @lhockenson.
Today, accelerator and VC fund 500 Startups debuted 35 companies in its demo day for its latest San Francisco batch — and 15th overall. The makeup of the companies who strutted onstage to pitch their companies to potential investors looked very similar to what we've expected from 500: 40 percent of the companies were international, 33 percent included a female founder, 15 percent included a black founder and 10 percent included a Latino founder.
The companies themselves also seemed like typical representations of the accelerator's aims: the goal of 500 Startups is a case study of applying venture capital to the law of averages, and relies on McClure's prevailing theory that a high number of decent exits is worth just as much (if not more than) the unicorns other VCs are chasing after. To that end, many of the companies in Batch 15 could very well grow to be decent.
But is there a unicorn among them? Time will tell.
Here are five companies that piqued my interest, based on their lightning-fast pitches and appealing up-and-to-the-right charts.
Developed by a third-generation jeweler, Mejuri is an e-commerce marketplace that promises high-end jewelry quality with fast-fashion production time and prices. With 50 percent of its business already coming from repeat customers, the company has also found a hook designing capsule collections with well-known Internet fashion gurus and social media celebrities. Considering the long-term success of competitors like Bauble Bar, Mejuri has a promising premise.
The concept of a smart mirror — one that identifies your clothes or offers more content other than your own shining face — is one ripped out of Sci-Fi books. But Canadian startup Nobal Technologies is looking to put its iMirror technology into brick-and-mortar stores in the very near future. Netting $450,000 in sales as a four-month-old company, Nobal Technologies' positioning as a 'software company' asserts that it can rapidly scale into retailers looking for a little novelty to their service.
This mother-daughter startup combines the conventional wisdom of already-established online mommy groups and the medical expertise of registered nurses and doulas to create a post-partum healthcare and education platform for new moms. Focused on providing educational material on topics like breastfeeding while creating a one-stop dashboard for medical appointments and offering additional services like support groups and weight loss material, Mahmee is a clever hybrid community that serves a group seldom catered to in Silicon Valley.
Hopping on two major kids' toy trends, making and the world of Minecraft, Piper teaches kids about electronics and coding through an ever-developing educational ecosystem. The company has sold more than 2000, units, and earned the praise of noted folks like Steve Wozniak and Elon Musk — who bought some for his Southern California grade school. As the market for educational toys aimed towards STEM concepts continues to grow, Piper has the leg up of using familiar channels to reach kids who want to learn while having fun.
While the business model of Whiplash might not make your average Joe salivate — the company specializes in handling shipping and logistics for businesses unwilling or unable to have their own fulfillment houses — the numbers they brought to the stage were most compelling. Specifically, $3.8 million in bootstrapped revenue in 2015, with another $20 million in the pipeline. Considering the boom of bespoke ecommerce companies available on the Internet today, it appears Whiplash has already found itself a comfy niche.
Get the TNW newsletter
Get the most important tech news in your inbox each week.