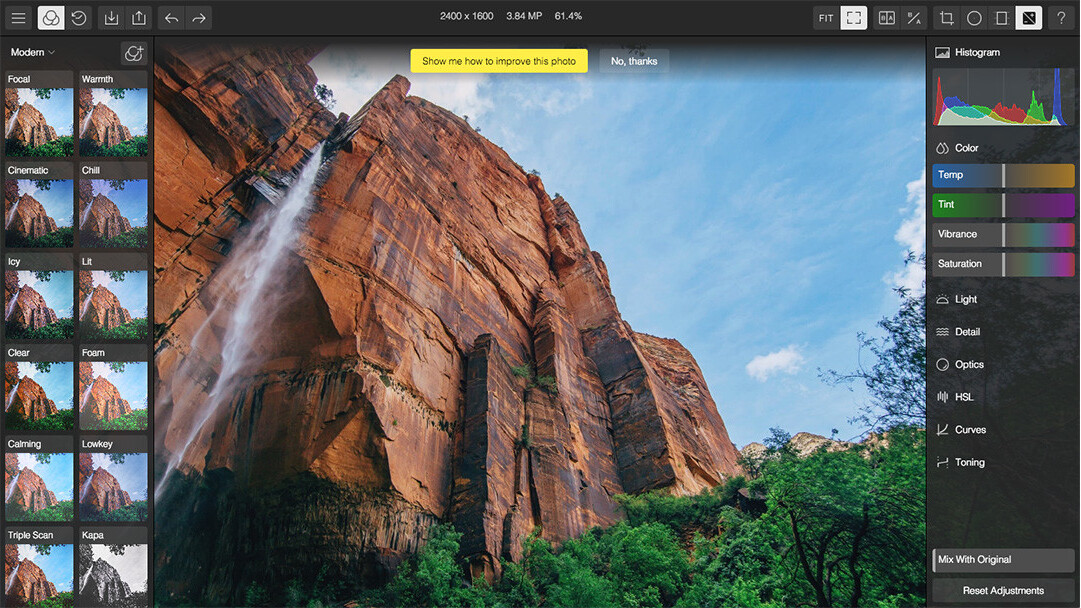 Story by
Reporter
Jackie Dove was in charge of The Next Web's Creativity channel from February 2014 through October 2015. Jackie Dove was in charge of The Next Web's Creativity channel from February 2014 through October 2015.
People love desktop photo editing apps like Apple Photos and Adobe Photoshop or Lightroom because they give you at least a fighting chance of transforming a bland photo into a stunning one.
But those times when you can't or don't want to deal with launching software — preferring to work conveniently online — consider Polarr, a browser-based photo editor that released a new version today.
Polarr's version 3 for the Web (the company recommends the Chrome browser) and Chrome is also accompanied by an expansion into Windows 10. I went hands on with the new Polarr using Chrome on my Mac.
Polarr Photo Editor 3 features a completely revamped interface, added tutorial modules, the ability to batch export photos and water marking tools.
The first thing you see on Launching Polarr are guided tutorials from a couple of Polarr's sample images. I found it valuable to tap through a couple of them — not because the app is hard to use — but because it gives you an idea of the broad scope of its capabilities and targeted edits and how they would affect your picture.
If you don't have time to fiddle with all the sliders and controls, a few screens of the Basic Light Dynamic Controls tutorial, for example, can quickly direct you to how to fix your sweeping vista.
I used a hazy, washed out photo reject, shot mid-day at Zabriskie Point in Death Valley National Park to see what could be done to improve it in Polarr. I started out with very conservative tweaks to color temperature, shadow, brightness and blacks in going for a photorealistic view of the scene I remembered.
With just a barely perceptible adjustment, that Robin's Egg  blue rock color started to emerge from the cool gray scene, and put a smile on my face.
The day was bright and hazy (it's Death Valley, after all) and I had not done nearly enough to compensate in camera for that, so I made more liberal use of the Dehaze tool in Polarr, which made a huge difference.
Each move you make in Polarr is recorded on the left-hand side of the interface, so you can easily backtrack if you want to change something, mid-stream without having to start all over again — and of course you can go back to the original whenever you want or compare your work at any point side-by-side.
The app also comes with a large batch of presets, though for this picture I found them less useful. You can also make your own presets to apply to a batch of photos taken in the same time or place.
It's easy to see the extensive number of options available in Polarr and how effective it can be to help improve your shots. I highly recommend giving the free version a try right in the browser.
The windows 10 desktop version costs $14.99 after a 30-day trial. Polarr plans to keep the online and Chrome versions free. 
➤ Polarr
Also tagged with