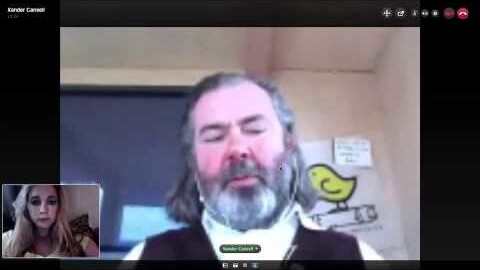 Story by
Lawrence Coburn is the Founder and CEO of DoubleDutch (www.doubledutch.me), whose suite of mobile enterprise apps includes Hive (www.doubled Lawrence Coburn is the Founder and CEO of DoubleDutch (www.doubledutch.me), whose suite of mobile enterprise apps includes Hive (www.doubledutch.me/hive), the first contextual CRM.
One of the many unanswered questions in the nascent landscape for geosocial services is whether it will be winner take all.  Is Facebook (or some other company like Foursquare or SCVNGR) going to dominate location based networking like Facebook is dominating web based social networking?  Or will it be a thousand flowers blooming scenario in which many different networks spring up around places, communities of interest, and demographic.
In this context, I recently had the chance to interview Grindr CEO Joel Simhkai.  Grindr claims to be the largest all-male, location based social networking tool in the world.
I hope you'll find that this interview offers a fascinating case study as to why location based networking might just be a little different from web based networking – and that one size might not necessarily fit all.
Tell us a little bit about how you got started with Grindr.  What's the vision for the service?
The idea came about because I started getting frustrated with all the other dating websites and with the idea of "Why is location not a higher priority?" You can search based on city, but what about the guy that's in the same room, building, or across the street? The technology to solve this issue wasn't available. Then the second generation iPhone came out in June 2008. Three major changes were announced — one was GPS, another was the App Store, and the last one was iPhone SDK which was the software language to write these apps in an easy way. These three innovations allowed us to create Grindr. I wanted to create a service that makes it easier to meet the people around you – that was my vision for what Grindr could achieve.
What sort of usage is the app seeing?  How big is the Grindr community?
We have over one million users in 180 countries worldwide – quite amazing growth since we launched just under two years ago. Our users spend a little over an hour each day on Grindr, logging in an average of 8 times, and about 270,000 of our users log on every day.
What's the revenue model?
We have Grindr, our free version, which earns revenue from advertising. We also have our premium subscription version, Grindr Xtra, with extra features like push notifications, profile swipe, no ad banners, and more guys viewable (200 vs. 100 in the free version). We also earn revenue from Grindr parties – the venues pay us for a party kit and we promote the event to our users via broadcast messages within the app or banner ads. Anyone interested in advertising on Grindr can send an email to [email protected] and we'll be in touch.
Can you talk a little bit about what Grindr offers its members that they couldn't find on services like Facebook Places, Foursquare, or Skout?
Grindr is unique in that it is the largest all-male location based social networking tool in the world. The app is all about meeting new people around you – you can instantly see other gay men in your area and chat with them. We offer a simple approach that is largely intuitive and universal – you don't need to speak English to use Grindr, and there is no need to create an account. You can go to any major city in the world and instantly meet locals – just log on after the plane lands and start chatting. We are also always working on evolving the Grindr experience with new features and new versions.
Can you talk a little about how you prioritized each of the major operating systems: iOS, BlackBerry, and Android?  Have you noticed differences between how people use each version of the app?
The technology to create Grindr started with the 2nd generation iPhone, which is why we started with iOS. Apple has done an amazing job making it easy for developers to create apps, giving us the tools needed and the infrastructure for payments, location services, etc. We began developing for BlackBerry because of user demand and the market share for BlackBerry devices. While the BlackBerry operating system is not as advanced as Apple's iOS, our BlackBerry users love being able to type on a keyboard when chatting and having an app that truly runs in the background.
Grindr for Blackberry is still in beta testing, so we won't have data on how people use other versions until they are released to the public. We know there is also a high demand for an Android version of Grindr. Our goal as a company is to be able to provide the Grindr service to everyone – men, women, gay, straight, anywhere in the world. Everyone wonders to themselves, "who and what are around me?" This basic universal question is the driving force behind our innovations.
What's next for Grindr?
We are working on bringing the Grindr service to everyone with a straight/lesbian version of Grindr – no set release date yet, but you can sign up with your email at Grindr.com to be notified when it is released. This version will have several key differences from Grindr, and as such will be packaged differently to cater to the differences in the way men and women interact with each other.
We also currently have several projects in the works based on the feedback we receive from our users at Grindr.com/suggest and through chatting with our users at parties. In future updates, new features will be added to expand the Grindr experience, and we also want to expand Grindr to other platforms. We are in the final stages of beta testing for Grindr for BlackBerry devices, and BlackBerry and Android users can sign up at Moregrindr.com to get the latest updates on new developments.
Get the TNW newsletter
Get the most important tech news in your inbox each week.