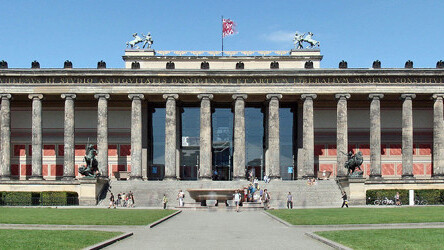 Story by
Jamillah is the UK Editor for The Next Web. She's based in London. You can hear her on BBC Radio 5Live's Outriders. Follow on Twitter @jemi Jamillah is the UK Editor for The Next Web. She's based in London. You can hear her on BBC Radio 5Live's Outriders. Follow on Twitter @jemimah_knight or drop a line to [email protected]
Google has announced that Google Art Project, where art lovers, students and armchair travellers can explore the visually creative world, has seen a major expansion. Now culture fans will be able to explore sculpture, street art and photographs from 151 museums in 40 countries.
The service was launched last year as a successful "20% project", where Google employees can spend 20% of their time working on personal projects. It allows users to browse thousands of works of art in exceptional detail and uses technology like Picasa and App Engine along with technology that enables Street View to enter museums and collections.
The original Art Project counted 17 museums in nine countries and 1,000 images including almost all paintings from Western masters. Today, the Art Project includes more than 30,000 high-resolution artworks, with Street View images for 46 museums and more to come.
The breadth of locations available is astonishing, from the Metropolitan Museum of Art in New York and the National Gallery of Modern Art in Delhi to the collection of the Museum of Islamic Art in Qatar and the White House in Washington, D.C..
In the United States alone, some 29 partners in 16 cities are participating, ranging from excellent regional museums like the Gibbes Museum of Art in Charleston, South Carolina to top notch university galleries such as the SCAD museum of art in Savannah, Georgia.
A deeper appreciation
There are some exciting new features to explore within the Art Project now too. Using completely new tools, called Explore and Discover, you can find artworks by period, artist or type of artwork, displaying works from different museums around the world.
Google+ and Hangouts are integrated on the site, so that users can create personal galleries and an enhanced 'My Gallery' feature allows visitors to select any of the 30,000 artworks—along with favourite details to build a very personalised experience.
As users explore the galleries they can also add comments to each painting and share the whole collection with friends and family. Try doing that in the Tate Modern. Actually, don't.
Street View images are now displayed in finer quality. A specially designed Street View "trolley" took 360-degree images of the interior of selected galleries which were then stitched together, enabling smooth navigation of more than 385 rooms within the museums. You can also explore the gallery interiors directly from within Street View in Google Maps. This is a particularly nice option as the spaces in which art can be found are often just as moving as the works themselves.
Up close and personal
The Google Art Project now has 46 artworks available with "gigapixel" photo capturing technology, photographed in extraordinary detail using super high resolution. This means that the brushwork and patina of paintings can be explored with the naked eye and no chance of setting off alarms.
According to the Google Blog, "The Art Project is part of our efforts to bringing culture online and making it accessible the widest possible audience. Under the auspices of the Google Cultural Institute, we're presenting high-resolution images of the Dead Sea Scrolls, digitizing the archives of famous figures such as Nelson Mandela, and creating 3D models of 18th century French cities." [SIC]
Though purists will still want to seek out the atmosphere and smells of a location in which to enjoy their art experience, the Art Project is simple-to-use and fascinating to explore, not just for the works themselves, but also the unique way in which they have been presented.
The entire catalogue is also searchable, which not only makes life easier for students, it will doubtless be a bonus for anyone who has been a lost tourist in an enormous location, looking for one specific piece that they love.
Get the TNW newsletter
Get the most important tech news in your inbox each week.
Also tagged with