Story by
Reporter
Napier Lopez is a writer based in New York City. He's interested in all things tech, science, and photography related, and likes to yo-yo in Napier Lopez is a writer based in New York City. He's interested in all things tech, science, and photography related, and likes to yo-yo in his free time. Follow him on Twitter.
Google's Chromebooks are about to look a lot more like convertible Windows laptops.
The company is today announcing a push towards convertible laptops and tablets with stylus capabilities, with the specific goal of making Chromebooks more useful for the classroom – an area where they are already getting more popular by the day.
In fact we already saw this new wave begin at CES with Samsung's new flipping Chromebook Plus and Pro.
Microsoft's push for 2-in-1 form factors has led to a greater variety of stylus-toting computers than ever. That makes them some of your best options for the classroom, but there's one problem: they're too expensive. Google wants to fix that.
Chromebooks have always been inexpensive compared to their Windows alternatives, and Google wants to bring that same price advantage to the education market.
Partners including Acer, Asus, HP, Dell, Lenovo, and the aforementioned Samsung are all preparing stylus-friendly Chrombeooks. While the first batch will be mostly of the Lenovo Yoga style flipping variety, Google says it's also working on bringing detachable laptops and tablets to the market as well.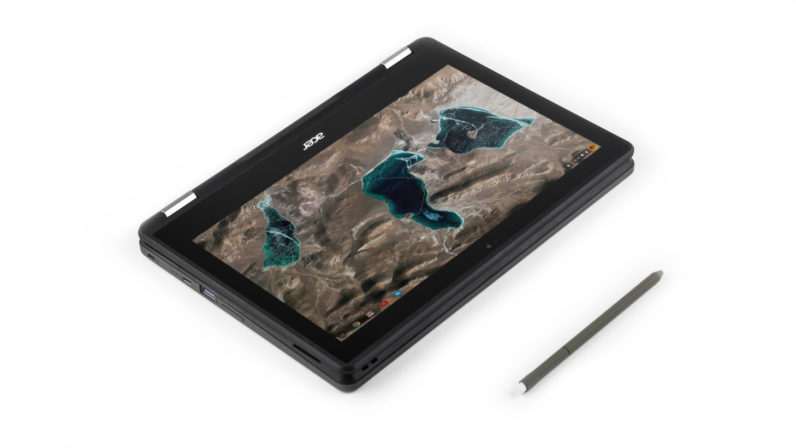 Aside from affordable laptops, Google also wants the styluses themselves to be cheap. As someone who's lost mine a couple of times, the last thing you want is for a brat to steal your ~$50 stylus. Google promises that its pens will cost "a few dollars" but still be pressure sensitive thanks to embedding more technology in the displays themselves. They will also be cross-device compatible so students can share them should they lose their own.
The same goes for chargers, by the way, as Google says all future Chromebooks will come with "super-fast" USB-C charging. Another key feature to make them useful for the classroom will be a second camera so that Chromebooks can be used for more than just video calls and selfies.
Though Google is only just starting to make headway into the convertible laptop market, it comes in with some momentum thanks to the recent addition of Android apps into the mix.
Unlike Microsoft, which has to push developers to make tablet-friendly software, Android is already optimized for touch. Furthermore, Google tells me it's working with developers to ensure classroom-ready software scales well for larger screen sizes and keyboard and mouse operation.
Given Chromebooks are already quite popular in classrooms – Google said over 20 million students were using them back in October – adding a stylus seems like a no-brainer. I won't complain if that ends up driving down the price of Windows convertibles either.
Get the TNW newsletter
Get the most important tech news in your inbox each week.
Follow @thenextweb
Also tagged with