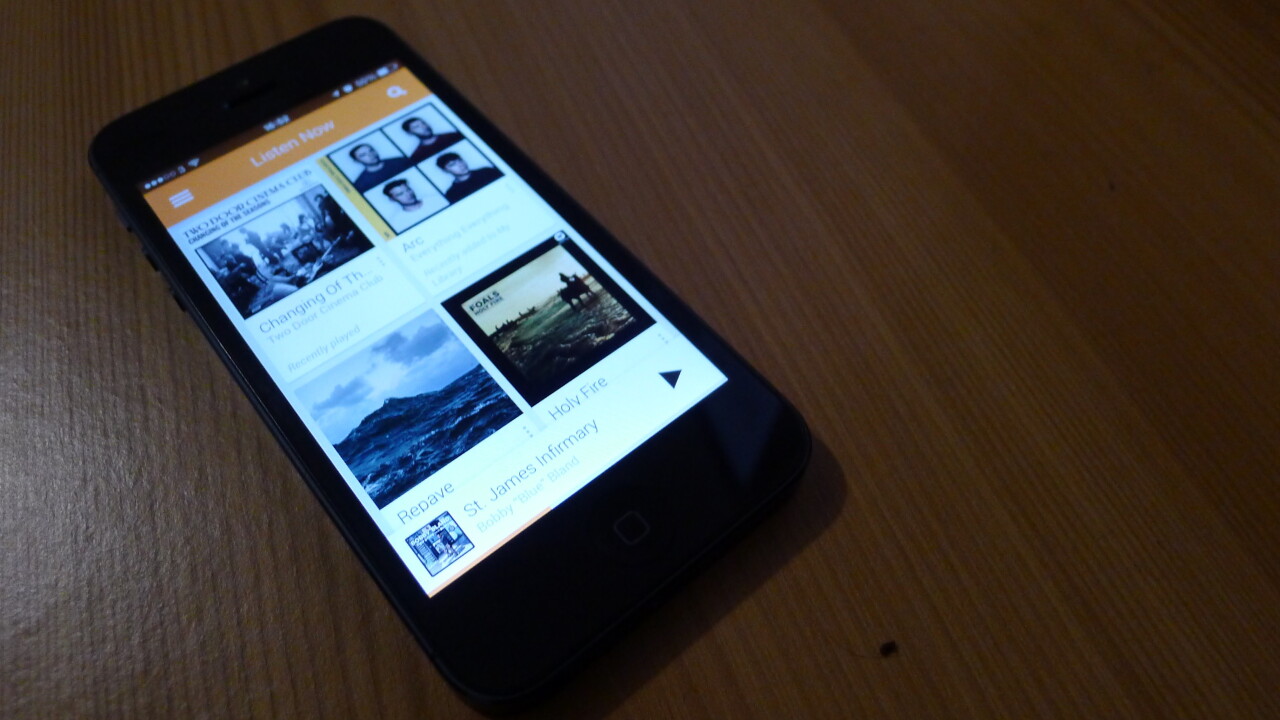 Story by
Nick Summers is a technology journalist for The Next Web. He writes on all sorts of topics, although he has a passion for gadgets, apps and Nick Summers is a technology journalist for The Next Web. He writes on all sorts of topics, although he has a passion for gadgets, apps and video games in particular. You can reach him on Twitter, circle him on Google+ and connect with him on LinkedIn.
It's been more than four months since Google launched its on-demand music streaming service, All Access, on the Web and as part of the native Google Play Music app for Android smartphones and tablets. Now, both Google Play Music and All Access are available for iOS devices too.
The free version of the app allows you to access your existing library stored through Google Play Music. This can either be done by purchasing singles and records through Google's digital storefront – only available on Android and the web – or by syncing your local library with the Music Manager client.
You can upload up to 20,000 songs this way, either from iTunes or another designated folder. It's a long-winded workaround, but an inevitability of getting Google Play Music into the App Store. A direct rival to iTunes isn't in Apple's best interests, after all.
The service is then ad-free and you can listen to any of your tracks using the Listen Now, My Library or Playlists tabs in the side menu. Using the downward arrow contained within each album page, you can also save specific records for offline playback.
Google Play Music on iOS also supports All Access, the company's $9.99 per month on-demand streaming service. You can't upgrade to All Access within the app though. Again, you'll need to head over to the Android or web app to sign-up. As soon as it's been activated though, it's just a matter of diving into the settings menu and refreshing your account credentials.
Radio and Explore will then be added to the side menu, giving you full access to Google's music catalog. The former consists of personalized playlists based on a genre, artist, record or track of your choosing. Explore, meanwhile, lists recommendation based on your preferences and a breakdown of the latest releases.
If you're after something specific, it's just a matter of heading back to the home screen and tapping the search icon in the top right-hand corner of the app. Here, you can search for anything available on the service and download them to your device for offline playback.
A long time coming
Sundar Pichai, Senior Vice President for Android, Chrome and Apps at Google, confirmed in May that an official app for the iPhone and iPad would be available "in a few weeks." In the months that followed, we were left to question whether that promise would ever come to fruition.
Now that it supports iOS devices, Google can truly start to compete with other cross-platform streaming services such as Rdio and Spotify. It's a crowded space, especially with Microsoft and Apple in the mix, but Google has already started to differentiate with its advanced discovery features and local library integration.
➤ Google Play Music | iOS | Android
Disclosure: This article contains an affiliate link. While we only ever write about products we think deserve to be on the pages of our site, The Next Web may earn a small commission if you click through and buy the product in question.
Image Credit: David Ramos/Getty Images
Also tagged with