Story by
Alex Wilhelm is a San Francisco-based writer. You can find Alex on Twitter, and on Facebook. You can reach Alex via email at [email protected] Alex Wilhelm is a San Francisco-based writer. You can find Alex on Twitter, and on Facebook. You can reach Alex via email at [email protected]
Well, this should put a nail in the coffin of doubt: we now have confirmation from T-Mobile that the Google phone is indeed coming.
After much speculation, TMONews has leaked data and a screenshot from an internal T-Mobile website outlining the appearance of a forthcoming phone from Google and HTC.
From the screenshot (embedded below): "Google, with support from T-Mobile, is scheduled to launch a new Android device in early January."
Talk your way out of that one.  The firm date that we have comes from further confirmation from TMONews's sources. We still have no pricing data, but that should come shortly, given the very small runway between now and the supposed launch date of the phone.
Also, it is important to note the the 5th of January does coincide with CES, giving further credence to that date. More after the jump.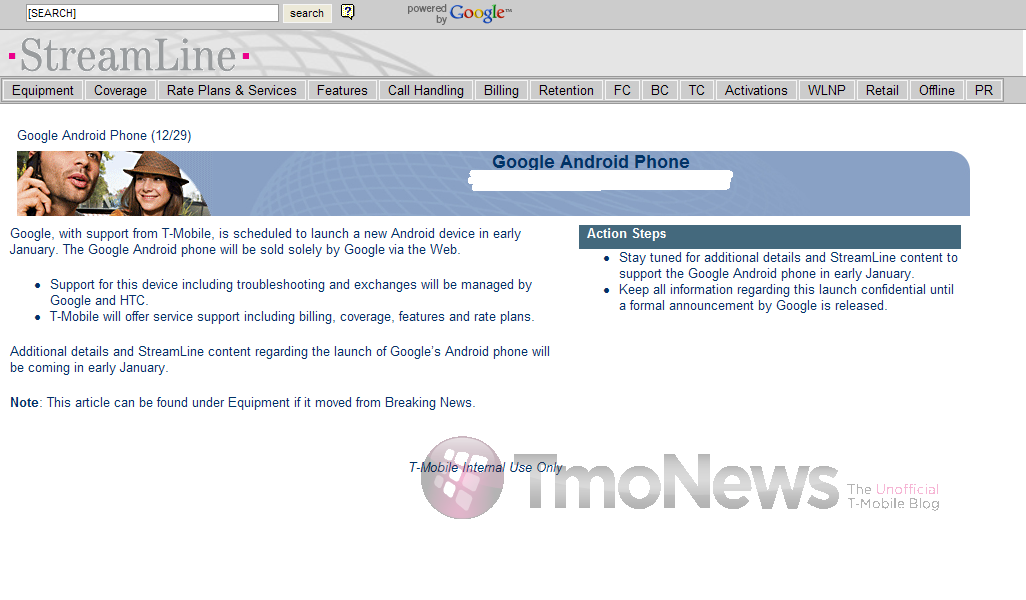 For anyone who has forgotten, we are talking about the Nexus One, the much mooned over phone that Google was letting its employees play with over the holidays. The specs were leaked recently. Highlights include: "The device reportedly comes with a 512MB RAM, 4GB microSD in-box expandable to 32GB, A 3.7 inch display, 5mp camera and Android 2.1."
So, there it is. Google is throwing its hat into the ring. We will now have Microsoft as the only one of the big three holding off from making phone hardware. Are you going to buy a Nexus One?