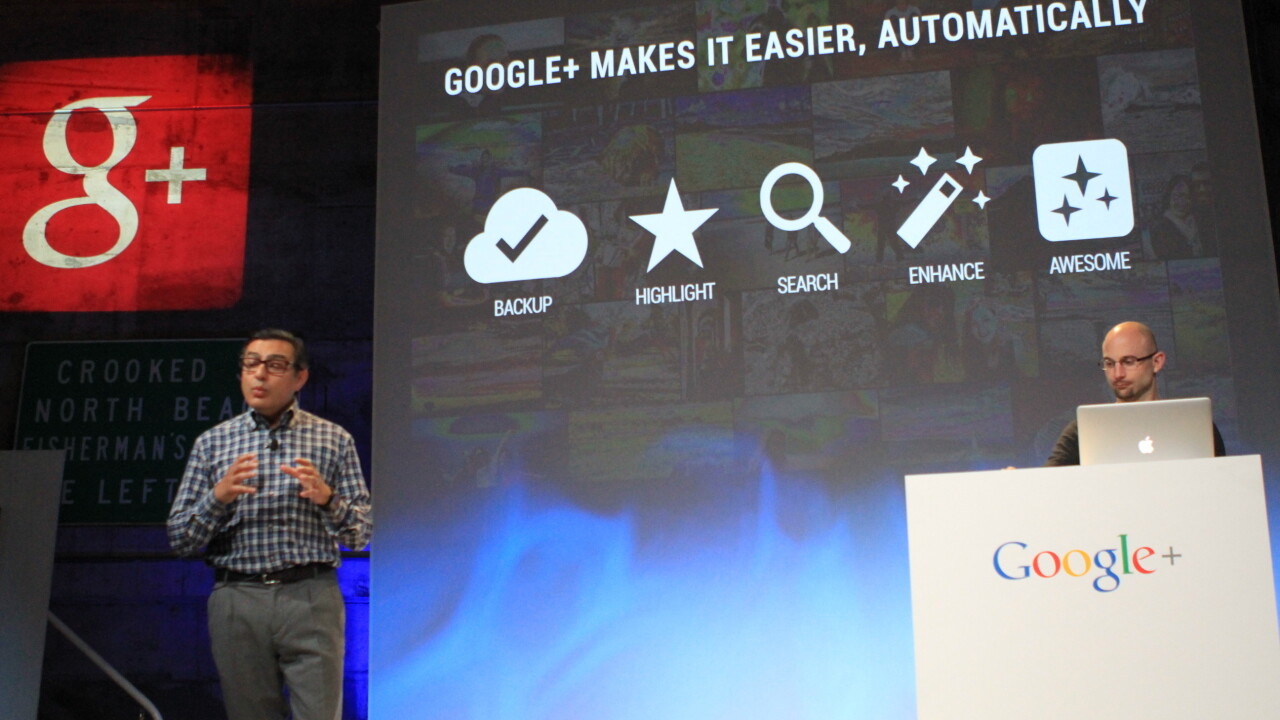 Story by
Ken Yeung is a reporter for The Next Web based in San Francisco, CA. He carries around a big camera & likes to write about tech, startup Ken Yeung is a reporter for The Next Web based in San Francisco, CA. He carries around a big camera & likes to write about tech, startups, parties, and interesting people. Follow him on Twitter, on Facebook, and Google+.
Google is rolling out new features for photographers on its Google+ social network. At a press conference today, company VP of Engineering Vic Gundotra spoke about additional problems that its photo feature will help solve. Among these include the eventual release of full-size backups for iOS, better Highlight capabilities, improved enhancements for auto-enhance, Snapseed, and the Nik Collection, and auto-awesome.
A picture is worth a thousand words, but for many photographers, telling a story is often dictated by external factors. In the traditional photo workflow, it takes a lot of work to capture, organize, and share your memories. At issue here is the cost and complexity that hinders the storytelling ability of your lives.
Full-size backups for iOS
Gundotra says that Google+ wants to make it easier to automatically handle five features. The first is backup whereby the social network offers you the full-size of your images — all images are uploaded in full-resolution. It's only available on Android today, but soon, full-size backups and background sync will be enabled for iOS devices.
Highlight update
In another feature, highlighting has been improved. If you're not familiar, this offering will review all your photos and use its algorithm to remove those images that are blurry, duplicates, have bad exposures, look for objects people like, and more. But what if you're trying to search for that one image — this is a problem that Gundotra says that Google has added more than 1,000 words to offer deep learning for its Highlights tool and search.
With the app, by default, Google+ searches your libraries for images. However, now it's going to parse through photos from within your Circles (as long as you have permission). So if you query "sunset", it will give you the right set of photos.
Photo enhancements
Photo enhancements are also in the works too, starting with auto-enhance. It has been adjusted to give you a low/high ability and can turn albums on or off. By turning auto-enhance on low or high, it will give you varying intensities, including saturation, vignette, contrast, etc. Snapseed has also been improved as well — Gundotra introduced a new filter called HDR scape. He explains that a normal camera cannot properly display the colors that a human eye can see. An HDR photograph often is a complex process requiring expensive software. However, this makes it limited to a few people — until today.
You can take one image, drop it into Snapseed, click on HDR scape and instantly you have a high definition image. However, Gundotra cautions that it won't work on every image.
The Nik Collection is the next tool to be updated. Starting today, Google is adding a new feature called Analog Effex Pro — a new feature that enables photographers to explore the look and feel of classic cameras, films and lenses. If you pay for the Nik Collection, Gundotra says the new filter will be available for free.
Auto-Awesome
With Auto-Awesome, Google says that it helps you better create appealing stories. The company is introducing two new modes, namely Auto-Awesome Action which shows you the motion of an object in a photo, like a skateboarder going around a curve or a basketball going into a hoop.
Auto-Awesome Eraser is another new feature that lets photographers remove obstructions from their photo. Gundotra cites an example where you're at a tourist attraction and you have someone walk in front of your photo or blocking that key part — now you can better control your composition.
The idea is to help you be better storytellers and to share your memories the way you want, not dictated by others.