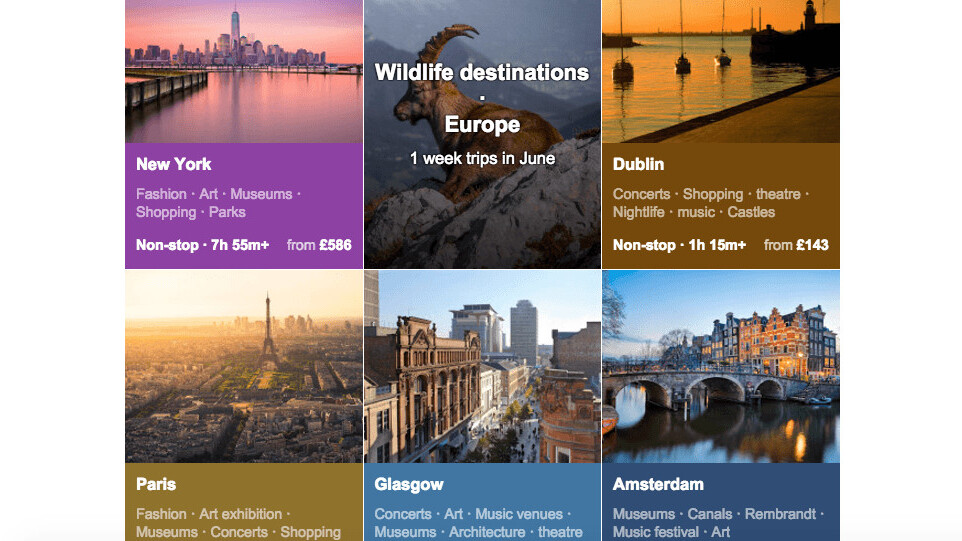 Story by
Reporter
Amanda Connolly is a reporter for The Next Web, currently based in London. Originally from Ireland, Amanda previously worked in press and ed Amanda Connolly is a reporter for The Next Web, currently based in London. Originally from Ireland, Amanda previously worked in press and editorial at the Web Summit. She's interested in all things tech, with a particular fondness for lifestyle and creative tech and the spaces where these intersect. Twitter
When it comes to planning a trip, it's hard not to go to the same places over and over again and sometimes you just need some inspiration. I often type "everywhere" when I'm searching for flights just to see if anything out of the ordinary will pop up.
Now Google Flights has taken the daydreaming aspect of jetting off a step further by allowing its users to search destinations by interests.
A quick search for 'Food' destinations gave me Singapore as number one and for 'Outdoor Recreation,' Mount Kilimanjaro topped the list. All of the results are image-orientated so you get a feel for why it's suggesting that specific region. It's a similar offering to what Hipmunk does by allowing people to search holidays by theme on its mobile apps.
You can tailor the results to include options from one specific continent or country and choose the dates that suit you, as well as your budget. So it's definitely a handy tool if you're planning a getaway and need some inspiration on where to go.
As always with Google Flights, you can click on your desired location and book travel and accommodation directly from the pop-up window.
For a long time, travel sites focused primarily on finding people the most budget-friendly options but sites like Kayak, Skyscanner and now Google Flights are expanding to help people choose destinations as well.
Get the TNW newsletter
Get the most important tech news in your inbox each week.
Also tagged with