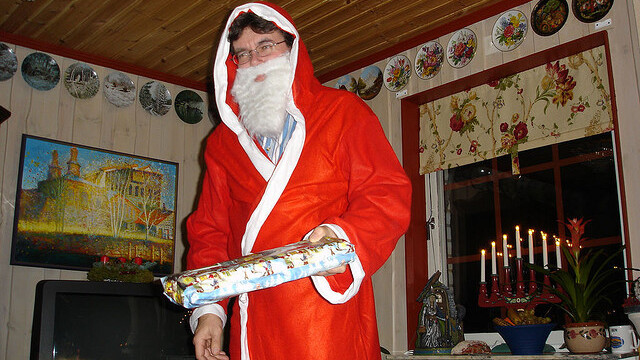 Story by
Drew Olanoff was The Next Web's West Coast Editor. He coined the phrase "Social Good" and invented the "donation by action" model for onlin Drew Olanoff was The Next Web's West Coast Editor. He coined the phrase "Social Good" and invented the "donation by action" model for online charitable movements. He founded #BlameDrewsCancer. You can follow him on Twitter, Google+, Facebook, or email [email protected]
Last week, Google released SendACallFromSanta.com, a fun way to overexcite children and irk friends and colleagues with a personalized phone call from Santa himself.
By just answering a series of questions about someone and giving Google their phone number, the automated Santa gives them a buzz. It's kind of cool, actually.
Phone calls weren't enough apparently, so Google has upped the Holiday anti with personalized videos from a cartoon Santa. The script that he reads is the same from the phone call, but this time you get the visuals.
According to Google, the site has been a huge success:
Last Friday Santa opened up the Ho Ho Hotline and teamed up with Gmail to send personalized holiday phone calls to anyone you know who has been nice (or naughty, for that matter) in the U.S. or Canada. In just a few days Santa has made hundreds of thousands of calls to your friends, family and loved ones, and received many a message from you at his Google Voice number (855-34-SANTA).
Santa even has a Google Voice number.
Here's a sample of the video that your special someone will get in an email:
http://www.youtube.com/watch?v=1PYcnb_A3T0#!
Happy Holidays, now go annoy delight everyone you know with Santa greetings from Google!
At least the videos aren't creepy like the ones we wrote about yesterday.
Get the TNW newsletter
Get the most important tech news in your inbox each week.
Also tagged with