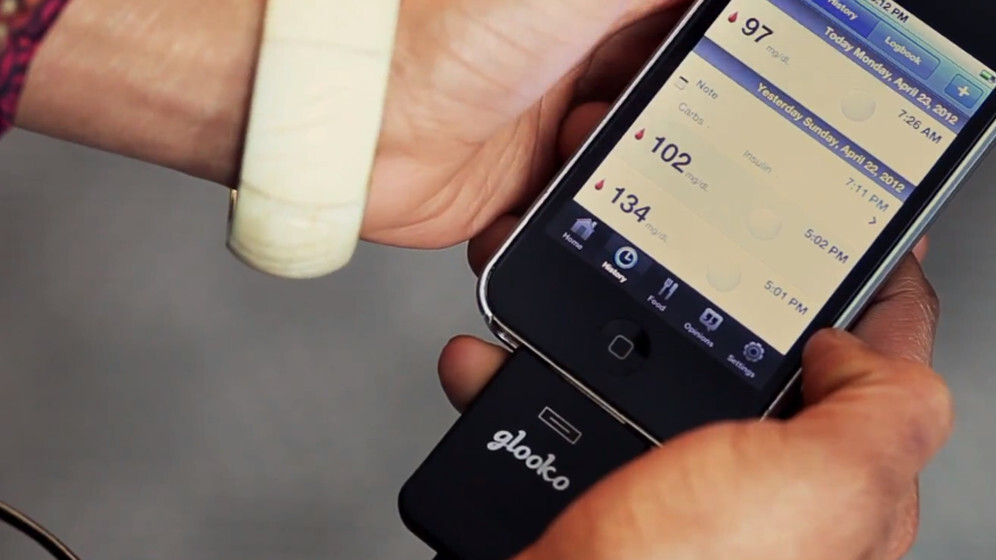 Story by
Nick Summers is a technology journalist for The Next Web. He writes on all sorts of topics, although he has a passion for gadgets, apps and Nick Summers is a technology journalist for The Next Web. He writes on all sorts of topics, although he has a passion for gadgets, apps and video games in particular. You can reach him on Twitter, circle him on Google+ and connect with him on LinkedIn.
Glooko, an iOS app and cable adaptor that helps people with diabetes monitor their glucose intake, has added automated glucose averages today to help users better understand and manage their condition.
The new version of the app now has a homescreen that will automatically display a user's high, low and average blood glucose readings for that particular week or month.
It's a vital statistic that Glooko hopes will allow users to quickly check the effectiveness of their diabetes management. The idea being that if people with diabetes can spot the warning signs earlier, they can take appropriate action before it becomes a serious problem.
Glooko has been able to provide users with this information by tapping into HbA1c, the primary indication of blood glucose control. The metric only provides an average glucose level for the past three months, however by combining it with Glooko's own data from the mobile app, the company hopes to provide much more accurate statistics.
Dr. Michael Greenfield, endocrinologist and Glooko's chief medical officer, says trying to provide daily readings is actually an unhelpful way for people with diabetes to manage their glucose levels.
"By looking at averages and estimating HbA1c percentages, we can give people a deeper understanding of their blood glucose readings and a clearer picture of their condition overall," he said. "Today's update ultimately provides patients and physicians with a more comprehensive snapshot of diabetes to make management simpler than ever before."
Glooko works by connecting one of 17 blood glucose meters currently compatible in the US (there's 19 internationally) to an iOS device using one of its MeterSync cables. After downloading the Glooko mobile app, the user can then import and review all of the readings from their meter in a much simpler, succint way.
Last summer, Glooko launched two new products; Glooko Logbook Charts for the EU and Glooko Logbook History Report for the EU, US and Canada.
The charts were designed to take the app's monitoring capabilities one step further by offering a more detailed analysis of their glucose data using graphs filtered by day or date.
In January, however, Glooko received 510(k) clearance from the US Food and Drug Administration, allowing it to sell all of its products in the US – including its Glooko Logbook Charts. The ruling means that all of Glooko's products have been cleared as a Class 2 device and can now also be sold as an over-the-counter solution across the country.
The company was founded in 2010 by technologist Yogen Dalal and mobile and web app developer Sundeep Madra. To date, Glooko has raised $4.5 million in funding from The Social+Capital Partnership, Intuit chirman Bill Campbell, Google VP Vint Cert, Russell Hirsch, Xtreme Labs, and others.
➤ Glooko Logbook | iOS
Disclosure: This article contains an affiliate link. While we only ever write about products we think deserve to be on the pages of our site, The Next Web may earn a small commission if you click through and buy the product in question. For more information, please see our Terms of Service.