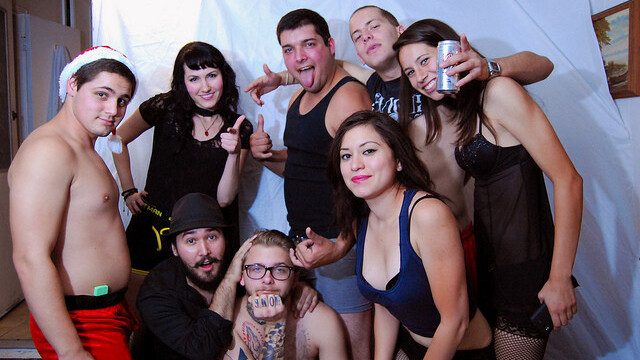 Story by
Drew Olanoff was The Next Web's West Coast Editor. He coined the phrase "Social Good" and invented the "donation by action" model for onlin Drew Olanoff was The Next Web's West Coast Editor. He coined the phrase "Social Good" and invented the "donation by action" model for online charitable movements. He founded #BlameDrewsCancer. You can follow him on Twitter, Google+, Facebook, or email [email protected]
At a recent Music Hack Day in Boston, developers got together to play around with new technology and popular platform APIs like Spotify's.
Some of the apps were very basic, yet powerful, and some need a coat a paint on them before they get presented to the masses. And then there's Spartify.
Spartify is a web app that gives control to multiple people to create a music playlist on the fly, using Spotify.
Developed by Andreas Blixt and Ricardo Vice Santos, Spotify lets you set up a "party" and turn the music choices over to everyone with the party code. The idea is genius.
Here's how the duo explains Spartify:
Host a Party and let guests choose what songs to play on Spotify. No more huddling in front of one computer or messing up the queue! What if they're all drunk? Don't worry, We'll fill it up for ya!
Set up a Spotify House Party
By simply clicking "Start a Party", you are given a code to give out to your friends that they can enter from any computer or mobile phone on the Spartify site.
Your friends are then presented with a search box that uses Spotify's API, and each track it finds has a +1 button next to it. By clicking the +1, you add the track to the party playlist.
All you have to do is set one computer as the host, and the Spotify desktop app will open up and play with Spartify tells it to. Your friends can even tap the +1 on songs in the playlist to promote it to the top of the list. If people start drinking too much and stop requesting tracks, Spartify will play similar tracks no matter what.
The app uses The Echonest API which is being extremely popular with hackers who are playing around with music technology and apps. It provides aggregated data with a smart layer on top of it, which lets recommendation come to life combined with apps like Spotify.
The next time you're having a party, you might want to forget about iTunes, since you have to pay for each track. Having the huge Spotify database at your disposal during any party will make sure the beat goes on and on.
➤ Spartify
Get the TNW newsletter
Get the most important tech news in your inbox each week.
Also tagged with