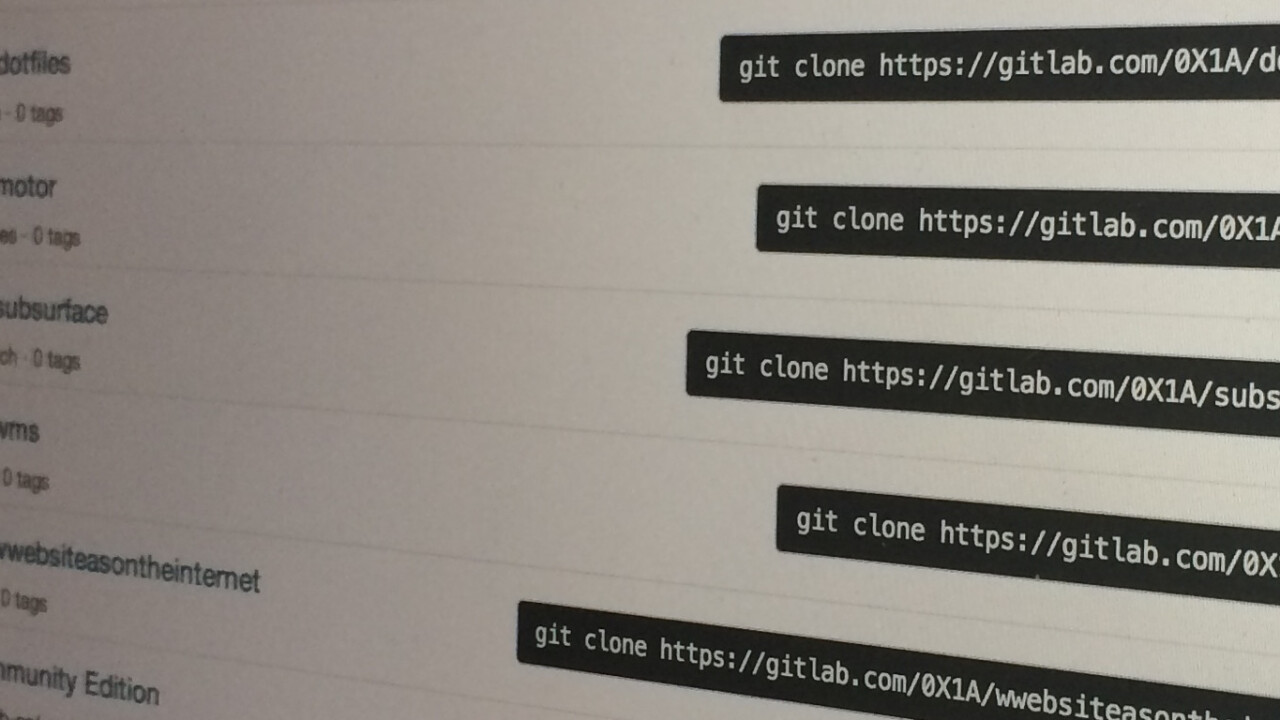 Story by
Andrii is the Head of Media at TNW, with over a decade of experience in covering the European tech ecosystem. Talk to him about new and exci Andrii is the Head of Media at TNW, with over a decade of experience in covering the European tech ecosystem. Talk to him about new and exciting developments in tech, especially those involving vastly underreported industry niches and geographies.
Long-distance relationships are never easy, but it seems to be less so for the relationships between co-founders of tech companies.
Living proof of this are the CEO and CTO of GitLab, which provides a self-hosted open-source collaboration platform intended for software developers. Simply speaking, GitLab is a GitHub that you can install on your own server for free to have full control over your code.
GitLab's author and CTO Dmitriy Zaporozhets lives in the city of Kharkiv, Ukraine, while his co-founder and the company's CEO Sytse Sijbrandij is based out of Utrecht, the Netherlands. This country was where I first met him, handing out traditional Dutch sweets, stroopwafels to participants of the recent TNW Europe Conference.
A few weeks after the event, we sat down via Skype with the international co-founders to talk about the symbiosis of the tech and business and making money out of free open source products.
How I met your… co-founder
As it often happens with tech people, Zaporozhets developed GitLab back in 2011 as a tool for his own needs. Working as a programmer in an outsourcing company, he also carried out projects on a freelance basis, to manage which he needed a convenient place that would be compatible with a version control system, be private, and be free.
Soon after open-sourcing GitLab, Zaporozhets was approached by Sijbrandij who wanted to create a commercial SaaS offering based on it and asked if the developer didn't mind. This conversation did not lead to a partnership though, as the Ukrainian programmer still worked full-time in outsourcing; he didn't mind though that his "weekend project" was used by someone to make money.
"I didn't have any problem with that," Zaporozhets said. "I thought it's great that people use GitLab and someone wants to build a service on top of it. It was much more than I expected, so I was really happy."
Sijbrandij, who was involved in a startup building private submarines before turning to found GitLab, never was a professional developer but is an avid Ruby fan and enthusiast. Coincidentally, GitLab is written in Ruby, too.
"I looked into the product and saw that the code quality was extremely high, I've never seen such a complex project that was so well organized," he recalls. "So I was really enthusiastic, and I thought — this is gonna go big.
"I also noticed there was no easy way to try out GitLab. So I figured it'd be a very good first step and started GitLab.com."
In addition to the core product, the initial offering consisted of a free SaaS solution, which is similar to GitHub and lets users try GitLab in a few clicks, as well as a subscription-based Enterprise Edition with a few advanced features and support.
About a year after the first conversation between Zaporozhets and Sijbrandij, the Ukrainian developer decided that he has had enough of the outsourcing industry.
"I was tired of outsourced development, I feel really more comfortable developing a project where I can respond for code quality and have more freedom in technology decisions," said Zaporozhets. "By that time I was developing GitLab at nights and did my regular daily work as well, so I was really tired.
"I wrote a tweet like 'okay, I'm tired of my current job, I wish to spend all my time on GitLab.' Then Sytse contacted me and said 'I saw your tweet, let's do stuff together' — that's how we became co-founders. Just after one single tweet."
Making money on a free product
Sijbrandij, who doesn't contribute any code to the project because "it always ends up being broken," has become the CEO of the company, while Zaporozhets is CTO and still writes code and helps volunteers with their pull requests.
At the moment, there are six people working on salary at GitLab and more than 600 people who form the community around the open-source product, writing new code, updating documentation, and advising new contributors in chats and forums.
In the meantime, the product itself has gone far beyond anything its creator would ever imagine. GitLab is being used by more than 100,000 organizations all over the world, including NASA, Chinese e-commerce giant Alibaba, and even O'Reilly Media. O'Reilly, Sijbrandij explains, has built a front-end interface on top of GitLab, for authors to write their books in.
The co-founders however do not bathe in cash as one would imagine by looking at the numbers.
"We're starting to break even about now," says the CEO. "I think we were breaking even in the beginning as well when we were a smaller company. But we invested in hiring to make GitLab easier to install. That was a big problem, but now thanks to the team we're able to offer a package, with which you're able to easily install the product."
The reason why GitLab does not generate millions in revenue is its open source nature, to which Zaporozhets and Sijbrandij are staying true. Only about 0.1 percent of all GitLab users pay for a subscription to the Enterprise Edition or 'sponsor' new features in the system. The latter source of income is pretty interesting and means that anyone can 'purchase' a feature and pay to the team for its development on an hourly basis.
The team, however, is quite optimistic as to the future of the product. Having competitors as big as GitHub and Atlassian, GitLab claims to be not only way cheaper but also have a more advanced permissions system that allows secure collaboration between companies as well as individuals.
The open source mission is also why the co-founders are reluctant to attract external funding, as VCs might be less altruistic.
"It'd be very profitable for us to make a bigger difference between the community edition and the enterprise edition, but we want to make sure that the former stays very functional and up to date, so people can use it without having to pay us a dime," Sijbrandij said.
The startup's CEO admitted though that there are some talks with potential investors, however no agreements have been made yet. But even so, the distributed team seems to be doing fine just bootstrapping and building a business around the open source philosophy slowly but surely.
Don't miss: The metric of more: Why you shouldn't always focus on growth
Get the TNW newsletter
Get the most important tech news in your inbox each week.
Also tagged with