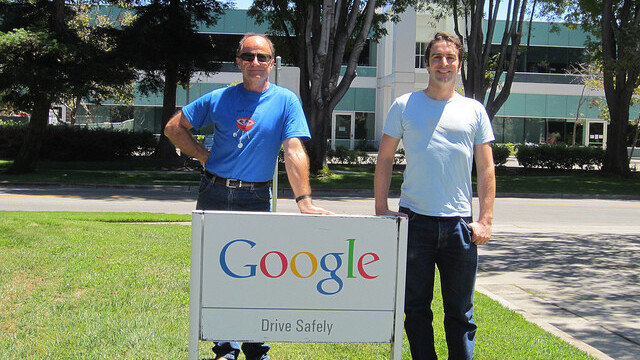 Story by
Drew Olanoff was The Next Web's West Coast Editor. He coined the phrase "Social Good" and invented the "donation by action" model for onlin Drew Olanoff was The Next Web's West Coast Editor. He coined the phrase "Social Good" and invented the "donation by action" model for online charitable movements. He founded #BlameDrewsCancer. You can follow him on Twitter, Google+, Facebook, or email [email protected]
Even when Google Wave was still around, you could tell that Google was playing around with the notion of changing the way we collaborate and communicate. With Wave, the number one usage was to be for companies who wanted to connect with one another in a fast way, rather than wade through internal emails. Google+ actually serves that same purpose, and that's no mistake.
I talked to Clay Bavor, Director of Product Management, Google Apps yesterday, and we discussed Google's rollout of some new enterprise-focused features that involve Google+. Bavor says that for its Apps clients, Google+ is asked about quite a bit.
The idea of Google+ being used in the workplace isn't an entirely foreign thing, since Google itself has been using it internally for some time.
The first step
Bavor and Bradley Horrowtiz both called today's "preview" a big step for bringing Google+ to the enterprise. Bavor tells me that Google's Apps product has "always been about collaboration, and Google Apps customers have already been using Google+ with great results, already."
The way that Google is approaching the release of its social functionality has been to test things out on consumers first and then slowly weave them in for its enterprise customers based on how its users react. Based on all of the feedback the Google+ team has gotten, three pretty important enterprise-grade features are now seeing the light of day.
Private sharing (Restricted posts)
Google+ has always allowed you to selectively share, which I've always felt was the right approach to privacy. For enterprise customers, Google has gone a step further with this privacy. Bavor told me:
An additional layer of controls allow posts to stay internal only to their organization and to make sure things get shared with only the people they want to share with. Proposals for example can be shared outside of an organization with extra steps, and a warning.
This is pretty similar to how Google Docs are handled, when you attempt to share an item outside of your Google Apps domain. It's pretty smart, and it will make companies comfortable enough to use a communication platform like Google+.
Hangouts integration for Calendar
As we've reported, Google is working on integration Hangouts into all of their products. Currently, you can start a video Hangout from Gmail or Docs. Today, you'll now be able to fire up a Hangout from Calendar.
Basically, if you've got a standing weekly meeting, all you have to do is set up the meeting once, invite the people who need to be there, and the Hangout will open for everyone from within the Calendar experience. It's quite handy and removes most of the friction associated with doing video chats with colleagues.
There are no passwords or setup needed to participate in a Google+ Hangout, so you don't have to waste any time. Horowitz tells me that Google has also been using this feature internally for quite a while and have found it to be a timesaver. Since you can participate in a Hangout from a mobile device or tablet as well, it doesn't matter where your team is when it's time for that meeting.
Admin controls
Since administrators of Google App domains can pretty much tweak and handle anything that goes on with those within the system, defaults can be set for things like restricted sharing. If you'd rather everything stay internal, you can set that as the default.
More soon
I pushed a bit on the fact that having two Google+ accounts could get quite annoying, much like managing two email addresses. While I understand that for most people, separating work and personal communication is like church and state, there are situations where the two can co-exist. Bavor tells me that Google has thought of that and we might see something in the future which addresses that situation.
This preview will have more features added to it over time, and is being rolled out incrementally to all Google Apps customers today. The teams will be gathering feedback, seeing how customers use it and refining things as they go along.
Could a service like Google+ one day become an alternative to internal email? Horowitz had this to say:
We're (Google) in the driver's seat for this type of communication, but we have a lot of learning to do.
Anything that cuts down on email is fine by me.