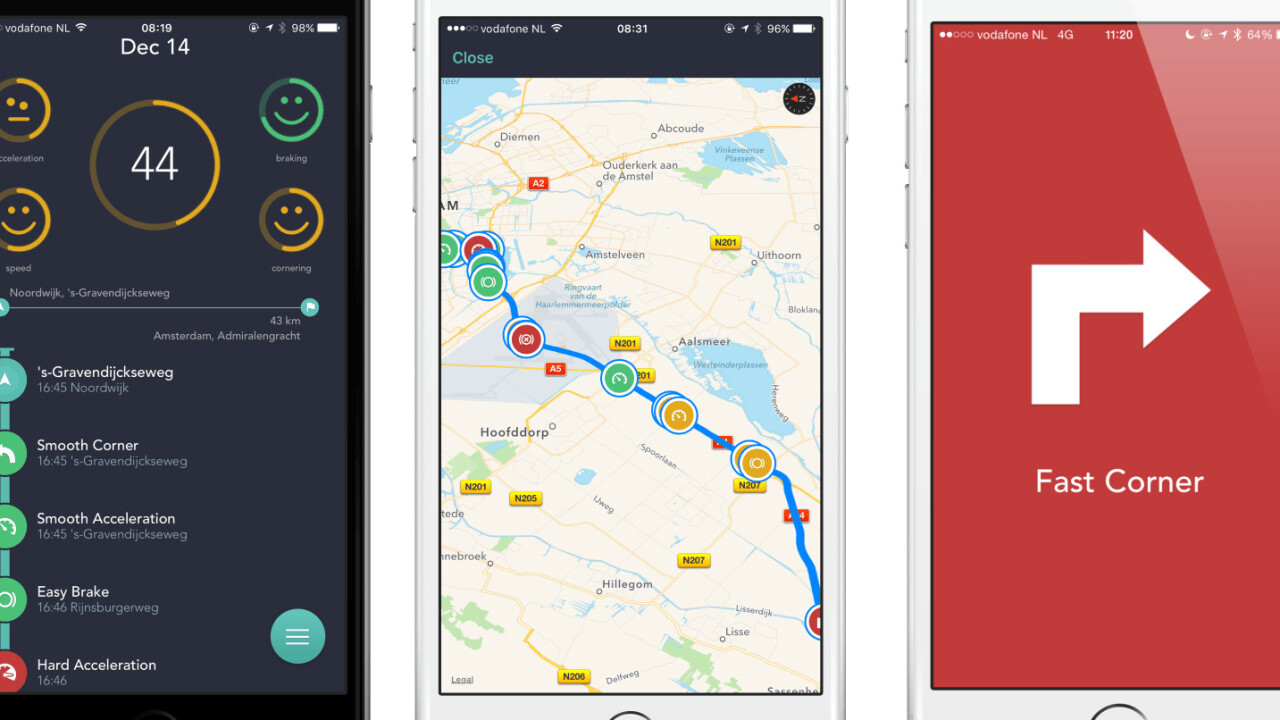 Story by
Europe Editor
Ben is a technology journalist with a specialism in mobile devices and a geeky love of mobile spectrum issues. Ben used to be a professional Ben is a technology journalist with a specialism in mobile devices and a geeky love of mobile spectrum issues. Ben used to be a professional online poker player. You can contact him via Twitter or on Google+.
Each week we're profiling one company that has been selected for Boost – our early-stage startup growth program. Catch up with these companies in person at The Next Web Conference in Amsterdam on May 26-27.
If the thought of having your driving monitored via a smartphone app in exchange for a reduced premium on your car insurance is one that fills you with excitement, then Dutch company Flo is one for you to check out.
By monitoring your trips and assigning each an overall score, you earn a discount on your next renewal – it's that simple. Have an overall trip score of 95? Get a €95 discount.
Flo only uses GPS to determine your driving, so no other additional hardware is required, and your score is based on acceleration, whether or not you maintain a consistent speed, cornering and braking.
Ultimately, the aim is safer drivers on roads all around the world, the company's head of marketing told TNW.
However, with data privacy concerns hitting headlines week after week, will the company garner enough users to scale?
---
Tell us what you do in two sentences.
Flo makes the roads safer by giving you feedback on your driving behavior (using the Flo- score) and logging all of your trips. We do this using free apps for Android and iPhone, so you don't need to spend money on dongles or other expensive hardware to analyze your driving behavior.
How did the company come about? What's your background?
Flo is a privately funded startup within the Decos Technology Group. To disrupt existing products, boost innovation and change the world on a higher pace, Decos has funded several independent startups such as Flo and Minute. The Flo team has been working on algorithms, ways to auto record trips with smart phones and great UI to unlock all of this to users
Who are your biggest rivals, and why are you different?
The number of startups in this area (driving behavior/connected car) is exploding, something we're really excited about as it validates our product and the choices we've made so far. Three well known competitors:
 Zendrive – Offers driving behavior analysis through business apps. Does not have an app for consumers.
Automatic – Enables connecting to your car and driving behavior analysis using hardware and an app.
Dash – Same story as Automatic
How do you deal with the privacy implications of your product?
We ensure that personal data and location data will never be shared with third-parties unless users give their explicit consent. All data is stored according to industry security standards and follows rules and regulations.
We even offer a privacy friendly car insurance together with one of our partners in which we don't share anything but the Flo-score.
Get rich or change the world? Which would you rather, and why?
Change the world. We want to make drivers aware of their driving behavior. Drivers that are aware of their driving behavior are better drivers. Changing this behavior will make the roads safer and reduce CO2 emissions. We're pretty sure that making the world a safer, nicer place will pay out in the end.
How big is your team? Tell us one weird fact about a member of your team.
The Flo team currently has 11 members, situated in Noordwijk, The Netherlands and Pune, India.
Stuff you wouldn't expect:
 Our CMO plays the violin
 Our CTO is a rockstar on 3DHubs
 Our CEO is a PSV fan
If you weren't working on Flo, what would you be doing?
If I weren't working on Flo I would be looking for another startup with a great idea and an awesome team to join, or start my own.
➤ Flo
Get the TNW newsletter
Get the most important tech news in your inbox each week.