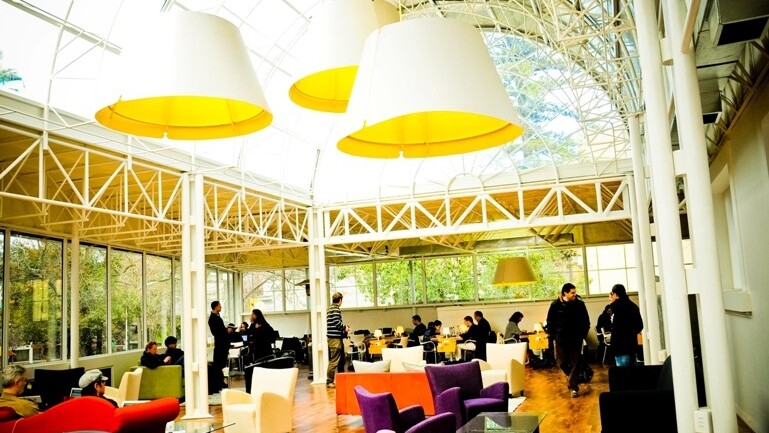 Story by
Anna Heim is the founder of MonoLibre and a freelance writer for various tech and startup publications. She is a polyglot French news junkie Anna Heim is the founder of MonoLibre and a freelance writer for various tech and startup publications. She is a polyglot French news junkie with a love for technology.
Is your company one of the 650 startups which applied for Start-Up Chile? If so, you were probably anxious all week waiting for the results. Well, the wait is now over, as the program just announced the list of 154 projects which will participate in its next acceleration cycle. Selected companies will also receive a coveted US$40,000 grant. So who are the lucky winners?
The big picture: a tough competition
As you may know, Start-Up Chile is a government-supported initiative aimed at fostering the Chilean startup ecosystem by bringing international early-stage startups together for a 24-week acceleration program in Santiago, Chile (see our post from November 2010). It has already welcomed over 100 startups and its goal is to count 1,000 participants by 2014.
Back in July, we had announced Start-Up Chile would select 100 companies for its upcoming cycle (see our previous story). Instead, 154 startups were selected today, but don't read it wrong, making it to the final list isn't easy. In fact, competition is even getting tougher. While the approximate ratio in previous round was of 3 applications for one selected companies, Start-Up Chile has received more than 650 applications this time, in little more than one month.
A global program
Among the selected companies, 33 different nationalities are represented. The U.S. form the largest contingent, with 35% of chosen startups. It's also worth noting that 27 companies come from Chile, the second most represented country. This is very new for the program. Indeed, this round is the first one to be open to Chilean applications. Until then, the program had only welcomed foreign startups in order to highlight Chile's positioning as "a global innovation hub." This positioning hasn't changed and the program's approach still goes beyond borders; foreign teams are offered visas to stay in the country during the program and "use Chile as a platform to go global".
IT and e-commerce dominate
The majority of chosen companies belong to two main business areas, according to Start-Up Chile:
"39% of the selected startups fall into the Enterprise software and IT industry, while the E-commerce and Trade sector tails closely with 35% of the applicants. Other well represented areas include Mobile and Wireless, Social/NGO, and Energy and Cleantech."
And the winners are…
Here is the full list of selected companies by country of origin:
Argentina: Comenta.TV (see our previous story); Mappyfriends; TheSocialRadio; Trendsetter; Whelse
Australia: Travel Stak
Belgium: BitFlow; NopalGas
Bolivia: Amerpages
Brazil: Bússola do Investidor; Checkout10; DeskMetrics (see our previous story); GPNX; Yupi Studios
Canada: Art Sumo (see our previous story); Bespoke Mobility; Contractor Copilot; Founder2Founder; GooseChase Adventures; Gradematic.com; InBeta  Kitchon; PixelSteam; Rocketr; Roseicollis Technologies; TribeCastr
Chile: Baytex S.A.; Biofiltro Ltda; Bioquimica.cl S.A.; Buxus; Dentalink; ePig Games; Fantáxico Fibras Andinas Chile; Find Your Place; Frontierre; GapJumpers; Grifoo Inc; Impresionantes; Intern Latin America; Klooff; Kodkod, Lugar de Encuentros; KSW; Loogares.com; Monitor Emergente; Motion Displays; QuantConnect; Qubity; Reacción; SOCIALMETER; StudioSnaps; Teggo.cl; vitryn.com
China: Flipter
Colombia: iWin Platform Inc.
Czech Republic: Organic Society Ltd.
Equador: Escapeswithyou.com; KeyEffx
Estonia: Mydognotes
Finland: Kassi
France: GuiaVulevu.com (see our previous story); MyOwnWinery; SmartAgro
Germany: CloudGate; Quadrifolium Ventures; Synergos
India: Credii; Cruns; PriceShred.com; RFEyeD; SupportBee
Ireland: MineralRightsWorldwide.com
Israel: Dazo
Malaysia: Flvrd
Mexico: Aventones; Guali Mexico
Netherlands: SOLR
New Zealand: Day Zero Project
Poland: Chayamuni
Portugal: Belmont; Inocrowd
Romania: Glazeon
Singapore: Espy; HelloWorldHQ; My Fitness Wallet
Spain: CI2T SL
Sri Lanka: Medical Joyworks
Switzerland: Lincipit
UK: BeHiring; ChamaPro; IrisRose; Jogabo; Maptia; MercadoTransporte Ltd; OwnersAbroad; Radical Robot Ltd; StrongSteam
United States: Alcanzar Solar; Alec Manfre; Alodok; Ante Up; Ateneo Digital, LLC; Attract, Inc.; Backyard Brains; bNapkin; Boilingice; BonoVerde; BookBottles LLC; Bunsen; Cloudeas LLC; Community Hitch; DermLink; Dot View; Ebiquous Inc.; First Born; Furnitrax; girltank; GoDonor.org; GoGoOffice; Hactus; HPC Brasil; Interviewfest; Learndipity, Inc.; Lendalo; Looking Glass Learning; Matchfund; Memecup; Miro Analytics; Monkey Puzzle Media/Araucaria Films; Mozaico; Patagonia Sostenible; PerfectHitch; PopUp Leasing; PorMano; PrinterBot; Reko Global Water; Relationship Technologies Inc; Safe Water World; Sail; SeatUP; Shellcatch; SkyStem LLC; Smashrun; Streetmason; TeachMySkills; The Scene; TongueHackr.com; TusTrabajitos.com; Visqu; WanderDeal; Waypoint Labs
Uruguay: FashionAttitude.com; Kidbox
Other: Fixational
Was your startup selected? Let us know in the comments.