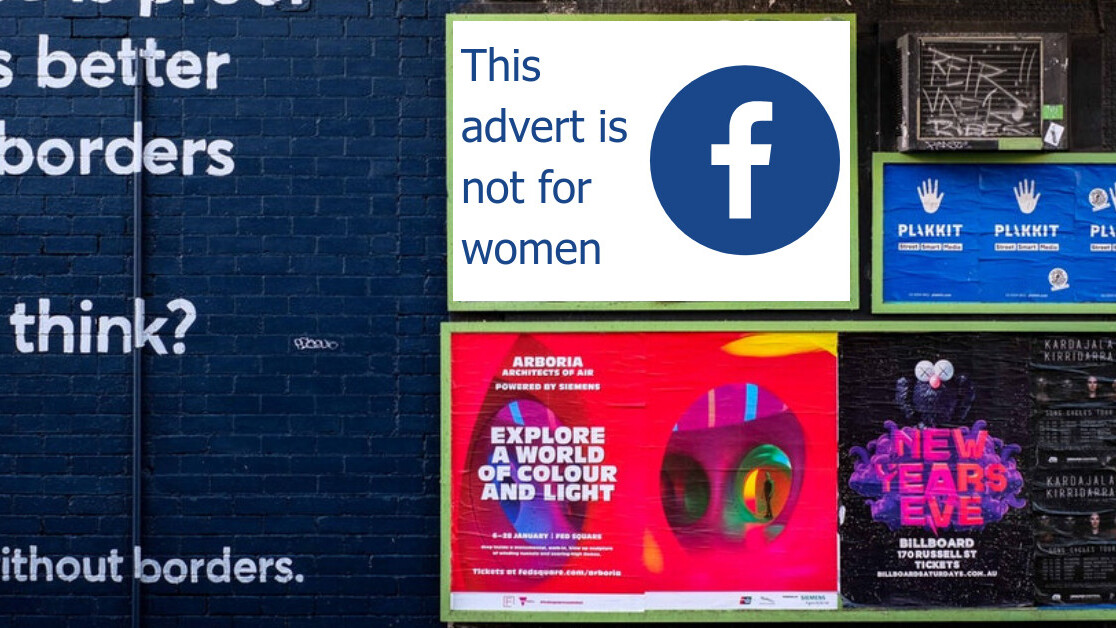 Story by
Former TNW writer
On Tuesday, the American Civil Liberties Union (ACLU) submitted a complaint to the US Equal Employment Opportunity Commission (EEOC) against Facebook. It claims the platform's ad options have allowed employers to post adverts that allow discrimination based on gender.
"Facebook has created and profited from a powerful tool for discrimination against female and other non-male job applicants," the complaint explains.
ACLU's complaint was filed on behalf of three female job seekers after they were not shown advertisements for what have been traditionally considered male-dominated professions — including roles such as mechanic, roofer, and security engineer.
How does Facebook's ad-targeting system work?
Before an ad is published, Facebook allows advertisers to choose who can see their ad by tailoring their audience to a specific age group, gender, and location. Ads can therefore be altered to exclude certain demographics.
ACLU's complaint highlighted 10 different employers who have been found to exclude women all together. One company featured in the complaint was Rice Tire who allegedly published adverts targeted to only young males, excluding all women and non-binary applicants.
Facebook's shady ad-targeting reputation
But this isn't the first time Facebook's ad targeting options have come under fire. Just last month the tech giant announced it will remove over 5,000 ad features in an attempt to prevent advertisers from discriminating against users in relation to religion or ethnicity.
This complaint was made by the US Department of Housing and Urban Development (HUD), and alleged that Facebook's ad targeting tools may be used to keep people of certain genders, races, religions, and familial status from being able to see ads for certain properties.
It goes on to say: "Facebook then invites advertisers to express unlawful preferences by offering discriminatory options, allowing them to effectively limit housing options for these protected classes under the guise of 'targeted advertising.'" This, as the HUD pointed out in their statement, would be a massive violation of the Fair Housing Act.
Prior to this complaint issued by HUD, Facebook had claimed to have fixed this issue almost two years ago.
Back in 2016, Facebook said it ended the targeting program that enabled advertisers to restrict their products to people based on "ethnic affinity." While Facebook doesn't allow users to identify as a particular race, it apparently marks users as a certain ethnicity based on their groups and interests. 
At a time when the public's relationship with Facebook has never been more conflicted and insecure, the company has no other option than to update their ad-targeting practice to promote inclusivity. While the ACLU complaint refers to only 10 cases, the role Facebook has played in excluding certain demographics from job advertisements is obvious. It's unfortunate the company has not already taken the necessary steps to fix it prior to this complaint.