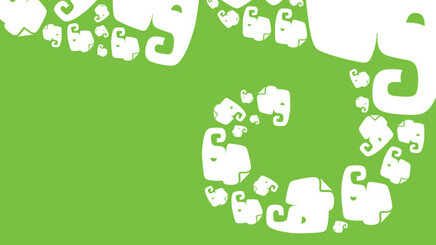 Story by
Former Managing Editor, TNW
Bryan is a freelance journalist. Bryan is a freelance journalist.
Evernote is a riddle, wrapped in a mystery, inside an enigma. For years now, the company has seemed content with resting on its laurels in hopes that a better option didn't come along. All the while, the company tried to turn the corner and scale into profitability and beyond.
Standing firm, and looking forward don't typically go hand-in-hand, as Evernote seems to have figured out.
The company began its downward spiral under the watchful eye of then CEO Phil Libin. As it looked toward profitability for the first time, it quickly became clear that Libin wasn't the guy to get them there.
Enter Chris O'Neill
O'Neill, a former Google Glass executive took over the reigns as CEO with an eye toward revenue and quickly asserted his mission by closing 30 percent of the company's global offices and laying off 18 percent of its workforce.
Since then, Evernote left its application to stagnate on both mobile and the web. The only updates of note were the price increase of Plus/Premium and a failed privacy policy update that led to outrage last December. Unless you count the Windows 10 refresh that brought color coding, improved search, and separate sections for work and home, the company has been stagnant under O'Neill's reign as CEO.
You can put lipstick on a pig, but I'm still not willing to date it. I'm not alone, either. Influencers around the web seem to be all to happy to trade Evernote in on a shinier new model while coming to the same conclusion I had — Evernote is a dying unicorn.
Curious, I reached out to O'Neill last year about Evernote's future. Well, first I lit a match and burned my relationship with Evernote to the ground, but you know, after that I reached out in attempt to see what the hell was going on. O'Neill agreed to the interview and was "excited" to tell me about the updates Evernote had in store over the coming year (2016). This would be a good time for a montage where time goes by with radio silence.
After several more emails, O'Neill basically blew me off and tried to hand me to someone in marketing about two months later. If I weren't done with Evernote before, this provided the final nail in the coffin.
Looking forward
I've since written Evernote out of my life completely.
Its dated interface and lack of meaningful updates felt like a company struggling for identity. Rather than weather the storm, I decided to dive overboard and swim into the loving arms of Bear, my new favorite note-taking app. Others stayed, but complained — few were happy, but even fewer had the conviction to leave hundreds or thousands of notes behind for a better option, and there were many better options.
Today the company seems to have turned a corner.
The new Evernote?
O'Neill and Co. took a wrecking ball to the existing iOS app. From the ground up, the team built something something new, something fresh. With a cleaner, more intuitive interface, Evernote felt viable again after years of collecting rust.
Gone is the branded green and cluttered workspace; in its place we have a minimalist style reminiscent of its web interface — not perfect, but a solid foundation to build upon.
With instant access to your notes and a revamped bottom menu featuring just four buttons — notes, search, shortcuts, account — and the "add a note" icon, the once dated interface feels like a major step forward. It's not there yet, and the update might feel like a minor refresh that came too late for some, but this is actually Evernote's most progressive move in years.
It's not a refresh, it's a reboot; and personally, I couldn't be happier it happened — even if it was two years too late.
Also tagged with