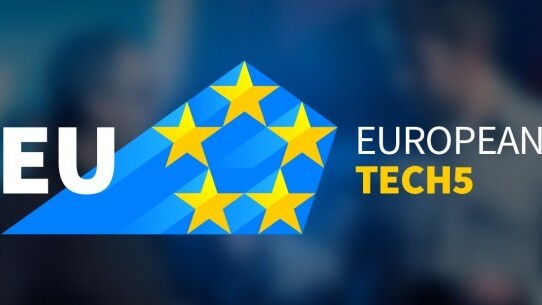 Story by
Jelle is data whisperer and content sherpa for Index. He enjoys tinkering in backend dev and winning at squash. He's also TNW's not yet deth Jelle is data whisperer and content sherpa for Index. He enjoys tinkering in backend dev and winning at squash. He's also TNW's not yet dethroned champion of ping pong.
A little over a month ago we teamed up with global payments technology provider Adyen to kick off the second edition of The European Tech5.
Our aim was to identify Europe's fastest-growing young tech companies. After receiving a ton of submissions and screening more than a hundred companies across six countries in Europe, the finalists have emerged and the lists are ready.
The Tech5 lists are based on actual revenue and employee data and shows the growth rate between 2012 and 2015. The main entry criteria for the Tech5 were that a company must have launched in 2010 or later, have generated more than €200,000 in revenue (2014), and build its own (scalable) product or service driven by technology.
Featured here are some exciting new names and some returning greats. They provide a snapshot of where success can be found in different ecosystems, and how to achieve it.
Without further ado, here are each country's fastest-growing companies:
The UK
Festicket
Festicket is a website that packages festival tickets with travel, accommodation and add-ons to create complete festival trips that can be booked in one click.
---
Kano
Kano creates computer and coding kits for all ages that anyone can build with plug-and-play pieces.
---
Lyst
Lyst lets you shop over 1 million products from over 9,000 fashion designers and retailers in one place.
---
TransferWise
TransferWise is an international money transfer platform that is up to 10 times cheaper than transferring money using a bank.
---
Yplan
YPlan allows users to browse through a curated shortlist of the best events in town every night and book in just two taps.
Germany
Blacklane
Blacklane connects passengers with the spare capacities of licensed and insured professional drivers.
---
Delivery Hero
Delivery Hero promote delivery service in the digital age, helping customers find their favourite foods easily and conveniently.
---
Foodpanda
Foodpanda group is a global online food delivery marketplace enabling restaurants to become visible in the online and mobile world.
---
Gini
Gini provides an API that allows businesses to automate paperwork, such as invoice payment and expense tracking, for their end users.
---
Minubo
Minubo is an e-commerce intelligence solution developed to meet online retailers' specific analytics requirements.
The Netherlands
Bynder
Bynder is an online brand portal solution that helps great brands to distribute their marketing materials, manage creations and facilitate brand consistency.
---
The Cloakroom
The Cloakroom is a personal shopping service for time-starved men who care about looking good.
---
Fairphone
Fairphone produces a phone and motivates the electronics industry to look at social and environmental issues in the supply chain, creating change in four areas: mining, manufacturing, design and life cycle.
---
imgZine
imgZine has created a platform for the effortless publishing of real-time social magazines on mobile devices, based on existing content.
---
Sendcloud
Sendcloud offers a free, optimized shipping platform for webshops that streamlines the shipping process.
France
1001menus
1001menus is an all-in-one marketing SaaS that helps restaurants attract customers and increase loyalty.
---
Dataiku
Dataiku provides a platform for turning raw data into production ready, data-driven applications.
---
Drivy
Drivy is a peer-to-peer car rental service that aims to make the use of cars more efficient and sustainable.
---
Mention
Mention is a media monitoring utility that creates alerts users, in real-time, of any mention on the web and social networks
---
Uplike
Uplike is a social mobile application to discover and share interests in a simple manner with your friends, family and the rest of the world.
Sweden
Cantemo AB
Cantemo is an easy to use Media Asset Management solution that allows you to be in control of your media
---
Freespee
Freespee is a software-as-a-service platform that turns consumer voice interactions into usefull and accessible data.
---
Fyndiq
Fyndiq connects merchants and bargain hunters through their hassle-free marketplace.
---
Instantor AB
Instantor is an online identity verification tool that allows for logging in with bank codes to prove your identity.
---
Qwaya
Qwaya is a self-service Facebook advertising tool that helps you run Facebook campaigns more efficiently.
Spain
ByHours.com
ByHours.com is a platform that allows customers to book hotels in sets of 3, 6 and 12 hours and decide the check-in/out time.
---
Cabify
Cabify offers users the ability to order different types of chauffeur-driven cars at set journey-prices, with payments taken through their app.
---
GetApp
GetApp is an independent business apps marketplace that helps businesses to discover, compare and review B2B cloud applications.
---
Marfeel
Marfeel offers a magazine-like reading experience for mobile platforms with an ad-optimized design.
---
Packlink
Packlink is a disruptive online shipping comparison and booking service offering a fast and easy way of booking parcel deliveries.
---
There you have it, a selection of Europe's fastest-growing tech startups. All these companies have received invitations to TNW Conference Europe in April, and the top company from each country (to be announced later) will be awarded speaking time on stage.
But with a little support, one more of these startups will join the other six country winners on the conference stage! We're introducing a wildcard into the competition. You can go to the Tech5 homepage to vote for which of these companies you think most deserves to stand shoulder-to-shoulder with Europe's best.
Wildcard voting opens tomorrow, March 10th, at 17:00 ECT.
Get the TNW newsletter
Get the most important tech news in your inbox each week.
Also tagged with