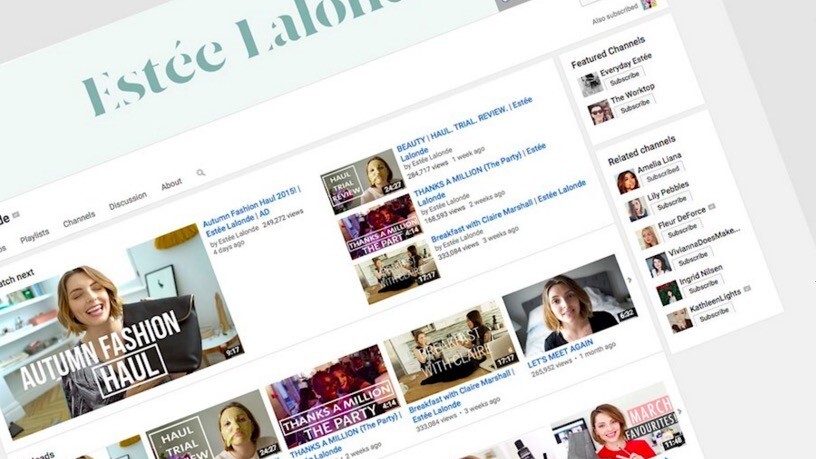 Story by
Reporter
Amanda Connolly is a reporter for The Next Web, currently based in London. Originally from Ireland, Amanda previously worked in press and ed Amanda Connolly is a reporter for The Next Web, currently based in London. Originally from Ireland, Amanda previously worked in press and editorial at the Web Summit. She's interested in all things tech, with a particular fondness for lifestyle and creative tech and the spaces where these intersect. Twitter
As a YouTuber, hitting one million subscribers is a massive milestone and so is getting picked up by one of the most recognized modelling agencies in the world and having your own branded merchandise.
Estée Lalonde has achieved all of the above but recently she did something quite radical – she decided to shake things up and rebrand her social channels and website with a new name and editorial focus. Her experience is representative of how YouTubers have longevity in their careers if they can garner a loyal following through staying true to what they believe in with their content.
This is what Estée has done. When she started out she posted mainly about beauty –  everything from makeup hauls to her skincare routine. However, as she has grown up over the last five years, her interests have evolved and that's what she wants to reflect in her rebrand.
Fresh off the stage at the Web Summit in Dublin where she was speaking on a panel about the rise of the online star, I sat down to chat with Estée about the ups and downs, challenges and everything that goes into making a career on YouTube.
Ditching the name that brought her to everyone's attention – Essie Button – she has decided to be truthful to herself and use her real name.
As she described it in her video announcing the rebrand – using her real name makes everything feel more personal and gives her the scope to cover every aspect of her life, not just beauty.  
As she explained on-stage, having a feedback loop and real relationship with her viewers is crucial. "You can't just throw stuff in front of them," she said.
It's clear when you speak to Estée that her viewers are genuinely appreciated and perhaps that's because she didn't get started in the blogging industry to get famous or make money – she started her YouTube channel to make friends.
It might seem like a crazy idea to change or fix something that's clearly working like a well oiled machine but when you meet Estée or even watch some of her videos, you'll soon learn why it's not that surprising because she is extremely personable and outgoing, yet pleasant and not overbearing. 
You might say that's her job, but from our conversation it's easy to tell that it's the other way around – Estée's job is her job because she is so personable and that's what has attracted and kept her followers coming back for the last five years. 
The beginning
After moving from her hometown in Canada to London to be with her boyfriend, she realized that it's pretty daunting being in a new city. She explained:
"I didn't know anyone in this new place and I was really lonely so I was just spending a lot of time on the internet."
The internet, as we all know, is a great way of meeting new people and is in fact how Estée met her boyfriend, so taking the leap into blogging was a natural fit.
It wasn't an instant success, Estée hasn't had what you'd call a viral video as such. In her own words, she has had "a slow climb" on her channel. Her success has come from a natural growth of followers online, which she says in her eyes is almost better than one video getting five million views because it's left her with a truly loyal fanbase.
Blogging wasn't always her aim though – she was actually studying psychology when she first moved to England. After completing her course and working a few part-time jobs in London, Estée eventually got to the point where blogging became a full-time job. 
It's a wonder she managed to get any videos out with that schedule but she did and eventually, something had to give and blogging became her main focus.
Money, money, money
I asked Estée about the money side of things though. Working numerous jobs isn't uncommon for young students who want to live in London, it's an expensive place and although the dream of making YouTube videos as a career is incredible to think about. Estée explained that it wasn't sponsors or aligning herself with brands that helped her support herself when she left her part time jobs:
"I would say I didn't even do a sponsored video for maybe two years after I started blogging. I had my blog and website and I got ad revenue from my channel so I wasn't making money from sponsored videos back then."
Does she do sponsored videos now? Yes. Are they clearly marked as such? Yes. Why? "Because this is my job and creators have to get paid," she explained.
And it's true. There is nothing wrong with sponsored content being done the right way. If it's done right and carefully curated to suit the intended audience then there's no reason these kinds of ads need to be scrutinized.
Ads and adblockers
Ads play a massive role in YouTubers' livelihoods though. As Estée explained, she was able to make money off ad revenue alone before ever doing a sponsored post. However, with the rise in popularity of adblockers, YouTubers face losing a percentage of that profit when people dodge the ads.
According to the most profitable YouTuber in the world, PewDiePie, he loses about 40 percent of his revenue from people using adblockers and this is what has led Google to come up with YouTube Red – an ad-free but subscription-based service.
When I asked Estée about the possibility of moving her channel to being a paid-only service, she said she was shocked to learn about PewDiePie's revenue loss because it's not something she has ever really looked into. She went on to say:
"At the end of the day, that's their right to use adblockers. It's a really interesting time because we don't know what's going to happen.

When Netflix first came out, people were skeptical of paying for it every month but now it's a staple thing we pay for every month.

It's just weird because it's coming from a place where everything used to be free, so I think time has to tell with that one. We'll just have to wait and see what happens."
A one woman show
Estée is managed by Storm Model Management – an agency known for being the home of Kate Moss and Cindy Crawford, as well as an army of famous models and artists. With such a big name backing her every move, I was surprised to learn how much of the content is still completely handmade by Estée – all of it.
"It's all me, that's why I'm really tired," she exclaimed.
She doesn't have a team of writers or photographers and social media whizzes in her home office to help out – she does it all herself. She has an assistant who helps keep her schedule on track and her inbox in good working order, but that's it.
Living online vs offline
Living your life as openly online as YouTubers do is definitely daunting to me and I'd imagine it is that way to a lot of people. Estée's posts have always shared her personal life, as well as her beauty focus but now with the rebrand, things are about to hit a new level of personal and I wondered how that will impact her life offline. She told me:
"This month I am doing daily vlogs so I have a camera following me every day; it very much captures my offline life. It is very real."
And in terms of relationships with her family and boyfriend offline, she says they are very supportive:
"None of us thought this would ever have any impact on anything when I first started out. Sometimes I'll be out with my boyfriend and a viewer will come over and it's more like speaking to an old friend than a subscriber.

My boyfriend and my family are very involved because they have been there through the whole process from the beginning to now."
There are boundaries though to what goes online and what stays offline, Estée says.
While she has blogged things like her and her boyfriend having dinner and her calls with her mom in Canada, she hasn't blogged when her and her boyfriend were arguing over things like the dishes.  She explained:
"I think my viewers see as much of me as I am willing to share and I try to keep it as open as possible because that's what I do and that's what people connect to.

There definitely is a boundary and you know when you reach that, so there are things that I am super private about too."
A truthful depiction?
This week an Australian Instagram star, Essena O'Neill, quit all social media after declaring it 'contrived perfection.' With a huge following and career growing as a model, she was on the path to stardom, being paid to promote brands and even just to take selfies in specific clothes, but she says it was all manufactured and false.
I asked Estée how she felt about this revelation. She said:
"I think social media is what you make of it – if you start out not being yourself on the internet, things can go that way… but for me it's always been me being myself online. I can see where she is coming from though because the pressure is intense."
O'Neill mentioned how she would often have skipped eating to look good for a photo and felt pressured to do so. Estée, however, says she has never been put under that kind of pressure for any of her posts.
She says knowing herself is key to avoiding that, "I know I have a little bit of a big butt, big hips and big boobs or a zit on my face and I just embrace it because to me, my viewers are real people just like I am and they want to see someone who's relatable."
Going forward
So making the move from mostly beauty content to fashion and lifestyle and more real-life experiences on her blog, I asked Estée what she hopes people will take away from it all and how she wants people to view her through her new content. She told me:
"I just hope people see me for who I really am. I'm a 25-year old woman who's created her own career, who lives with her boyfriend and we have a house and a dog together – I'm a grown up.

I hope people just see me as more of a woman now."
Estée's advice for budding YouTubers
Getting started on YouTube and actually getting attention these days is tougher than it's ever been, so Estée has this advise for anyone aspiring to follow in her footsteps:
"I think it's important to just focus on coming across as who you really are because at the end of the day it's personality and the content that's really going to matter. Just get started."
Also tagged with