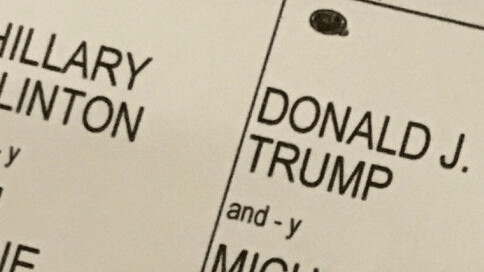 Story by
Former Managing Editor, TNW
Bryan is a freelance journalist. Bryan is a freelance journalist.
It's election day. For Americans that's the day our civic pride swells as we head to the ballot box to cast our vote for the next leader of our great country. Or, that's how it's supposed to work anyway. Instead, it feels like we're dragging ourselves out of bed after a year-long hangover and praying the aspirin kills the pain.
Eric Trump, presumably, feels the same way. Eric, the son of Presidential candidate Donald Trump, set out today to cast his ballot just like anyone else — waking from a bed in a $30 million penthouse, shrugging off a set of exotic silk sheets, brushing his teeth with his gold-flaked toothpaste, donning a $10,000 suit, and being driven to his polling place by a driver in a town car. You know, typical American stuff.
Once there, Trump cast a ballot for his father, and then sent this tweet:
In case anyone missed it or they delete it here's a screengrab of @EricTrump tweeting a photo of his ballot pic.twitter.com/dvQHPsjWf9

— S (@sara_m_g) November 8, 2016
Unfortunately for Trump, that photo is a crime in the state of New York. In fact, it's also a crime in Florida, Michigan, New Jersey and a handful of other states.
The 'ballot selfie' regulations are an attempt to prevent voter coercion and they're controversial, to say the least. In theory, the law protects the voter from voting under duress and then providing proof that a specific vote was cast. I'd argue that this probably isn't all that big of a problem these days, but the laws persist, nonetheless.
So if you're keeping score at home, Eric, not Donald, was the first Trump to fail on election day.
According to early poll numbers, the full-sized version could be joining him in the shame corner soon.