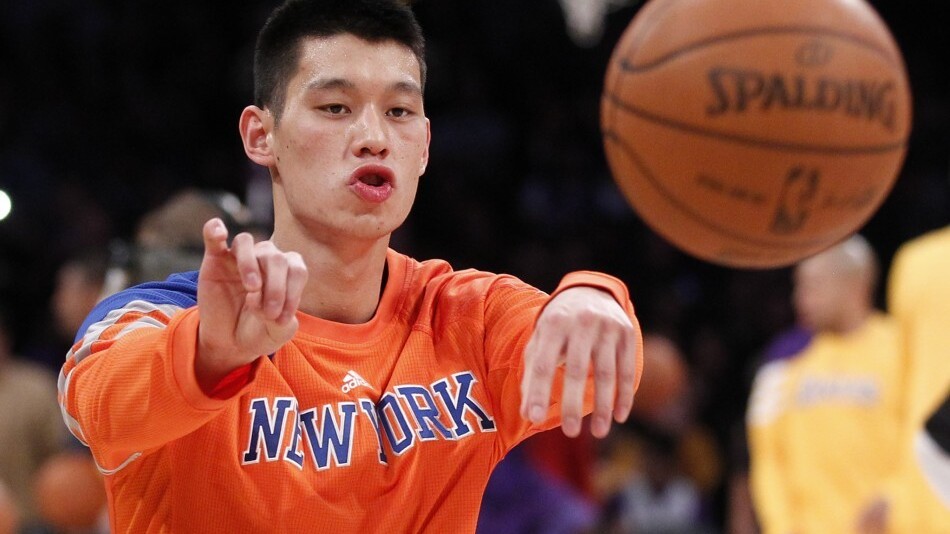 Story by
Passionate about tourism development, Rich is the Co-Founder (CEO) of Street Mosaic, a Start Up Chile Round 1 graduate. Also a fan of New Yo Passionate about tourism development, Rich is the Co-Founder (CEO) of Street Mosaic, a Start Up Chile Round 1 graduate. Also a fan of New York, Rich supports efforts in bridging start ups with New York City. Rich has been lucky enough to have worked in India, Germany, Spain, Singapore, Chile and is now based between New York and Brazil.
I arrived in New York City (my former home town) just in time to watch the NY Giants win the Super Bowl. But that hasn't been the only big news coming out of New York lately. "Linsanity" is taking over and it's been a marketers dream.
For those readers who are not NBA followers, Jeremy Lin is the first North American of Taiwanese descent to play in the NBA. He's also the second Harvard Alumni to play in the NBA. And he's setting a new NBA record with 20 or more points as a first time starter in his last 5 starting games.
Forbes has already used him as reference for demonstrating motivation skills and, as you can imagine, brand management potential. Besides his heritage, Jeremy and I only share one other trait: he's been sleeping on his brother's couch, a lifestyle many entrepreneurs are more than familiar with. So to jump on the media bandwagon, here is my edition of "what can Jeremy Lin teach an entrepreneur?"
The Classics
Perseverance: While in the limelight now, this wasn't always the case. Graduating from Palo Alto High School (2006), Jeremy wasn't recruited by any Division I school (where most college athletes get tested for the pros). After college (2010), Jeremy wasn't drafted into the NBA. He had a partially guaranteed contract with the Golden State Warriors before getting cut in 2011. Even at this point, he's still undrafted by the NY Knicks. Now, 4 years later, Lin is more than likely getting a contract and surely will make 10x his salary in marketing deals for his employer (the NBA is sort of a big deal in China).
Look for Opportunities: Jeremy is 6'3", not a giant by NBA measures, even as a point guard. What has led to Jeremy's success has been his ability to adapt and find opportunities on the court, as any point guard should do. He hasn't let his stature keep him from succeeding where 6'5" or taller roadblocks lay ahead. Understanding your environment and your competition is important, but finding the strategy to beat them in the same game is even better.
Work Hard: This is a combo effort of working hard and working smart. No one is going to give you a chance if you don't demonstrate the willingness to push for your goals. In developing his skills, Jeremy recognized his strengths and weaknesses. He's worked hard at excelling on his strengths and diminishing his weaknesses. He's admitted not being "freakishly athletic" and continued developing his skills in the NBA D-league. Even at many others' optimal level, Jeremy respected his need to continue working hard to achieve his goals.
Other Entrepreneurial Elements
You are the underdog: As an entrepreneur, you will be the underdog. All your friends will say to you how brave and wonderful you are and how you are living your dream. But deep down they will think you are crazy. Coaches and scouts passed Jeremy up who now only earns $800,000 for the season as an NBA player.  You better believe he's the underdog.
Don't let bigger giants keep you from excelling at your very best: Being the underdog can play to your advantage. You are nimble and below the radar. When you reach success, people will recognize you for your perseverance and hard work to achieve success and kick themselves for not recognizing it earlier.
Don't rest on your laurels: When you reach success, don't start slacking off. Now that he's had the opportunity to play front and center, do you think training and improving his skills is going to stop? Jeremy will continue bettering as many elements of his game in an iterative process, as should any entrepreneur.
Remember, Jeremy is no slouch. He did help his high school win the state championship, and he did go to Harvard. He's stayed true to his dreams and kept working hard to get to where he is.
Team! – Don't forget your team: Watch any interview with Jeremy Lin, and listen to what he says first in every one. Here are some for easy reference: YouTube 1, YouTube 2, Player of the Week.
Do what you love! In many entrepreneurial articles, advice about raising money, investor pitches, and user metrics are the standard. But don't forget to work on something that you are passionate about. Watch those interviews again and see how big of a smile Jeremy has. He's having fun, he's living his dream, and he's relishing the success of all his hard work.
But I guarantee, and I believe many other entrepreneurs will agree, even if he were not successful in making to the NBA, every lesson he learned, every late night he put in, and every rejection he got could not dampen his love for what he's doing.
Get the TNW newsletter
Get the most important tech news in your inbox each week.