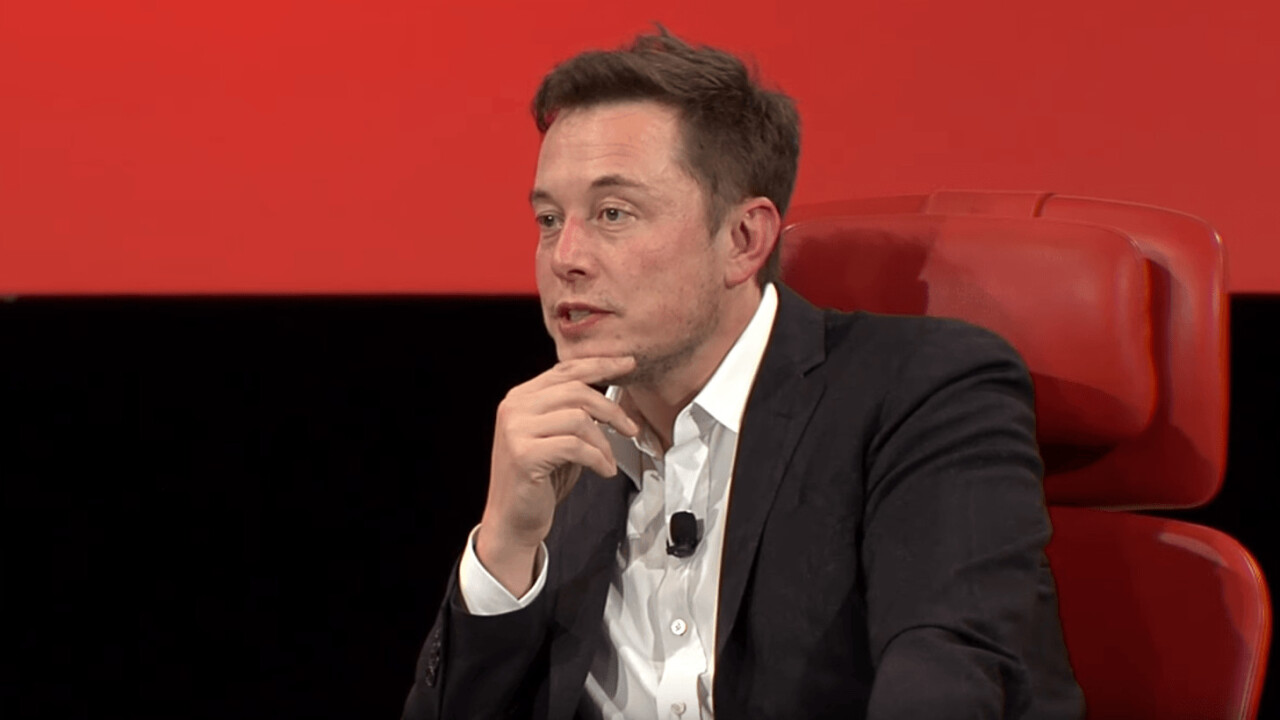 Story by
Former Managing Editor, TNW
Bryan is a freelance journalist. Bryan is a freelance journalist.
Starting as soon as 2018, Elon Musk wants to begin flying unmanned spacecraft to Mars. Flights would take place every two years — coinciding with the period in which the red planet is closest to Earth — and if all goes according to plan, we should see the first human mission in 2025.
In an interview with the Washington Post this week, Musk laid out the details of the project for the first time and equated the spirit of the missions with the settlement of the New World by colonists who crossed the Atlantic centuries earlier.
The missions, Musk said, are sure to be "hard, risky, dangerous, difficult," but he was confident in the pioneer spirit of the people who might eventually get us there.
Just as with the establishment of the English colonies, there are people who love that. They want to be the pioneers.
Much like some of their ancestors, these brave men and women would embark on a perilous journey to a new world for the good of mankind, a journey with implied risk that suggest they may never return.
Rovers and science experiments
But we're getting ahead of ourselves. The first phases are to involve rovers and science experiments, not men and women. The equipment would be built by SpaceX (and others) and shuttled to the planet in anticipation of the pioneers' arrival in 2025. The early flights are a proving ground, a way to better understand interplanetary navigation and allow the company to safely land its craft on Mars, before shuttling humans.
Essentially what we're saying is we're establishing a cargo route to Mars. It's a regular cargo route. You can count on it. It's going happen every 26 months. Like a train leaving the station. And if scientists around the world know that they can count on that, and it's going to be inexpensive, relatively speaking compared to anything in the past, then they will plan accordingly and come up with a lot of great experiments.
In decades past, these missions would have fallen on NASA and congress, which makes it even more impressive that Musk and his privately-held company are leading the charge.The move is an audacious one by a company that lacks the resources of a government agency and is receiving only minimal support. NASA, for its part, has previously said it would provide technical — but not financial — support for Musk's 2018 mission.
Musk is undeterred. He's determined to get to Mars, and he knows just how his team is going to accomplish it.
Untested equipment and a high rate of failure
The 2018 trip is going to use SpaceX's 'Dragon' spacecraft, which would be propelled into space by Falcon Heavy, a beastly rocket containing 27 first-stage engines. When it leaves the ground later this year, it'll become the "most powerful operational rocket in the world by a factor of two" and provide more than 5 million pounds of thrust at liftoff — the equivalent of 18 Boeing 747 airplanes.
Of 43 robotic missions to mars, only 18 have had successful landings. Now, Musk wants to up the ante with as-yet unproven technology. The Dragon spacecraft, if successful, will be the largest object to land on the martian surface "by a factor of 10," says Musk, a move that would significantly increase the difficulty level of an already daunting task.
The timeline is an ambitious one — a move Musk has been openly criticized for — but if the Falcon Heavy test goes off without a hitch later this year, there's no reason to suggest the timeline couldn't work. After all, a failed landing with cargo simply pushes back the timeline — we're not talking about a loss of life.
By the next launch window, in 2020, Musk hopes to send at least two Dragon spacecraft, loaded with materials and experiments.
Then, in 2022, SpaceX intends to launch what the company calls the Mars Colonial Transporter, gear that would provide the essentials for colonizing the planet.
From there, it's a 2024 launch with human passengers and a 2025 arrival date.
Get the TNW newsletter
Get the most important tech news in your inbox each week.