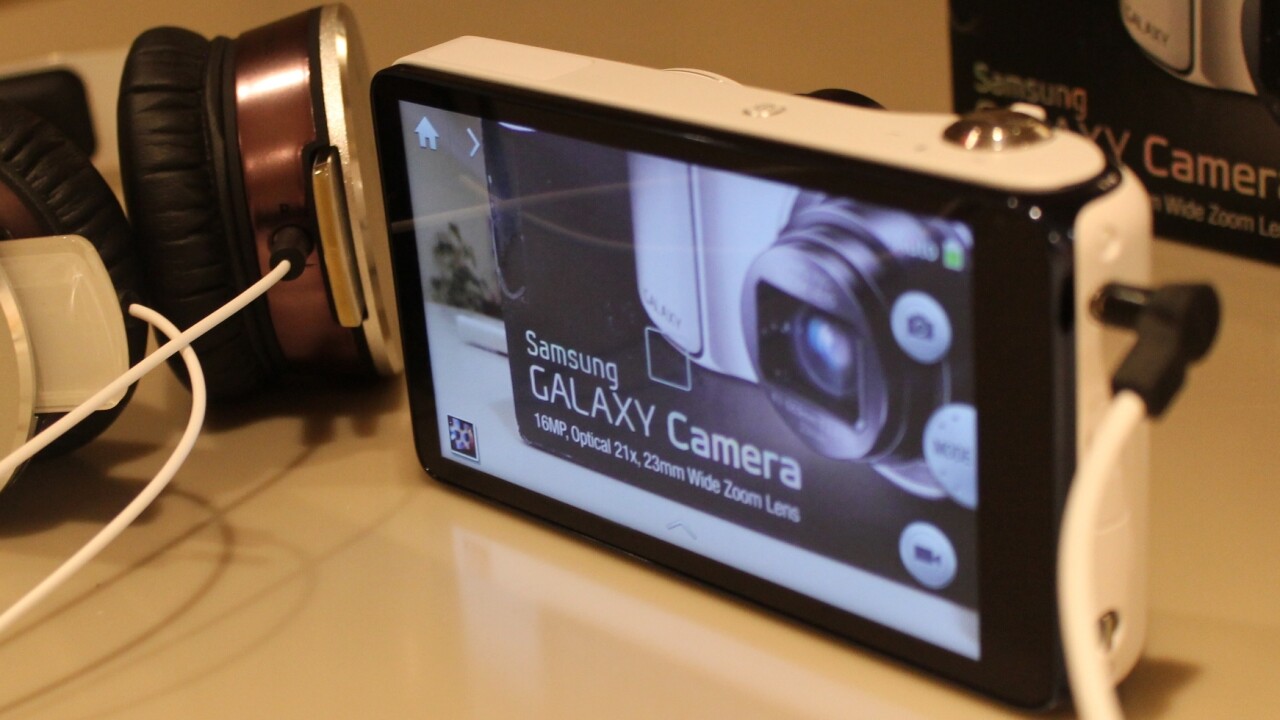 Story by
Paul Sawers was a reporter with The Next Web in various roles from May 2011 to November 2014. Follow Paul on Twitter: @psawers or check h Paul Sawers was a reporter with The Next Web in various roles from May 2011 to November 2014. Follow Paul on Twitter: @psawers or check him out on Google+.
With the digital revolution in full swing, big-name brands, startups and entrepreneurs are having to get more creative than ever to differentiate themselves and their products from what's already out there.
When Samsung announced its new Galaxy-branded camera to the world late last year, an almost audible 'huh?' could be heard reverberating around social networks and the myriad of broadcast channels that picked the story up.
"Samsung are launching what?", seemed to be the general tone. The Korean electronics giant was capitalizing on its uber-popular, iPhone-eclipsing Galaxy series of smartphones by introducing some sort of hybrid accident of engineering. A duck-billed platypus of the technological realm, if you will, one that Darwin himself may have marveled at. It was an oddity for sure.
On the surface, Samsung was unleashing a new kind of camera on the world, one that took the 'connected camera' concept to a whole new level.
The nuts and bolts
If you're at all familiar with the Android operating system, the Samsung Galaxy Camera will take you seconds to set-up and find your way around. It has Google Play for starters, giving you access to every Android app under the sun – Twitter, Facebook, Evernote, Angry Birds, Gmail, Google Maps and everything in between. Dropbox is actually a core component of the camera, coming pre-installed and serving as your default hard-drive in the sky, while the built-in 3G only further blurs the lines between phone and camera.
They'd may as well have just included a phone feature in the device, and I'm only half-joking. That said, you can actually use the Samsung Galaxy Camera as a phone – I downloaded Skype and had a quick call with a friend in Korea doing so. The more you use it, the more you realize how much of an odd beast it really is, but that's kind of the appeal too.
In terms of picture quality, the Samsung Galaxy's automatic mode doesn't compare to that of an entry-level DSLR, such as the Canon EOS 1100D, but it's still very good and it does offer a pretty rich array of smart modes and settings that let you play with the aperture and such like.
It also sports a 16MP CMOS sensor, pop-up Xenon flash, 21x optical zoom, 23mm wide-angle lens, good quality HD video, a 4.77-inch Super Clear Touch Display and a quad-core 1.4 Ghz processor. It packs a punch, even if it doesn't quite match the image quality of a fully-fledged DSLR.
Having tested it for the best part of a week, I can say that it is a really nice device. It's a lot bigger than I'd imagined (I can't quite bring myself to call this a pocket camera, though official channels would suggest otherwise), but it is sleek, shiny and very functional. However I'm still concerned who the target market actually is.
A new breed or sexy sub-species?
Back in the day, the first swathe of digital cameras removed one giant obstacle from amateur snappers looking to improve their output. No longer did they have to use an entire roll of film only to discover days later, upon receiving their images back from the processors, that half the photos were too dim to merit being placed in a photo album, while the other half's main protagonists were lopped off from the neck up.
With digital cameras, people could instantly see their handiwork and delete accordingly. However, while this enabled folk to hand-pick which snaps made it to the developers (if, indeed, they decided to print them at all), it really didn't improve the overall quality of their best snaps. Lighting, exposure, framing, juxtaposition and a myriad of other stylistic nuances still mattered, skills that weren't magically rendered irrelevant by the first mass-market digital cameras.
But then DSLRs came along, merging the new-fangled wonders of film-less cameras with the quality of a traditional SLR. Even some of the entry-level DSLRs can turn a very amateur photographer into something a whole lot better. Without wishing to incur the wrath of all the actual professional photographers out there, I can't help but think at least one tier of the professional photography service has been obliterated thanks to DSLRs. Blurred backgrounds with foreground subject still firmly in focus, clear and crisp lighting, everything just seems on a different plain to before. The automatic mode on my DSLR has produced some stunning snaps.
When I first heard about the Samsung Galaxy Camera last year, my initial reaction was "Wow, awesome", given the quality of its smartphone predecessor. The more I thought about it, however, the more I really started to question this device – who exactly was it aimed at?
You see, the Samsung Galaxy Camera straddles many technological divides, so there is a danger it could fail to take off purely because of a lack of focus, if you can pardon the pun. Yes, it's marketed as a camera first and foremost, but delving deeper into what's actually being offered, it's clear that Samsung's attempting to create a new class of camera. It's not just a WiFi-enabled camera – it's a smartphone…without the phone.
The Samsung Galaxy Camera probably is a new class of camera, and to tap the biological analogy from earlier, although it's far from being the first connected camera, it would be unfair to call this latest offering a sub-species.
Indeed, WiFi-enabled cameras have been around for a while, with Nikon's Coolpix P1 and P2 staking a claim to being the world's first commercially available 'connected' cameras back in 2005. But these were of limited use, letting users send photos to their desktop or to a printer. In 2009, the Sony Cyber-shot DSC-G3 entered the fray with its Web-enabled offering, but it too disappointed.
Others have come and gone in the years since, and while there is another Nikon Coolpix camera which is also built on Android, the Samsung Galaxy Camera is a particularly ambitious attempt to redefine what a point-and-shoot is in the modern digital age.
Progressively regressive

It's fair to say that smartphone cameras have been improving significantly in recent times, be it Apple's omnipresent iPhone, Nokia's new kid on the block, the Lumia, or Samsung's own Galaxy smartphone series. Sure, they're not as good as many dedicated digital cameras (DSLRs or otherwise), but with the right light and a half-decent photographer's eye, you can end up with a not-too-shabby end product.
But the main overarching selling point with smartphones is that they're all encompassing – one device replaces your mobile phone, digital camera, MP3 player and, increasingly, your laptop.
I can remember going on holiday maybe five years ago, armed with my Canon IXUS compact camera, Creative Zen MP3 player and a Sony Ericsson featurephone, replete with all their chargers, and thinking: "I can't wait until mobile phones are good enough to serve as all three" – and we're now pretty much there. But the Galaxy camera almost takes things back a level, expecting its user to carry it alongside their smartphone, while simultaneously replicating almost all its functionality, but with a better camera. Impressively, the Galaxy manages to be both regressive and progressive at the same time.
This duality is a mark of the Galaxy Camera, one which makes me uncertain if it will ever truly find its niche. Can a digital camera, which lets you play Angry Birds, talk on Skype, listen to Spotify, watch movies and even hook up a Bluetooth keyboard to help you draft that 2,000 word critique of the Samsung Galaxy Camera, really call itself a camera? While part of me thinks camera-centric etymology does this device a disservice, if a mobile phone can do all of the above yet still call itself a mobile phone/smartphone, well, there's no real reason why the Galaxy can't append its nomenclature with 'Camera'.
This debate is somewhat superficial though when you consider what the Galaxy actually is. It isn't quite of a good enough quality to replace your DSLR, but it's more than good enough to replace your trusty old compact digital…you know, that thing that's been sitting at the back of your drawer since you discovered the camera on your Nexus 4 was really rather good?
As noted already, the Galaxy Camera seems to sit rather awkwardly across a number of spheres, and it remains to be seen which niche it will ultimately fall in. If it does at all, that is.
The iPad paradigm
This all reminds me just a little of when Apple launched the iPad back in 2010, a tablet device that broadly straddled the PC, smartphone and personal media player sphere. Surely the iPad was never going to create a whole new class of PC? But that's exactly what Apple did, and that initial 'erm, who's it for?' question has long since dissipated as tablets and touchscreen slate PCs have gathered momentum.
Whether Samsung can create a similar impact with its cross-breed camera remains to be seen – I like to think it can and it will, as it really is a joy to use. But the $500+ pricetag will certainly preclude a lot of people – I'm not sure Samsung can claim the same kind of brand-advocates as Apple to get the ball rolling organically. That said, it has just announced a WiFi-only version which should prove a lot cheaper when more details of that are revealed.
It's still very early days though – while many people will be happy with their iPhone camera, others will settle for nothing less than a quality DSLR. Somewhere within that broad spectrum, Samsung might just find its niche.