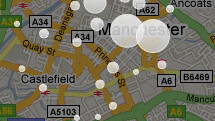 Story by
A music and tech junkie who calls Nashville home, Brad is the Director TNW Academy. You can follow him on Twitter @BradMcCarty. A music and tech junkie who calls Nashville home, Brad is the Director TNW Academy. You can follow him on Twitter @BradMcCarty.
I've watched the past couple of days in Twitter drama with more than just a passing interest. Not that I'm building a Twitter client myself, but I'm a big proponent of Twitter as a platform. As such, any time that Twitter makes a change to its service (API to user streams, for instance), it's a pretty big blip on my radar.
In case you've missed it, Twitter released some information that led many to believe that the company was essentially telling developers that no more clients could be built. Today, though, Twitter's Ryan Sarver held a very open, public discussion about what was truly meant. Come to find out, Twitter is just telling developers that the bigger story is building on the other facets of Twitter, rather than just becoming "yet another client".
The discussion that followed Sarver's reply session was interesting, to say the least, and disturbing when looked at in some cases. There were so many people throwing back thoughts of "Twitter shouldn't tell me how to run my business" that it has made me (as a blogger, who sees a freaking lot of Twitter clients) question the validity of their business in the first place.
Two Stories to the Side
In one side of the argument, it seems that Twitter is being seen as the younger kid who is suddenly your boss. If Google told web developers that there were new, better practices by which they should be working, nobody would flinch. If Apple said that OS X development needed to focus in a new direction, people would flock. Twitter has done just this, and yet people are screaming about it.
Deeper than that, though, is the testament that it makes to the differences between smart, agile developers and the "hey, me too" variety.
Over the past years of Twitter, since the API was introduced, we've seen so many clients that we've forgotten far more than we remember. Even with carrier intervention by pre-loading clients on mobile, many are simply passed up in favor of others. In the ecosystem, it's very hard to compete with the official Twitter clients, as well as the staid brands like TweetDeck and Seesmic, among others.
And yet there are still developers out there that are putting heart, soul and money into building new clients, even if they don't offer any real advantages over the ones that already exist. On the whole, it reminds me of the past 6 months within mobile applications and the frustrations that come out of that time.
Checking In? Check out.
If I had to name the single most overdone thought of the past 6 months, it absolutely has to be the check-in. Whether it's location-based, website-based, tv-based or what have you, there's hardly a thing left that hasn't been covered by the check-in-loyalty-reward-deal-hype.
But why does it happen? Perhaps because of a lack of guidance — The antithesis of exactly what Twitter is trying to do. Instead of walking blind and cluelessly into something that might work, Twitter is seemingly trying to provide a bit of direction. It's a smart move for Twitter, and smart for developers to listen.
This might be the one time where it's more important than any other to pay attention to what we're being told. Twitter is laying out clues to what lies ahead, and people are too busy being insulted to see them for what they are.