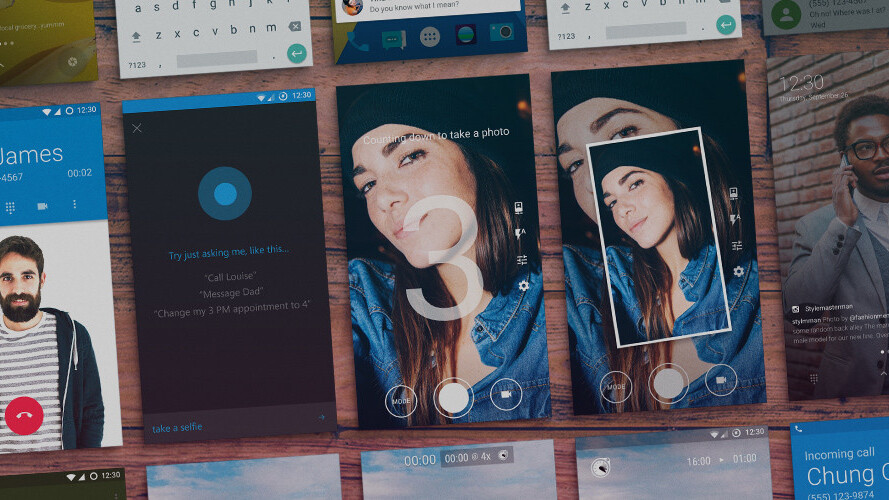 At Mobile World Congress in Barcelona today, Cyanogen launched a new mod platform for its Android devices that might give it a major advantage over every other device out there.
Cyanogen says that a mod is more than an app, as it can deeply integrate with the phone in ways that Google hasn't traditionally allowed. In a sea of phones that have the same basic features — a black rectangle with a camera — the company hopes to differentiate in a different way.
It provides a number of system APIs to a manufacturer's developers as part of an Platform Development Kit (PDK) which includes the bits needed to deeply integrate an app or service.
Microsoft, an early partner, is launching a number of integrations across its suite of apps including Cortana, Skype, OneNote and Hyperlapse that aren't possible on a standard Android device.
With Cortana's mod version, you're able to use the 'Hey Cortana' hot word just like on Windows Phone and launch right into apps as well as execute commands.
Usually only Google is allowed use hotwords since the feature is reserved for 'OK Google' functionality, but Cyanogen's version allows it since it controls the OS and distribution.
Microsoft's Skype mod integrates the calling service directly into the default dialer, so Skype is right in your face when you go to make a normal call.
Another launch partnership with Instagram and Twitter modifies the entire lock screen to show the latest or most popular posts on each service at relevant times.
Stephen Lawler, Senior Vice President of Engineering at Cyanogen, told me that Cyanogen is picking areas to focus on and building out an ecosystem of apps around them — starting with the camera and lock screen.
It's easy to see why mod is appealing to companies like Instagram, Microsoft and others, since it provides access to Android on a level not available elsewhere.
Each mod is bundled with Android right now, and can't be downloaded individually through Play or elsewhere, so Cyanogen works directly with a number of companies to build them.
If that sounds similar to how companies like Samsung, HTC and Huawei bundle apps with their phones, it certainly seems like it's a similar model, but Cyanogen wouldn't say if cash exchanges hands for the integrations.
That's a little disappointing, but the company hinted that eventually it hopes to distribute them via some sort of marketplace.
The company is betting big on the platform: future Cyanogen phones will have 'MOD Ready' branding printed on them, as well as on the boot screen so buyers can recognize phones that offer the feature.
One thing that worries me is that adding each mod to the system might slow down time to update to the latest Android release, given that it adds complexity. Lawler said that this isn't the case, since it already needs to update its custom apps for each release anyway.
Mod Ready kicks off next month with the OnePlus One and other Cyanogen 13 devices, though it won't be coming to older versions of the operating system.
➤ MOD [Cyanogen]
Also tagged with