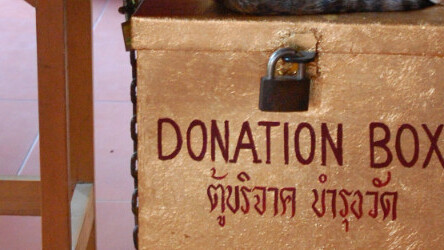 Story by
Mike Vardy is a husband, father, independent writer, speaker, podcaster and "productivityist". He is also the author of the book, The Front Mike Vardy is a husband, father, independent writer, speaker, podcaster and "productivityist". He is also the author of the book, The Front Nine: How To Start The Year You Want Anytime You Want, published by Diversion Books. You can learn more about his other work at his website, MikeVardy.com, visit his blog at Productivityist.com, and you can follow him as @mikevardy on Twitter.
Content. Media is all about the content. And content creators have taken monetizing their content into their own hands. One of the monetization options is advertising, while another is sponsorship. They've been around for a long time — both online and offline — but one less traditional method is making inroads: crowdsourced patronage.
Now patronage isn't a new method by any means, but it's hardly been exploited on the web as a monetization tool for those who want to support themselves while they get to follow their passion and simply create great content. There are several ways that patronage can come into play for those who want to use it, but it definitely involves a significant amount of time, ingenuity and following to make it all come together.
Jonathan Coulton is a prime example of what patronage can do for an artist. The well-known musician left his well-paying day job several years ago and began to do what he really loved to do: make music. He began by offering a song every week — called Thing A Week — via iTunes…for free.
"I admit it was kind of a stunt," Coulton says. "I felt like if I, if I did something that seems impossible or at least very difficult then people might pay attention and at that point…you know, I really was — I was completely clueless. Clueless about how I was going to actually make a living this way. So, it seemed like strategy number one was just to get as much exposure as possible and that seemed like a pretty decent way to do it."
As he created more and more quality content, he started to offer the songs for a price at his website. He also released his "Things a Week" as a multi-volume album set that could be purchased as well. Much of his work is Creative Commons licensed, which allows his fans to share and spread his music as long as they don't make any money from his work directly.
Soon, Coulton started to get more and more people turning up at his live shows — where he got paid. He started selling merchandise based on his songs — which he got paid for. He was asked to write a song for Valve's popular Portal game — and was asked to contribute another to its follow-up, Portal (which was released this Tuesday) — both of which he got paid for. Coulton has developed a huge following and now makes a healthy living doing what he loves to do. And he did on his own terms and with the help of those who wanted to see him do well: those who love his music.
"I think when I first started this journey I really should have thought well, you know, I'll attract some attention and then, you know, somebody is going to hire me to write a song for a television show or somebody is going to hire me to write music for commercials or something like that," he admits. "I never, I don't think I really imagined that I was going to make money selling the music that I was writing, just, you know, the music I was writing just because that's the music I wanted to write. It still seems kind of crazy that that's, that's how I make my living now."
Leo Babauta is an example of how writing content for the web and asking for readers to help fuel his passion through patronage can work wonders. When he started Zen Habits, his design included advertising and affiliate badges. When you visit the site today, it bears little resemblance to the design it had when advertising and sponsorship were part of the site — the only thing that remains the same is the quality content. And that's what his readers want; that's also why they supported him through donations and ebook purchases. He's also become a trusted content creator — running several sites, appearing at conferences and writing a few more books along the way. He makes his living doing what he loves to do — and has cut out the middle man in the process.
Other creative types (such as Shawn Blanc) have recently taken to plying their craft on a full time basis, and are offering exclusive content to those readers who pay a monthly membership fee. The quality of the content and the availability of bonus material is what can really make the patronage system work — and with the global audience that the internet provides, those entering the game now have a very good chance at doing what they love to do for a living — as long as they keep up with their end of the bargain.
In the podcasting realm, Jesse Thorn of the Maximum Fun network of podcasts, Dan Benjamin of 5by5.tv and Leo Laporte have all incorporated some form of patronage or another into their monetization strategy. Thorn's organization recently held their annual MaxFunDrive, and eclipsed their goal of 1200 donors by 89, all of whom donated varying amounts to help keep the podcasting network running its full arsenal of shows. Benjamin's 5by5.tv has an audience that regularly puts the podcasts into the upper rankings of the iTunes charts — and they also regularly donate to the cause. Both Benjamin and Laporte also incorporate sponsorship into their podcasts, yet both see donations from listeners as a big reason for their ability to create some of the best podcasts out there.
Online video is another form of content that has taken the web by storm. Major television networks are now optioning "webisodic series" as part of their online strategy to engage more viewers. But there are those who have become well-known — and well-supported — creating videos for online consumption for quite some time. LoadingReadyRun is one such example.
The sketch comedy antics of this Canadian troupe has been delivered online since 2003 — before the days of YouTube. While they create content for The Escapist, they are perhaps better known as the team behind Desert Bus for Hope, an annual fundraiser for Child's Play that has them playing the worst video game ever for hours based on pledges from the online community. They have raised nearly half a million over 4 years and have seen their own stock rise as a result. Graham Stark and Paul Saunders, two of the founding members of LoadingReadyRun are able to make their living through their art, as contracted producers, some ad revenue and through the sales of merchandise.
"When we release a new shirt, our fans say 'Yeah, I'll buy it'," Stark says. "Somebody told me once that to make a living as an artist you need 1000 dedicated fans."
The crowdsourced patronage model is a growing trend, with more creators using it as a monetization strategy and services such as Flattr that make it easier for it to happen across the web. Getting audiences involved through actively inviting them to participate and contribute to the cause is what truly makes the web a collaborative space, and there's no doubt that it will have a major hand in shaping the future of media.