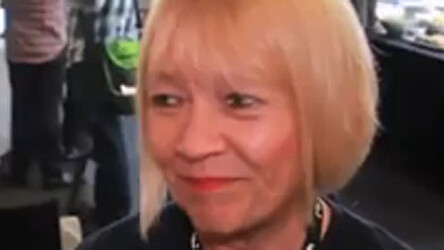 Story by
Jamillah is the UK Editor for The Next Web. She's based in London. You can hear her on BBC Radio 5Live's Outriders. Follow on Twitter @jemi Jamillah is the UK Editor for The Next Web. She's based in London. You can hear her on BBC Radio 5Live's Outriders. Follow on Twitter @jemimah_knight or drop a line to [email protected]
Cindy Gallop is the founder and CEO of Make Love Not Porn. She created the site when she realised what happens when porn replaces sex education in the absence of a healthy approach in society.
She's turned the site into a business venture and in a few weeks time Gallop will launch MakeLoveNotPorn.tv in a few weeks time. The details are still under wraps because, as Gallop says, "People get all weird around sex".
At the f.ounders conference, she was taking a special interest in the future of money as she feels that many future ventures will be tied to the way we make financial transactions in the future.
Gallop says that she has experienced difficulties in putting a payment mechanism in place for her own ventures because of "The old world order attitudes of the old world order financial system".
Check out the video to find out what she sees as the future of money and payments.