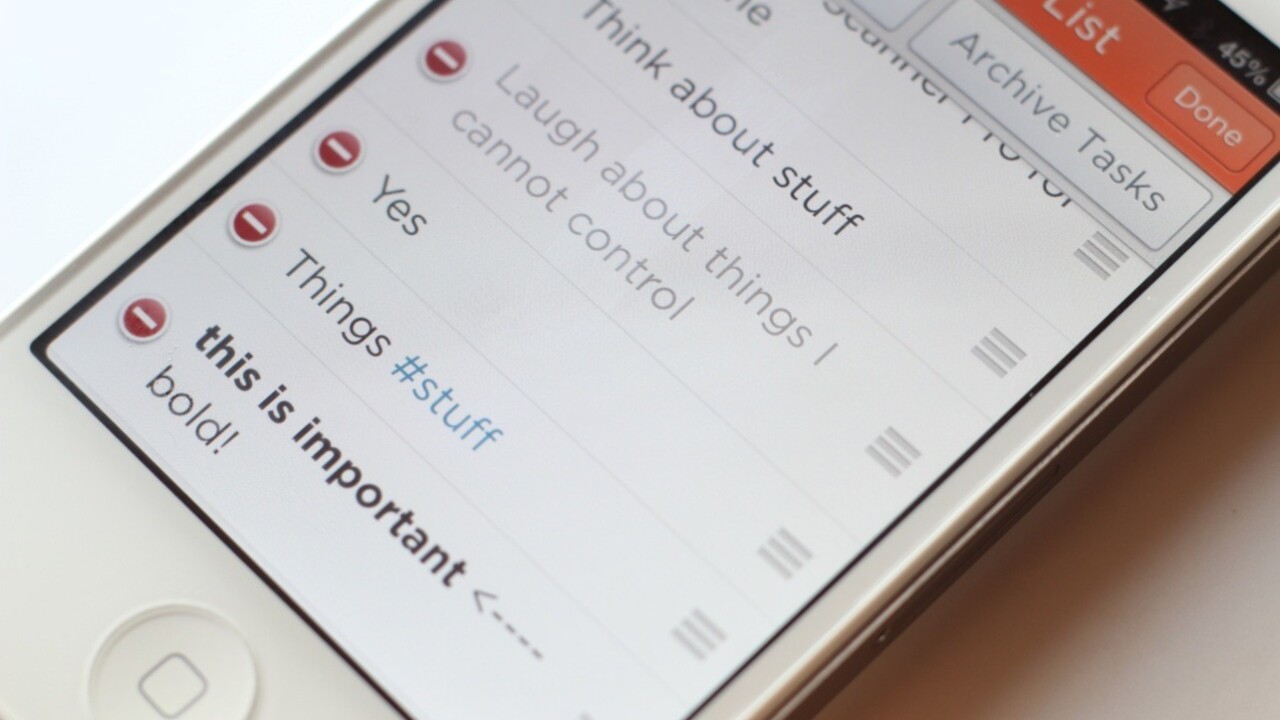 Story by
Matthew Panzarino was Managing Editor at TNW. He's no longer with the company, but you can follow him on Twitter. Matthew Panzarino was Managing Editor at TNW. He's no longer with the company, but you can follow him on Twitter.
As an entrant into the crowded market of list making apps, Cheddar offers a fresh, beautiful and push-happy alternative that feels light and fast. It's offered for the iPhone and the web currently and Mac versions are on the way.
Cheddar, from developer Sam Soffes, is built around the basic premise that the moment you enter an item into a list, it's published to your local list and pushed out to the other versions of Cheddar at the same time, very, very quickly. In my testing, it took about 2 seconds…literal seconds…for an item that I added on the iPhone to show up on the web and vice versa. It's blazingly quick.
The design is also pleasantly light and tasty, with an orange-on-white look that keeps things crisp and typography that compliments the list view. Not too bold a stroke and not too wispy. Everything about the app is built for speed, down to the details.
I love, for instance, that the focus stays on the entry field even when you hit the 'go' button on an item, letting you enter one item after another without having to tap on it again. The field accepts regular text input, as well as hashtags for categorizing and Markdown shorthand for formatting.
I'm a huge fan of the way the hashtags are handled. They're inline with the item itself and tapping on one will bring you to a list of items that share that hashtag. This is a great way to keep track of like items within a given list, while still keeping the philosophy of simplicity and speed intact. No additional fields and a minimum of UI cruft around the hashtags means that they don't fragment the look or usability of the app.
The Markdown support means that you can get a bit creative with formatting, using bold or italics and such, without having any additional UI elements dedicated to activating that formatting. Once again, super clean.
Lists can be renamed or archived and you can archive tasks, but there is no clear way to delete items completely, which I would like. What appears to be a delete command merely brings up an archive option. I respect the philosophy of keeping a record of these items for later searching and such, but I'm a big fan of a 'permadelete' option.
One of my favorite note taking apps is Notefile for iOS, a simple app that has a Mac dashboard app component and that allows me to jot notes down quickly. I love it for its syncing speed and its simplicity and it hasn't left my home screen since I started using it. Cheddar, for me, is the list equivalent of that app and I think it has a very good chance of ending up there as well.
If you're looking for a swift and beautiful list taking app that has some deceptively simple but powerful formatting and tagging rules, check out Cheddar.
➤ Cheddar
Get the TNW newsletter
Get the most important tech news in your inbox each week.
Also tagged with