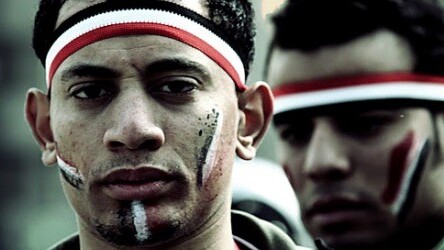 Story by
Lesotho-born and raised, Nancy Messieh, The Next Web's Middle East Editor, is an Egyptian writer and photographer based in Cairo, Egypt. Fol Lesotho-born and raised, Nancy Messieh, The Next Web's Middle East Editor, is an Egyptian writer and photographer based in Cairo, Egypt. Follow her on Twitter, her site or Google+ or get in touch at [email protected]
Welcome to our fourth post in the Chasing Photons series, where every Tuesday we will feature one photographer who shares their photography online, using the likes of Google+, Flickr, 500px, or even their own website.
Today we are featuring Roy, an American documentary and conflict photographer based in Cairo. Originally from Texas, he has worked in Africa and the Middle East. His photography has been featured in The Guardian, and will also be featured in the upcoming issue of Sowar Magazine.
You can check out Roy's work on his website and his  Google+ profile.
Nancy Messieh: What's in your camera bag?
Roy Gunnels: Canon 7D, L-series Canon pro lens, lens hoods, lens wipes, Vivitar doubler, passport, small bag of Euros, Egyptian pounds, US dollars and UK pounds.
NM: Did you study photography or are you self-taught?
RG: I studied art, was a professional painter, and am a self-taught photographer.
NM: When/how did you decide to become a photographer?
RG: My primary motivation was the work of Henri Cartier-Bresson, W. Eugene Smith and others. I thought I could show a keener sense of reality than I could paint.
NM: What does photography mean to you?
RG: The photographer and teacher Mel Rosenthal said "photography is a path and an instrument for social justice" and I believe that.
NM: Define your photography in one sentence. 
RG: The goal of my work is for the viewer to feel they are sharing/apprehending that moment and place in time of each image.
NM: What is the one photo you are most proud of?
RG: I think I am most excited about an image when I've been challenged by factors that could have prevented me from getting it, conflicts and circumstances that present themselves in the field and on the street. Some of my most treasured are those I had to shoot quickly and couldn't see if I had captured until I was out of the conflict area.
NM: Where do you prefer to post your photos online? Why?
I've always posted my portfolio, including photo-essays and new images online at my website, but I've also recently joined Google+, because it has turned out to be an excellent site to display photo-essays and has a great community feel to it.
NM: Where do you love to go to shoot – whether it's a city, country, or even a specific place?
RG: I enjoy shooting in countries that I feel the Western world needs to see. I visited Northern Ethiopia for an NGO a year ago and was shooting almost 1000 images a day for a week, it was exhilirating, exciting and exhausting, and the opportunity to show those that view my work was of incalculable value to me.
NM: Who or what inspires your photography? Who are your influences?
RG: My influences? So many…Henri Cartier-Bresson, Robert Capa, and all of the great street and conflict photographers, the simple elegance of Vivian Maier, the richness of Imogen Cunningham, and even the bold studio work of Helmut Newton. I think part of being a photographer is learning, studying images endlessly, reading books such as the classic essays of Susan Sontag "On Photography", discovering new ways to process, pushing yourself to think about what you want to show, and how you want to show it.
NM: Do you have any pre/post-photography rituals?
I don't have any "rituals", after all I've seen, I think of myself now as both a cynic and a romantic.
NM: What do you listen to when you're editing? 
RG: My edit music, interesting question. Well, I put a single tune on repeat, and it stays on for some time…some of my favorite singles? The Mayan Factor, "Warflower", Deftones "Knife Party", Dry Kill Logic "Kingdom of the Blind", Rev Theory "Light It Up", Big Wreck "Ladylike" – I like rock.
NM: What do you do to jump-start your photography if you're blocked? (If that happens)
RG: Not sure if I got blocked, I think I get "beaten down" sometimes by what I see, and perhaps at times I dont want to get out of bed,and yet, I know in my heart there is always some image waiting for me, something I "need" to shoot. And that usually pushes me out the door for my next assignment or shoot.
NM: Where do you stand on the Photoshop issue – acceptable or not? Why?
RG: I do not do photo-manipulation. I process with some color creativity, but the image I shoot is the image you see.
NM: What was it like being in Egypt during the uprising and shooting at various protests and in Tahrir?
RG: It was one of the most chaotic and dynamic times of my life. I was shooting protesters heading to Tahrir on February 28th, as they walked through Zamalek and we were teargassed. There were Christians and Muslims, young and old, families with children, struggling with the affects of the gas and yet sharing this common bond there, along the Nile at twilight. On this day the military had declared a curfew that we were violating, and yet they stood firm and committed.
On the infamous Day of the Camel Battle at Tahrir I had been approached three times by State Security police for taking pictures, and CNN mentioned me in a story about the number of times I had been detained and interrogated by the Egyptian Army and at police checkpoints. And on the 12th of February, the day after Mubarak's regime had fallen, I was at Tahrir Square amidst the thousands who had come to celebrate freedom for the first time in their lives, to grieve for those that had been killed by police and thugs during the revolution, to share this pride they were all feeling as Egyptians. It was an extraordinary time for those participating in this great revolution, and for myself, fortuitously there to capture it in pictures.
I have been many places in the world as a documentary photographer, and I must say, those predominately young men and women of the Egyptian Revolution were some of the most courageous I have ever seen. They achieved regime change without civil war, even though over 800 were killed, and many thousands imprisoned. I have the greatest respect for them, and their accomplishment.
NM: Any advice for aspiring photographers?
RG: My advice is learn how to frame an image! I think some photographers today are learning Photoshop before becoming a skilled shooter. Have good lenses, a telephoto zoom and a wide-angle paired, learn to change them quickly, safely, and efficiently in the field. And be bold, have courage, put yourself "out there" and shoot some history, or make some with your camera.
I believe that a photographer should stay as aloof as they can while shooting on the street, and yet I sometimes do what I think of as "character portraits", interacting with a stranger for a viscerel, spontaneous portrait.
Check out a selection of Roy's photography in Egypt and Ethiopia below:
Keep up with the entire Chasing Photons series here.
Get the TNW newsletter
Get the most important tech news in your inbox each week.