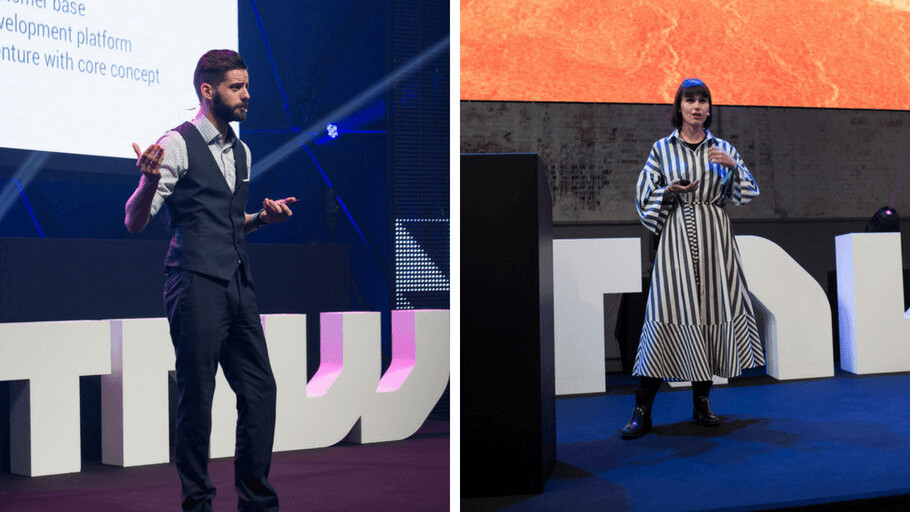 Story by
Former Social Media Manager, TNW
Ailsa Sherrington is a former content marketer at TNW. Ailsa Sherrington is a former content marketer at TNW.
Creativity has propelled technology further, and vice versa. As we develop game-changing tools to build and create, how will society transform with it? At the Creative Commons track at TNW2018, artists discussed just that.
We've highlighted the key takeaways:
Diana Wehmeier, CEO of PLASMA Magazine
Diana explored the relationship between art and science, in the context of space exploration. She described how her fascination with Mars led to the creation of PLASMA magazine, which was initially a project in her fine arts degree.
She explained how science fiction has played a huge role in our efforts to explore outer space. Esteemed French author Jules Verne accurately predicted aspects of the first landing on the Moon back in 1865, and science fiction as a whole has developed our desire to explore Mars.
Artists have become integral to this process, with design coinciding with engineering. From spacesuits to vehicles, designers have influenced the way we'll explore Mars and beyond. As Diana explains, colonizing will raise certain issues with economies, politics, and the way we define humanity. She gives great examples of the role artists play in our real-life sci-fi visions.
You can watch her full talk above.
Bryce Bladon, Co-Founder of CryptoKitties
Bryce explained how blockchain can radically alter the way we produce, distribute, and consume art. Due to the irreversible and ever-lasting digital paper trail, artists can ensure that their work isn't illegally copied or stolen.
It will also give more value to digital art, and democratize the value of fine art. Essentially, it allows artists the freedom to share their work with the world, without the fear of losing money or credit.
This could have great implications for human creativity, opening doors for everyone and anyone to express themselves. Bryce explained how it will also drive forward technology:
The earliest adopters of technology tend to be artists. They ultimately shape how the technology is used through their experimentation and innovation. It leads to technical and societal change.
You can watch Bryce's full talk above.
But wait… there's more!
The Creative Commons track at TNW Conference also featured panel discussions with experts, where they had chats about the future of creativity. You can watch them all here.
Too lazy? That's cool. Here's a TL;DW (too lazy; didn't watch) for ya: