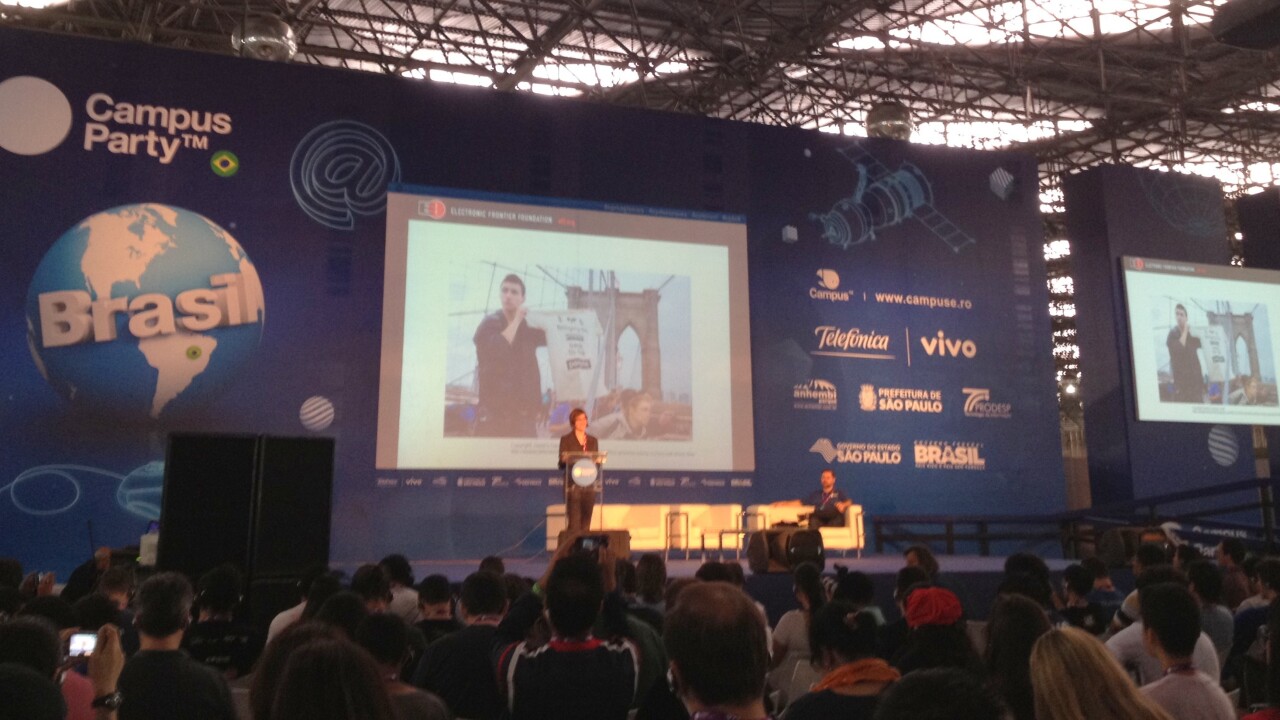 Story by
Anna Heim is the founder of MonoLibre and a freelance writer for various tech and startup publications. She is a polyglot French news junkie Anna Heim is the founder of MonoLibre and a freelance writer for various tech and startup publications. She is a polyglot French news junkie with a love for technology.
Rainey Reitman from the Electronic Frontier Foundation (EFF) was a main keynote speaker at Campus Party Brasil this week. The event also kicked off a hackathon that the EFF is promoting to relaunch its TOSBack website.
Reitman started her talk by mentioning examples of the Internet's huge potential for activists all around the world, from Occupy Wall Street activists to Egyptian protestors. Conversely, she also detailed how it is also used for surveillance and censorship.
Interestingly, she didn't stop at putting the blame on governments for infringing our privacy and freedom; as the EFF often does in its reports, she also named companies that have reportedly been helping several countries to watch their own citizens. One of these is AT&T, which the EFF has sued for assisting the National Security Agency (NSA) in intercepting Americans' phone calls and Internet communications.
In addition, she detailed how copyright can be used an excuse for censorship. "It's easy to criticize the countries that are censoring the Web in unsubtle ways, but many governments around the world block content that is deemed offensive or to be violating copyright," she said.
Using technology to defend freedom
One of the key principles that Reitman is promoting is that technologies that improve privacy and circumvent censorship should be used by everyone – because by doing so, we also provide extra protection for those who need it around the world, such as journalists and activists.
Reitman didn't spend much time on detailing the kind of laws and regulations that could contribute to preserve Internet freedom, as implementing them will take time. Since her audience consisted of tech aficionados, she instead opted for detailing some free tools that need more users and contributors, such as Tor, off-the-record (OTR) messaging and HTTPS Everywhere.
She particularly insisted on tools that help users make sense of terms of service (ToS). "People don't understand them, and they don't know when they have changed." This is the problem that the EFF was hoping to solve when it launched TOSBack to track these changes a few years ago, but the site is now in need of a complete reshuffle in order to serve as a solid working basis for additional tools like ToS;DR.
In order to build the new TOSBack, the EFF, ToS;DR and Campus Party Brasil have joined forces to call volunteers to participate in the hackathon that is taking place during the event, with the hope that they will be able to create a new UI for the site and document their updates. "It's only with your support that we can make the Internet a place of freedom," Reitman pleaded.
Facebook's Graph Search: opportunities and concerns
After her keynote, Reitman participated in a chat with the press, and we took the opportunity to ask her to comment on Facebook's Graph Search (see our previous post). Unsurprisingly, her feelings are quite mixed:
"It's interesting, because at heart, it does a lot of things that are quite useful for the users, such as letting them find music their friends like; but at the same time, all of your data is now a bit easier to find. That data can be yours, but it may also have been made public by your friends, and you don't have control of their privacy settings."
According to Reitman, this undermines Facebook's usual answer, which is to recommend disgruntled users to adjust their settings (the EFF published a how-to guide on this topic). Either that, or they are told that they can always leave Facebook. "That's a terrible trade-off," she said. "People want to be part of the conversations going on there, and they shouldn't be ostracized for caring about their privacy."
While Google+ has been somewhat responsive when its initial gender settings raised criticism, she describes the site's name policy as a disappointment. "It's frustrating to know that what could have been a valuable alternative to Facebook has decided to adopt a similar approach on pseudonyms."
She also noted that Facebook hasn't been very responsive to public outcry so far. "Brands and governments are the ones that can influence Facebook," she considers. However, we should still shed light on these issues:
"The [Actual Facebook Graph Searches] Tumblr shed light on this really huge issue, was a marvelous example of someone who had an issue they cared about, turned it into something compelling and got people to react. I wished we had more people like that."
What's next?
According to Reitman, the fact that many online spaces are now tightly controlled by companies such as Facebook has translated into a slow constriction of freedom of expression on the Internet. Privacy is also an issue: "the Internet is very good at transmitting information and very bad at keeping it private," she pointed out.
She is convinced that regulation and global protests can influence the future and shape the Internet. "With our SOPA and PIPA protests, we were actually able to influence what corporations and governments were doing. I often talk to policy makers, and I can see they are scared now; they tell me: 'Please don't SOPA this!'," she laughed.
The next battles according the EFF? Fight multi-national trade agreements such as the Trans Pacific Partnership (TPP), and track Internet censorship proposals at a global level with its dedicated website, Global Chokepoints.
Disclosure: Campus Party paid for TNW's transportation and accommodation during the event.
Get the TNW newsletter
Get the most important tech news in your inbox each week.
Also tagged with