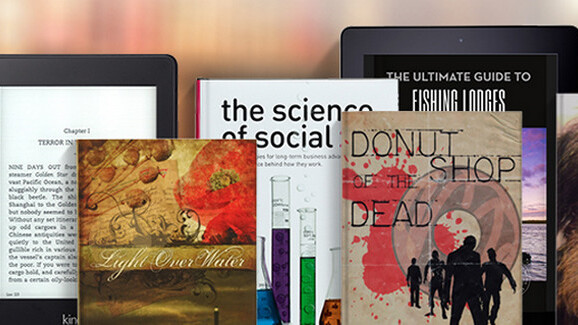 Story by
Reporter
Jackie Dove was in charge of The Next Web's Creativity channel from February 2014 through October 2015. Jackie Dove was in charge of The Next Web's Creativity channel from February 2014 through October 2015.
Even if you are a self-published author, it's a huge and time-consuming challenge to write, edit, design, and create a cover for your masterwork singlehandedly. Every roadblock you encounter in doing a job you're not expert in can delay your project.
Blurb, the independent book publishing platform, is tackling this problem by launching its own Dream Team of in-house publishing pros, offering its authors a way to connect with a curated group who can help individual authors and businesses with critical publishing tasks. They can be remote or in-person, depending on the need. 
"Just because you're self publishing doesn't mean you should do it all by yourself," Eileen Gittins, founder and CEO of Blurb, told TNW. "We think this is an important next step in our evolution as a full service self-publishing platform."
The Dream Team group, operating under the Blurb aegis, is comprised of 50 creative professionals who provide expertise in copy editing, developmental editing, book design, art direction, illustration, photography, cover design, ghostwriting, ebook conversion and more. Authors and businesses can pick and choose their own custom team without having to submit to a package deal. 
With the help of publishing pros Richard Nash and Molly Barton, Blurb has assembled a starter team located in the United States, the UK/EU, Canada and Australia to work on projects in English, French and Dutch. Each person is vetted before appearing on the site, so proper expertise and references are assured: some team members have multiple specialties.
"These are recommendations — quality people who do quality work," Gittins said. "Our whole business intention here is how can we help authors complete their title and hopefully make a better one. We're just now figuring out how to structure what's been happening over the years — which is personal recommendations on a scale for our worldwide audience — not just the people who know how to reach us personally."
Dream Team members supply information like bio, references and links to their published work. Blurb authors can access the profiles for each expert and then fill out a project description requesting an introduction, which Blurb will forward to the Dream Team members. Once introductions are made, it's up to the author and the contractor to work out the terms.
Blurb has no financial stake in Dream Team transactions. The idea is that when projects are completed in a timely manner, that drives sales and distribution in which all participants, especially Blurb, profit. 
"We're looking to help our customers — whether they are businesses or authors — complete their titles, and hopefully by virtue of hiring talented folks, those titles will be of higher quality and sell through more units," Gittins said. "We don't have to take any cut or any percentage of the transaction value between the author and the talent. We're taking nothing."
The first 50 Dream Team members are a starting point, and Gittins anticipates that more talent will join the team once Blurb learns where the demand is greatest. "In handpicking this group to start, we wanted to make sure we had a range of expertise in each category, and that does map to a range of price points and fee structures," Gittins said. "However we don't want to overwhelm people with too many options but to offer enough choices for covering availability, language, geography, price point and other factors." 
In addition to expanding within the existing expertise categories, Blurb will add new categories of experts as needed. Prospective collaborators are also welcome to submit their qualifications via the Blurb website.
The first group of Dream Team talent is focused on publication creation, but in the future, Blurb plans to take published works to the next level to include business managers, publicists, social media and marketing professionals to assist in discovery, audience development and sales. "First we help them get the book done, but the audience discovery and development part is a really big deal," Gittins said.
➤ Blurb