Story by
Former TNW writer
It's like the controversies surrounding Craig Wright — the self-proclaimed 'Satoshi Nakamoto' — are refusing to die out.
Wright is currently facing allegations of plagiarism for referencing someone else's work without proper citations. In his latest academic publication titled The fallacy of selfish mining in Bitcoin, the self-proclaimed Bitcoin creator purportedly borrowed mathematical equations from another paper – A strong limit theorem on gambling systems – by authors Wen Liu and Jinting Wang, without giving citations.
Bitcoin Unlimited chief scientist Peter Rizun has since taken to Twitter to highlight the blatant overlaps between the two papers:
This is a more obvious example of what @proffaustus did in this paper:https://t.co/YZZ8Yf6WT9

where he copied a proof from Liu & Wang about a _different problem_ and then changed the wording to make it appear to apply to selfish mining.

— Peter R. Rizun (@PeterRizun) April 10, 2018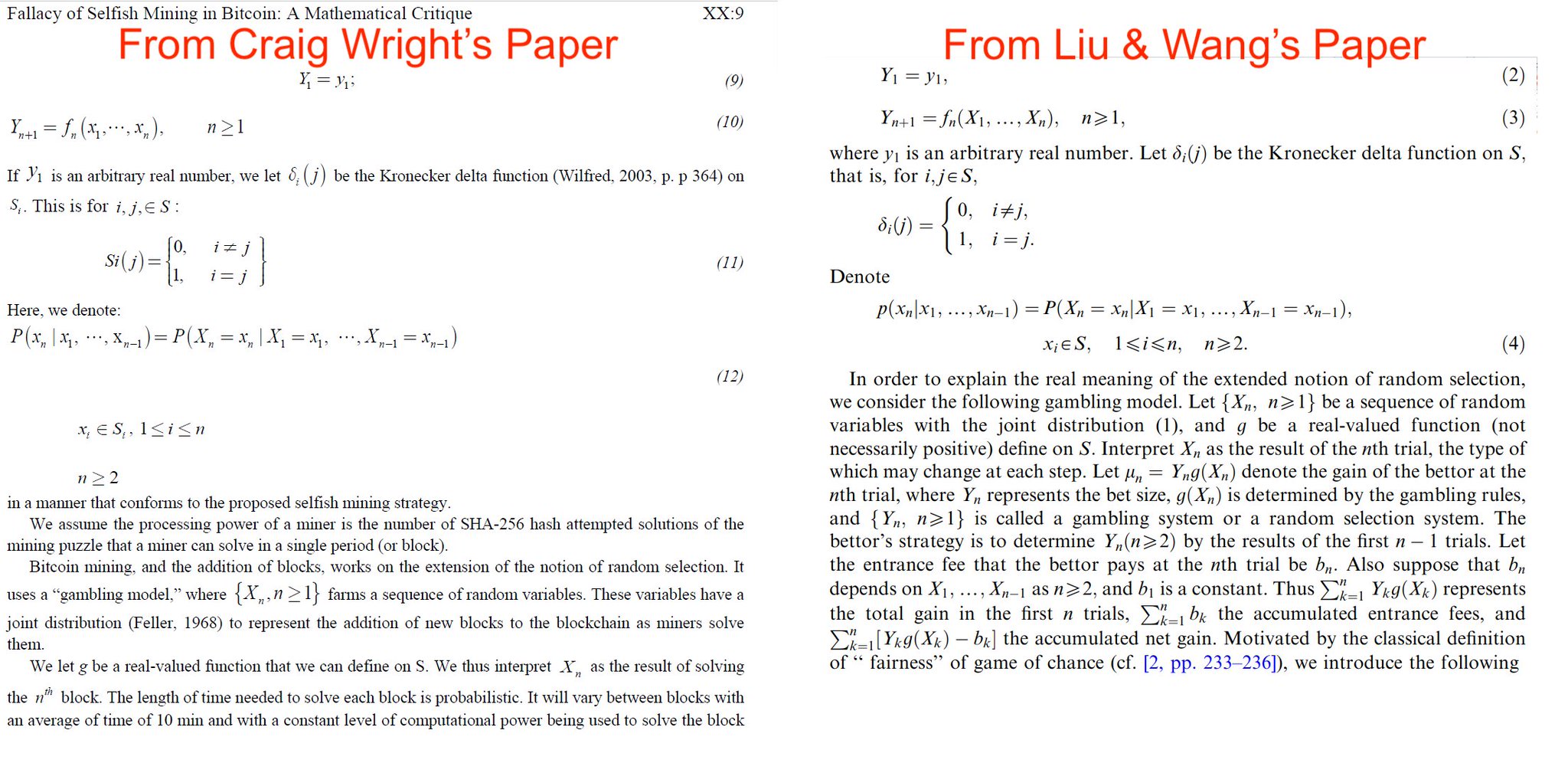 Wright has since denied the allegations.
He further added that the document is merely a "draft paper" which is why it lacks proper citations.
It is interesting. You issue a draft paper, and the response is ignore it, it is has a missing citation.

We use editing services at nChain. They check this and more before publication. When a paper is not published, well, it is a draft.

The real issue is others not wanting…

— Dr Craig S Wright (@ProfFaustus) April 11, 2018
For the record, this is not the first time Wright has dealt with plagiarism accusations. Emin G Sirer, computer science professor at Cornell University, has pointed out that Wright has been accused of plagiarising before.
Allegedly, this is not his first case of plagiarism: https://t.co/vWZIk2e9ZI
— Emin Gün Sirer (@el33th4xor) April 10, 2018
No. Not just a mathematical formula. It's egregious scientific fraud.

— Emin Gün Sirer (@el33th4xor) April 10, 2018
He did change "a gambling model" to "the selfish mining model."

He cut and pasted gobbledygook, hoping to impress the reader with his math background. Introduced errors into the proofs in the process. And committed new errors that betray a misunderstanding of Bitcoin mining.

— Emin Gün Sirer (@el33th4xor) April 10, 2018
And I know he has a habit of making outrageous claims, so let's establish this: he himself tweeted out the link to his own paper. He cannot claim that someone posted it on there with his name on it.

— Emin Gün Sirer (@el33th4xor) April 10, 2018
The evidence is 6 to 8 pages of verbatim copied text.

If a student did this, he'd be thrown out of our program.

— Emin Gün Sirer (@el33th4xor) April 11, 2018
JP Richardson, a JavaScript/Bitcoin developer had also accused Wright of stealing his blog post on 'Generating a Bitcoin Address with JavaScript' back in 2016.
Wright, in what was likely a dig at Sirer, tweeted that at least the missing citation made a bunch of mathematicians peruse his paper on "selfish mining."
The interesting thing on not having a citation on a draft that is read by a group seeking anything to discredit me…

Many mathematicians and game theorists who would never have bothered with something like selfish mining now see the paper.

Controversy can be effective.

— Dr Craig S Wright (@ProfFaustus) April 11, 2018
Just last week, Ethereum co-founder Vitalik Buterin called Wright a fraud at Deconomy conference in Seoul. He challenged why people with such dubious credentials are allowed to speak at reputed conferences.
Get the TNW newsletter
Get the most important tech news in your inbox each week.
Follow @thenextweb