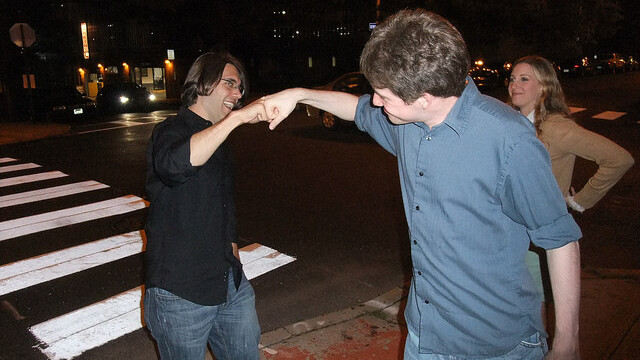 Story by
Drew Olanoff was The Next Web's West Coast Editor. He coined the phrase "Social Good" and invented the "donation by action" model for onlin Drew Olanoff was The Next Web's West Coast Editor. He coined the phrase "Social Good" and invented the "donation by action" model for online charitable movements. He founded #BlameDrewsCancer. You can follow him on Twitter, Google+, Facebook, or email [email protected]
| | |
| --- | --- |
| This post is brought to you by Citrix GoToMeeting. | |
Any company in the world that is doing business right now already knows that the Internet can make or break them. By offering your goods online, you're quadrupling, or more, your chances of selling whatever it is you're offering.
In the nineties there was a mad dash for companies to simply "get online" by putting up a website. The idea of "If you build it, they will come" became commonplace for companies. Just buy a domain name, pay a kid to whip up a website, and profit. That might have worked for some, but in this evolved digital age, that's simply not cutting it anymore.
There are tons of ways to get an edge when selling your goods or services online, and a lot of them will require someone at your company being extremely social. Just like you wouldn't have a wallflower talk to people who walk into your physical store, you wouldn't want someone speaking to potential customers on your behalf who well…don't like people.
Communication is the crux of every hot trend online right now. People go crazy for it. No longer is it acceptable to have to make a phone call to inquire about something you're interested in; we fully expect to be able to tweet, post on a Facebook wall, or email a company about what has caught our attention. If we don't get that response quickly, we'll move on to another seller.
How can communication double your business and make the difference between selling a few things and a lot of things? First, you must have faith in the system of how things are going on around you. Huge companies are setting up a more social customer service department to "close the deal" online.
Three types of communication that can unlock a whole new world
Proactive socialization
Your company should be on Twitter, Facebook, Google+ and other social services. You should be watching and reading what people are saying about your products and brands and responding appropriately. This is probably the most impactful form of communication you can do right now. Be careful though, there is such a thing as "over-communication".
When someone is saying nice, or not so nice, things about your company or product, you should totally reach out to that person on whatever network they're using and discuss things with them in an open and transparent way. This scares a lot of companies, who would much rather get the person on the phone to discuss the matter. That's a bad move, because displaying this type of open communication impresses other potential buyers who come along and check out your social network presence.
Don't over-communicate by sticking your nose where it doesn't belong. If you sell paper towels and someone is talking about a competitor of yours, don't jump in and try to grab their business.
Pre-sale
You'd be surprised by how many people actually use chat systems on their website to offer real-time communication with a customer support person. Services like LivePerson allow your staff to provide an open line of communication with prospective buyers. If someone gets stumped about something, being able to ask a question, much like you would in a story, is the difference between the person following through and paying or simply going somewhere else.
Services allow you to be proactive, but not annoying, by letting your web visitors know that you're there to help. Even if they don't use the service or need your help, just knowing that it's available is impressive and appreciated.
Post-sale
Just because someone purchased something doesn't mean that you don't have to communicate with them anymore. In fact, some of your most impressive communication should happen post-sale. Letting someone know the status of their order or what other items that they might be interested in is a sure-fire way of doubling your business.
If someone has a great experience with you, they'll come back and tell their friends to do the same. Amazon is amazing at communicating the post-sale process with its customers. The company tells you when your item has been shipped and slips in other items that you might be interested in. It's a welcomed interaction since you just spent money with them.
Keep tinkering
No matter what type of communication you're doing online, track the results that you see. Did a specific tweet cause a spike in sales? Did posting photos of special items on Facebook cause them to move out the door quickly? Pay attention to both your wins and your losses when it comes to communication because all of those learnings translate into your company "voice".
Zappos, which later sold to Amazon, prided itself on treating customers with extra special care. Be it online or on the phone, the company always comes off as approachable. The lines of communication are open.
If you're a business owner, just think about the type of experience that you enjoy when shopping. Do that. Ask your employees to think the same way, because communication pays dividends, and when someone ends up not buying from someone, it's usually because they didn't enjoy the experience that they had – and that is usually due to a failure to communicate.
Get the TNW newsletter
Get the most important tech news in your inbox each week.